Role of Retrofit Engineering in Product Development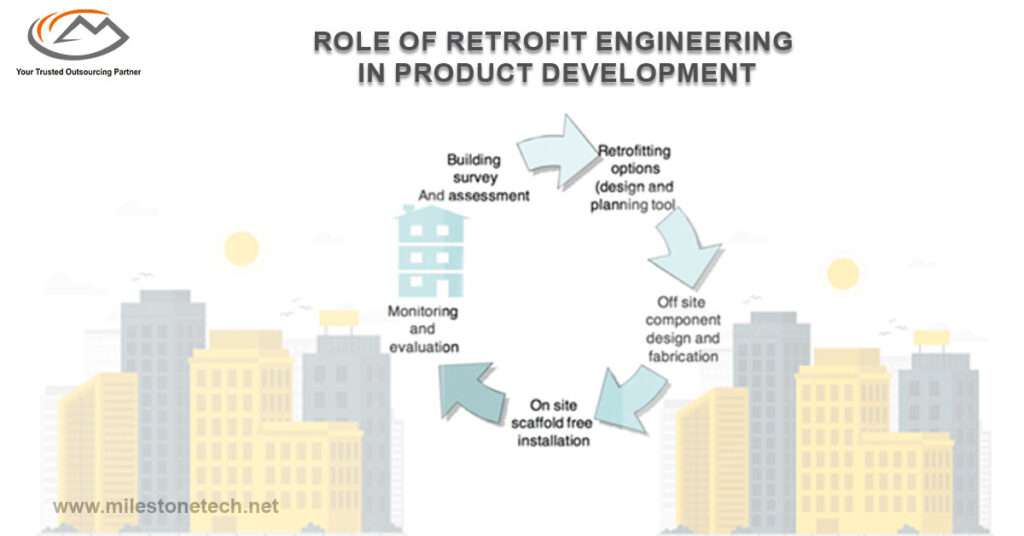 Despite product development processes, companies ensure flexibility for their customers, after all, the entire process is dependent on each other.So the Role of Retrofit Engineering in Product Development comes.
As an idea advances through the development process, its requirements are revised based on feasibility. Throughout this process, trade-offs are made to balance the needs of relevant objectives such as cost, market availability, and performance.Manufacturing systems are becoming increasingly important in the modern world. Manufacturers have a better understanding of what customers want, which leads to better products, as well as a faster time-to-market.
If you want an optimal design to be achieved, you should participate in value engineering, prototype failure, feasibility studies, and stress analysis from the beginning of the process.
Manufacturing companies need to redesign and develop a new product in order to excel. If a company doesn't work in a functional model, there will be multiple rework and retrofit operations throughout the company's lifetime. No functional models result in processes that are a continuing problem and affect one of the manufacturing firms' most essential tasks: design and development of new products.
During this process, it's key for the suppliers and supply managers to contribute in the areas of its quality, and time to market. Many successful firms have been involved in those three aspects.
Look for new methods to compete, with less time in the market. The global environment is competitive and companies must quickly be able to deliver their products or else they will lose out.With an integrated approach to product development, such as using suppliers and supply professional earlier in the process, you will be able to decrease time to market.
Some of the benefits of this integrated approach can include better quality,lower costs and increased efficiency. This results in decreased lead times, fewer errors and glitches that cause rework and a more profitable end result.
The ability to keep your machinery in top shape is vital. The services of the product and machinery are crucial, as they will maintain the product's performance and reliability. All successful companies focus on their core competencies in order to reap benefits. If the machinery needs regular servicing, it will ensure that the service operates at its maximum capacity, rather than breaking down.
You can avoid a machine or product breakdown by preserving it through retrofitting. It's important to keep your machines and products up-to-date in order to have a safer and more productive work environment.Retrofit engineering helps maintain aging machines, by redesigning and replacing outdated components. This can prevent accidents and shutdowns. They are also helpful for reliability and maintainability, as well as modernizing the system with new technology.
Using retrofit engineering, you can increase the mean time between product failures and develop in-house diagnostic and maintenance capabilities
The typical steps for a project are:
Reviewing the documentation & Analyzing the exiting design
Re-Engineering the existing design or new design creation
Functionality verification through simulation
Assembling prototype to verify design
Prototype demonstration and validation through testing
Support of design through generating technical data package
Retrofitting can create an economic advantage for the organization and increase the efficiency. Retrofitting lowers costs, creates a better precision and delivers quality outcomes. It is essential to maintain a retrofitted machine at an optimum level in order to have a successful economical operation.Countries with little money can't afford to rebuild their machinery, so they have to outfit their machines with old parts.
Retrofitting machinery is a smart investment. This ensures the productivity of your business stays high, and makes you competitive in the marketplace. The great thing about retrofitting is that it delivers on performance, and improves your workflow.
To increase productivity, you need to reduce the amount of time spent on machines. Automating the processing and setup enhance productivity by reducing errors and cutting down setup times.Retrofitting old and new machine tools with machine tool probes can reduce production errors, and in turn reduce downtime. Machine tool probes are automation, automated data collection, improved productivity and increased accuracy. Retrofitting also reduces operational errors.
Product development through retrofit engineering is diverse and complicated. Retrofit projects require a motivated and experienced staff, in order to advance new product designs. Sometimes, the effort required to retrofit an existing product is greater than the amount of time needed to create a new one. However, as a result of retrofitting, higher-value products are created. These products are exposed to risk but also increase infrastructure efficiency – enabling companies to produce more than they could before the changes.
Retro-fit engineering is effective when the implementation strategy is clear. It requires the ability to plan and monitor progress. Retro-fit engineering refers to the modification of a product.
The first step in the development of a retrofit is identifying the objectives. This is followed by looking at possible solutions and deciding on a preferred solution. It is important to take into account existing data, as well as design issues when designing the product. Attention should be paid to design guidelines, so that modifications are compatible with the other parts of the product. Detailing process elements and flow schemes makes it easier to estimate project time frames and team roles. Taking a safe approach during use should also be taken into account, along with any time-sensitive elements of the product.
Overall, Role of Retrofit Engineering in Product Development  can be an effective way to improve existing products and systems, while also reducing costs, risks, and environmental impact. By incorporating retrofit engineering into the product development process, designers and engineers can create more sustainable, efficient, and effective products that meet the evolving needs of customers.
Role of Retrofit Engineering in Product Development can play a significant role in improving the performance and functionality of existing products, while also reducing costs and minimizing
risks.
How Milestone PLM Solutions can help you gain expertise in your business?
Milestone is a multidisciplinary company and caters in CAD, CAM & FEA services since 2004. We majorly work in Mechanical, Millwork and Automotive domain across the globe. With a team of experts, we can help you and your team in performing better and faster than your competition. You can outsource you Product Design, 3d Modeling, Drafting & detailing, Reverse Engineering, FEA Analysis and we assure to you guaranteed quality results with the quickest Turn Around Time possible.
You can email us at info@milestonetech.net and can log in to our website www. milestonetech.net  to know more about our services and our work portfolio or contact us on  +1-844-598-0005