Choosing the Right BIM Outsourcing Partner in Digital world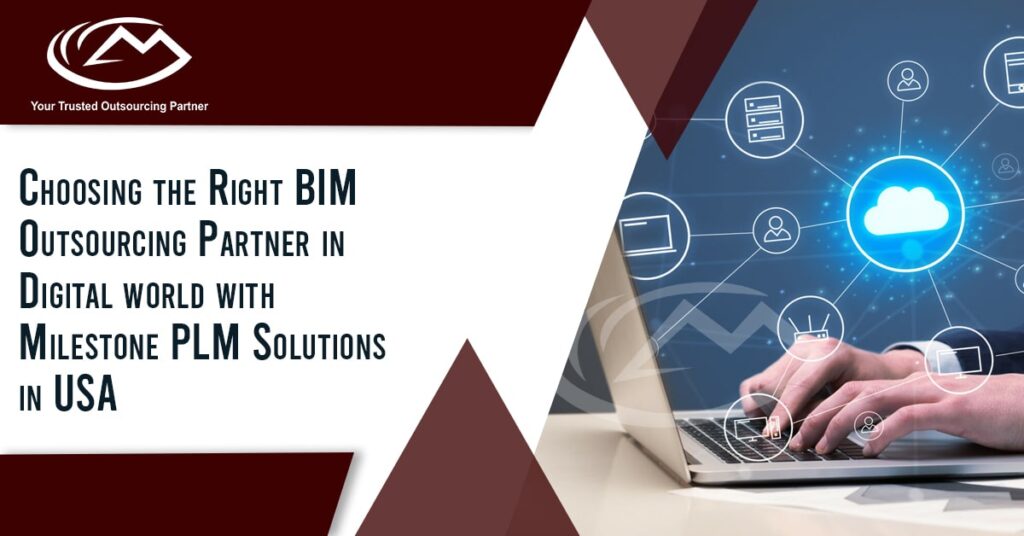 If you want to thrive in the construction industry, then it is paramount that you choose the right BIM outsourcing partner. Important developments coming out of the AEC industry that are changing how people design and build, such as BIM, are being increasingly utilized. Building professionals are using retail LiDAR scanning and Scan to BIM Modeling as BIM solutions due to increased significance in the industry.
How to Choosing The Right Outsourcing Partner
The 2020 market for building information modeling (BIM) is estimated to be 5.4 billion USD but growth is anticipated to reach 10.7 billion USD in 2026 with a 12.5% CAGR compound annual growth rate, even if it is expensive for many businesses. With CAD collaboration, more AEC teams are working remotely with their CAD partners. This allows people to work from various geographical locations and share information instantaneously.
Remote teams are less efficient at work because they need to share their work remotely, but the human touch makes project teams more successful. Today, AEC leaders are embracing the cloud, to allow for remote data management and project sharing. All team members can access this on mobile devices, whether or not they're at the job site. Engineering projects are often outsourced to get more competitive, affordable solutions with a shorter turn around time. However, this is not without its difficulties- many find the quality of the work low and often make mistakes with drafting or misunderstandings call for mismanaged deadlines.
Following the Benefits of Outsourcing BIM Services
Skilled Resources– A CAD Outsourcing partner with a wealth of experience will use the most current versions of software and be able to adhere to international standards and guidelines. They also provide training to employees in a variety of CAD applications.
Multitasking– Businesses often work with partners in different time zones, which allows them to work when it's convenient for both of them. This can lead to Quick Turnarounds and a competitive advantage.
Competitive Advantage with the Quick Turnarounds– Working with other countries means that it's necessary to work on different schedules and at different times of day. Our almost opposite operation hours give our clients a competitive edge by providing them with the resources they need, regardless of what time zone they're in.
Meet Deadlines On-Time– It has been found that 60% of large-scale projects experience delays and budget overruns due to inefficient project delivery methods. More efficient BIM processes reduce project costs and improve timelines, as well as delivering positive consequences for all collaborators in the project.
Minimize Rework– All firms from the AEC industry need to improve their design and communication because it will help minimize flaws, which can cost between 5% to 15% of a project. The use of BIM technology allows us to focus on efficiency and productivity.
Business Continuity in the WFX Era–  Virtual teams can be more productive by allowing team members to do their jobs remotely, in the office, or together. These teams can use CAD Outsourcing Partners' centralized collaboration for remote participation.
More Time for Core Business Activities-One of the best ways to improve your company's reputation and financial performance is to concentrate on your core competencies. Outsourcing tasks can be a way to emphasize the strengths of company executives while ensuring that they're always working on what they do best. Instead of a C-Level executive worrying about CAD drawings, you could delegate that task to a CAD tools specialist and focus on implementing training workshops.
Cloud Capabilities-Communication is important when collaborating in BIM. There needs to be a global, shared environment for CAD Outsourcing Partners to work on the same project and make choices that are then integrated into real-time workflows. The cloud provides agile workflows across all phases of a project with improved communication, which cuts down on design delays and rework for a more efficient team.
The Future of BIM
BIM is the industry standard, and continues to become more efficient. New developments have widened the gap between traditional and modern working practices. While architects will be required to keep up with technological advances and meet their clients' demands, designers who rely exclusively on CAD software will find themselves at a competitive disadvantage.
It is a new kind of WFM because architects are able to work from home. They have the option to take on projects remotely with a CAD partner. Companies that offer BIM services claim that an increase in collaboration results in higher profit.
Follow Milestone PLM Solutions for AEC Industry Updates, CAD Tips and Global Construction News.
Milestone PLM Solutions  with its exclusive delivery center in India is a global CAD, BIM outsourcing partner serving the needs of the AEC industry since 2004. MILESTONE focuses on the unique needs of clients and believe in tackling real-life problems with efficiency, smooth and ease.
The MILESTONE team can assist you with DD Set, CD Set, BIM Modeling, Rendering, walk through and more. We support multiple BIM software including AUTOCAD  REVIT, Architecture cad, Vector works etc. Our approach is to provide a dedicated team for each customer over ongoing project and deliver the quality output consistently.
With our state of art technology and large talent pool of Engineers & Architects, we are developing best in class solutions for our customers across the globe. We align with your culture and values to form unbreakable partnerships and are primed for success with over 100 employees and 150 customers in the US, Europe, India, and Asia.
For more queries regarding any of the above-mentioned topics, feel free to connect with us on our website www.milestonetech.net or contact us on  +1-844-598-0005