CAD Designing Services for Mechanical Engineers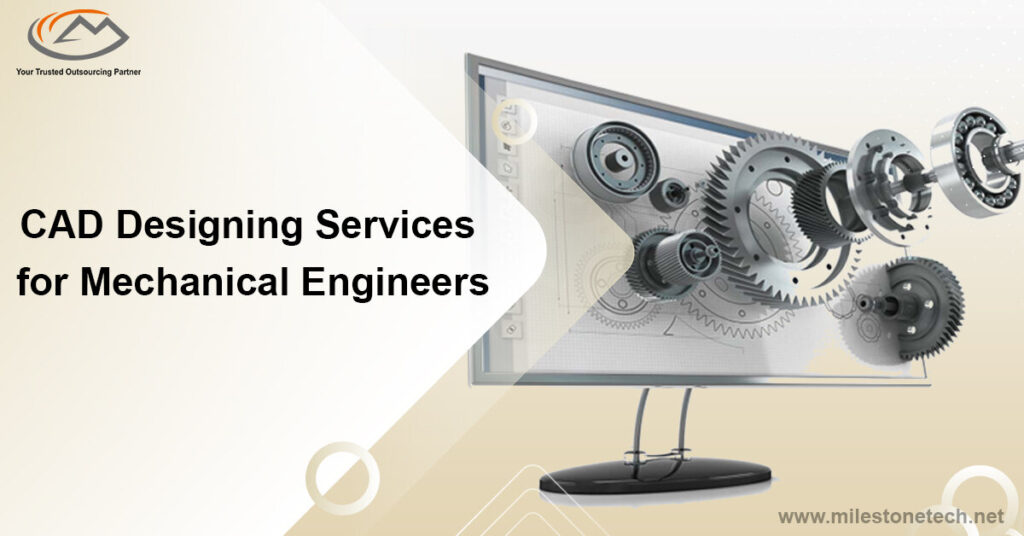 Manufacturers want to lower the cost of their products in order to stay competitive with overseas companies. It is also important for them to constantly improve their quality of work. And they need to be able to deliver the products on time. CAD Designing Services  provide comprehensive computer-aided design solutions for various industries.The computer can aid in reducing the time it takes to deliver goods, especially if they need to make it through several international borders. It can help at every stage of production with cutting-edge software and has the intelligence required to make everything more efficient. The computer skills are often exploited by a business during production. But, computers are also needed for the design of that product and integrate that system to create a product.
CAD is the use of computer programs to perform tasks related to designing and editing. CAD software optimizes the communication of designs from one person to another. It also facilitates designer productivity, and creates a production database that can be used by manufacturing plants and other CAD users. With CAD, you can use your computer to evaluate and design products. This process is known as Electronic Design Automation (EDA) and Mechanical Design Automation (MDA). CAD Designing Services can help reduce design cycle times, improve accuracy and efficiency, and minimize the need for physical prototypes.
CAD Designing Services
CAD designing services in the engineering industry is used to illustrate technical or graphical drawings. As with traditional writing, CAD software has to incorporate information. Depending on the program, this may vary from equipment and procedures to dimensions, tolerance, and other elements.
Geometric modeling is the use of CAD systems to create geometric models. These models are then fit with built-in CAD's and tweaked using building blocks. Geometric modeling is an applied mathematics, that uses precisely and creatively to understand the shape. A shape typically studied in Geometric Modeling is two or three, and most of its methods can be used for limited sets.
With computer modelling, there is a high need for geometric modelling. The two-dimensional models are vital for digital drafting and design. Three-dimensional models are essential to CAD / CAM. Geometric models can be categorized into two types: process and process models. Process models are algorithms that define the complete structure, while process models identify the shape as an opaque structure of a specific algorithm. Fractal modeling is different than geometric modeling in that fractals provide a repetitive description for shape, whereas geometric models are more complex.
Solid Modeling
 You can create shapes using a 3D printer. The solid model is similar to the shape of the final product but more visible and rotated. There are two different types: direct where you edit the model by reversing or converting it to 3D, or second where the model is built using parameters.
Surface Modeling
This process creates a desired environment by cutting, sewing, and joining shapes to create a final model of its shape.
Assembly
 This engineering process is used to assemble models together. It provides insight into the actual balance of all the models, and ensures the final assembly performs at an optimal level.
Detailed Drafting
3D modeling can produce 2D CAD drawings, although 2D CAD can create more detailed drawings
Reverse Engineering
 To 3D model the actual part, engineers use different types of instruments such as laser scanners, white scanners, and CMM to measure the part and determine its CAD.
Design automation is an up-and-coming technology for reducing the cost of production by overcoming this challenge. You can get high ROI (on investment) with a reduction in manual efforts and speeding up design process by using design automation.
Design automation is seen as a new way of working. It helps designers to perform repetitive task. This leads to efficient design processes that save effort, increase productivity and reduce costs. In other words, design automation empowers engineers to order custom completion days for custom engineering minutes in just minutes.
Manufacturers aim for a high user experience and quality, cutting costs simultaneously. Effective communication across departments is crucial when adopting automation strategies to other business plans because the success of your strategy relies on the many aspects of your design and engineering.
Automotive industry
The Automotive industry utilizes various simulations to analyze the production capabilities of different car shops. These include analyzing bodybuilding systems in a series of conceptual time periods with product life cycle stages such as designing and constructing, and analyzing physical performance. The first option is modeling a body shop at level. The second is modeling the body shop at the sub-level below and the channel-level simulation model is used to analyze the solitude of that sub-field.
How Milestone PLM Solutions can help you gain expertise in your business?
Follow Milestone PLM Solutions for Mechanical Industry Updates, CAD Tips and Global CAD, CAM & FEA News.
Milestone PLM Solutions  with its exclusive delivery center in India is a global CAD, CAM & FEA services outsourcing partner serving the needs of the Mechanical, Millwork and Automotive industry since 2004. MILESTONE focuses on the unique needs of clients and believe in tackling real-life problems with efficiency, smooth and ease.
The MILESTONE team can assist you with Product Design, 3d Modeling, Drafting & detailing, Reverse Engineering, FEA Analysis and more. We support multiple software including AutoCAD, Solidworks, Catia, NX, Inventor, Solidedge & Ansys etc. Our approach is to provide a dedicated team for each customer over ongoing project and deliver the quality output consistently.
With our state of art technology and large talent pool of Engineers, we are developing best in class solutions for our customers across the globe. We align with your culture and values to form unbreakable partnerships and are primed for success with over 100 employees and 150 customers in the US, Europe, India, and Asia.
For more queries regarding any of the above-mentioned topics, feel free to connect with us on our website www.milestonetech.net or contact us on  +1-844-598-0005