Value Engineering and Value Analysis in Operation Management & Production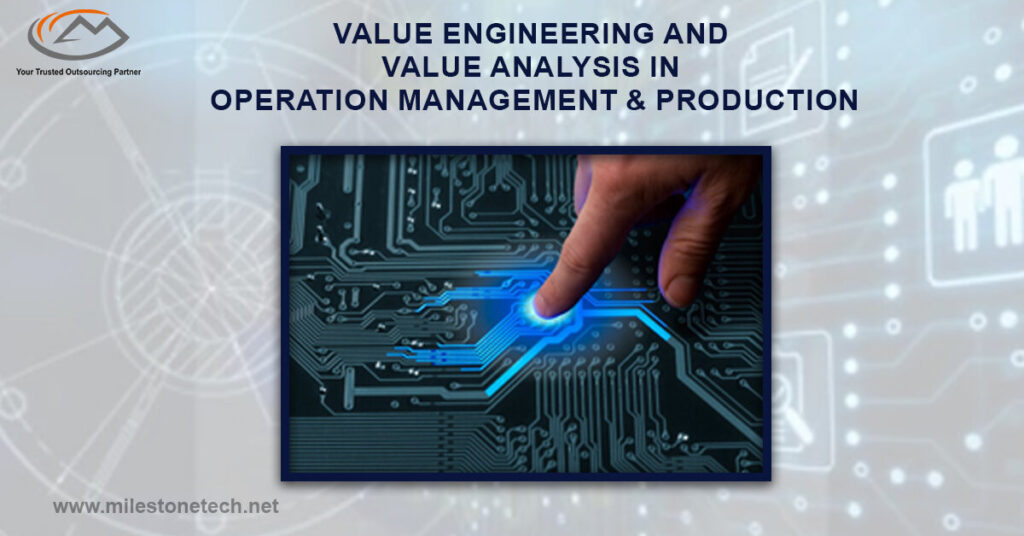 Use of Value Engineering and Value Analysis in Operation Management & Production is important because of increased competition and technological advancements which  have encouraged companies to create affordable prices for their products. With lower production costs, companies can stay competitive in the market.With targeted strategies to reduce production and material costs, engineers continuously work to improve the entire industry. This is achieved by improving manufacturing and production methods and ensuring that wherever possible, less waste is created in design, detailing, marketing, research, or development. Different management styles are applied at every stage of production to ensure the best economy is achieved.
Businesses are changing their product designs in order to keep the cost of their product low. With technology, it is becoming more and more difficult for businesses to keep their costs down. We must use our voices to communicate what the goals of the business are from the beginning, so everyone knows how much work they need to do.Value analysis, value engineering services, and other such processes ensures that production costs stay low. This helps businesses to remain sustainable.
A value analysis is when you analyze the cost of a product that is creating. It helps to reduce the production cost and create a performance-edged product by analyzing customer demand.Basically, there are three general types of costs: part prices, labor costs, and overhead. But nowadays businesses also consider these manufacturing-related issues: poor quality and warranty costs.
Value engineering recognizes the economic, psychological, and social cues that decrease a product's value.
Poor Product Value Can Arise For the Following Reasons:
Product failure may happen due to attitudes, creativity, and other things.
You can only admit to your lack of knowledge or education on certain aspects of project development by accepting advice and seeking it out.
A propensity to emotion-based decisions rather than facts
Rigid adherence to SOP's causes problems in the design process
Insignificance to customer needs
The inefficiencies created by lack of communication and poor human to human relations
When developing products, the focus is on what value it provides to the customer. Businesses eliminate any costs that have no functional value for the customer without affecting the quality or reliability of the product. The goal of the value analysis approach is to provide high quality and maintainable products at a low-cost.By identifying those activities that lower the maintainability of the product, you are enhancing the cost of ownership and lowering the value attached to it. But it doesn't mean removing activities that compromise the reliability and quality of a product, as this lowers customer value while attracting customer complaints.
One common way companies do value analysis is to reduce the costs, and we see this technique applied to a lot of different areas. Value analysis occurs not only in design-related fields, but other business areas as well.Internal reasons for conducting a value analysis include unknown problems, demands that change over time, and safety guidelines. Often the market determines the cost of the product, but through enhancements you can increase the return on investment during the life cycle of the product.The value analysis approach is applied because of the various market-related reasons. These can include pricing practice, legislation, and new technology, among others.
The opinions of managers are very necessary because it benefits the management to analyze the activities that attract costs from raw materials to final products. These discussions facilitate learning, so that managers can understand the boundaries of product redesign and re-engineering activities.Before the product development process, the product management team often faces limitations from business constraints such as limited time and budget to make changes to products, as well as increased supplier costs.
Value engineering is a review process that is applied to new products. It's applicable in an uncertain environment and requires more investment in skilled human resources.The product value analysis has similar results, with commonalities in all stages of production. If the team finds a way to make multiple changes with this method, they can do it quickly and efficiently on a large-scale across the entire factory.
Products with value analysis in them can be hugely successful for a business if an adept project team is present. The early step of getting senior management approval and gathering information about the product is imperative to the success of the project. A single senior manager oversees the project and has a single authority.The project management follows with the selection of an operational leader to coordinate the various activities. And, the managers create a reporting procedure for monitoring and controlling the achievements against time. Communication is necessary among members of the team for wider objectives to be reached successfully.
It is crucial that engineers working with value engineering receive continuous training and education in order to implement the method. The guidelines, implemented systematically, should be followed to focus on key details. They develop the skill to apply the scientific method with accurate data to work through problems quickly and accurately. Materials should not be chosen for cheapness; it may lead to more costly production and cancel any profit from the product. Regular workshops are also necessary in order to fill any gaps in information among employees so they can make key decisions about the development of products.
Value engineering in the modern era needs to generate regular, comparable data. This facilitates better decision-making and improves products over time. Organizations are now focusing on their daily work to improve tasks through this technique. This leads to more creative participation from the team, and responsibility is distributed throughout the organization.
Many studies have shown that a lack of management support is a key reason why businesses do not use value engineering techniques. Understandably, senior management needs to appreciate the benefits of value engineering in product design and development. In doing so, they can make sure to solve various problems that exist in their sector by using this technique effectively. The next stage of this technique will require the amalgamation of data with new technologies like artificial intelligence and virtual reality tools which will give us more time Freedom To Hire More Employees
Both Value Engineering and Value Analysis in Operation Management & Production aimed at increasing the value of the product or service for the customer while minimizing the cost of producing it. The main difference between Value Engineering and Value Analysis is that Value Engineering is focused on the design of new products or processes, while Value Analysis is focused on improving the value of existing products or processes. Both Value Engineering and Value Analysis in Operation Management & Production are important tools for operations managers and production managers who are looking to reduce costs, improve efficiency, and increase customer value.
How Milestone PLM Solutions can help you gain expertise in your business?
Milestone is a multidisciplinary company and caters in CAD, CAM & FEA services since 2004. We majorly work in Mechanical, Millwork and Automotive domain across the globe. With a team of experts, we can help you and your team in performing better and faster than your competition. You can outsource you Product Design, 3d Modeling, Drafting & detailing, Reverse Engineering, FEA Analysis and we assure to you guaranteed quality results with the quickest Turn Around Time possible.
You can email us at info@milestonetech.net and can log in to our website www. milestonetech.net  to know more about our services and our work portfolio or contact us on  +1-844-598-0005