Top 4 Benefit of MEP BIM Services to Contractors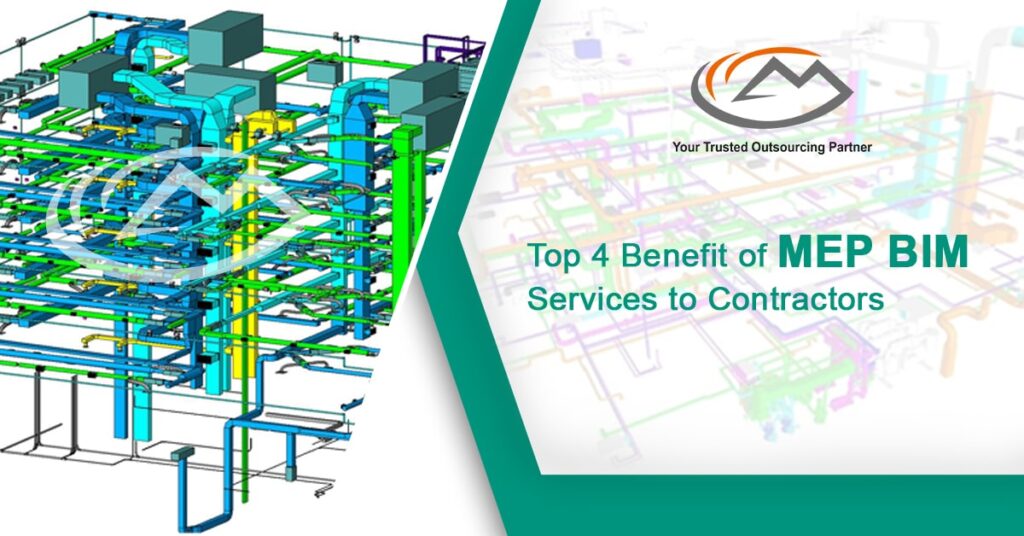 General contractors are an integral part of the site, and it is their responsibility to study plans carefully. MEP Services(Mechanical, Electrical, and Plumbing)provides a range of specialized engineering services that are important for the design, installation, and maintenance of building systems.MEP Services include the implementation and design of HVAC systems, electrical power distribution, lighting, plumbing, fire protection, and more.
our models and schedules ensure that the work is done in time without any human error while staying within your budget.
The AEC industry is always developing, and this pressure to deliver better products and faster can be tough.
Although this behavior is expected in all areas of construction, the MEP discipline is particularly complicated because of the high fabrication and installation requirements. It is also extremely demanding as it requires a lot of focus and attention from the contractor..
Thanks to Building Information Modeling (BIM) process and new tools like Revit, contractors can visualize the structure of their building with a highly detailed 3D model before it is built. This guarantees that component installations go smoothly, without any issues arising due to clashes between components.
Benefit of MEP BIM Services to Contractors
Clash Detection and Resolution
When AEC professionals create independent models, those models are integrated into the federated BIM model. Then, clash detection is used to find clashes that are occurring between different disciplines. The clashes can then be resolved with the use of BIM Coordination Services. The result is a model that does not contain any clashes called a coordinated BIM.
The coordinated BIM model makes it easier for contractors to take on multiple projects in a row. It eliminates the possibility of clashes between elements of the MEP system, saving you time and effort that could be spent on more important tasks.
Accurate Cost Analysis
When buildings are undergoing expansions, existing MEP systems and components running through the walls provide valuable Intel.
This data can help contractors and project managers to expand MEP services from the appropriate points and eliminate guesswork when repairing damages, thereby saving time and money for all parties.
Scanning an existing structure that is to be demolished can provide crucial data on the removal of systems and components, which might be reused.
Utilizing BIM modeling services ensures accurate cost projections so stakeholders can put their minds at ease. These tools also foster planning for and executing of effective project execution tactics.
Improve Project Visualization
Contractors can keep track of the layout of MAE systems like HVAC, plumbing, fire protection, electrical wiring, etc. in real-time. This lets them achieve their delivering with the satisfaction of meeting their deadlines and specifications on the first try.
A 3D visualization of the systems and components in a building will give you more clarity when deciding how to route cables and where to attach them. Plus, if you show your building's structural integrity, you won't have to worry about disturbing other fixtures or compromising its stability.
Assistance with Fabrication
 MEP shop or fabrication drawings can be extracted from a coordinated BIM model of a building project.
Pipe spool drawings provide highly accurate drawings and precision. Coordination, as-built, and penetration drawings are also very detailed. These types of drawings are great for fabricators because they show an accurate depiction of the pipe system when it is completed.
General contractors can improve spatial geometry and space utilization by leveraging standardized drawings that are built on industry-specific codes.
Timely Project Completion
 We'll use accurate scheduling and budgeting to complete your project within the estimated time frame.
AI-based scheduling gives contractors the flexibility to better allocate resources according to the skill and competency of their labor force, which can save time and money.
Precise scheduling and 5D cost estimation will help cut down on wastes, clashes, and reworks while on site.
Conclusion
Over 40% of contractors that make use of MEP BIM Models are able to reduce errors and waste time, in turn delivering projects on-time and with minimum errors.
With conventional methods, contractors are faced with the cost and stress of clashes, the chances of human error, and time-consuming mistakes. MEP BIM does all this work for you, delivering the lasting benefits of increased efficiency and reduced costs that your business desires.
Companies and professionals in the architecture, engineering, and construction industry should take advantage of these benefits that enable modernization efforts and provide high-quality services for client retention as well as growth and survival in this industry.
How Milestone PLM Solutions can help you gain expertise in your business?
Milestone is a multidisciplinary company and caters in CAD, CAM & FEA services since 2004. We majorly work in Mechanical, Mill-work and Automotive domain across the globe. With a team of experts, we can help you and your team in performing better and faster than your competition. You can outsource you Product Design, 3d Modeling, Drafting & detailing, Reverse Engineering, FEA Analysis and we assure to you guaranteed quality results with the quickest Turn Around Time possible.
You can email us at info@milestonetech.net and can log in to our website www. milestonetech.net  to know more about our services and our work portfolio or contact us on  +1-844-598-0005