Scan to BIM Modeling for Historical and Heritage Building Restoration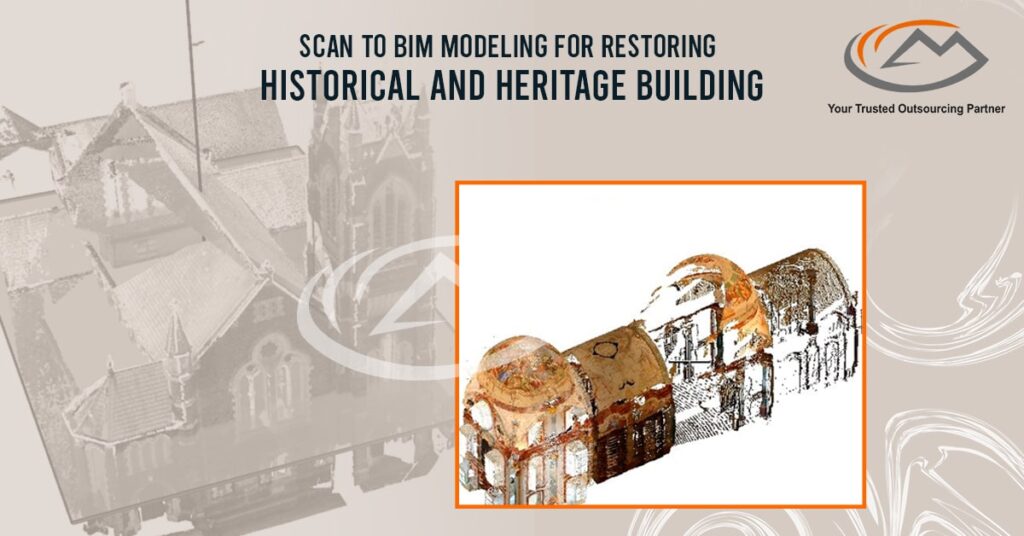 Scan to BIM Modeling helps preserve the unique heritage and architectural value of these buildings while ensuring their sustainable future.Collecting data and knowledge about historical buildings is difficult. That's why it's necessary to have an in-depth understanding of the buildings themselves as well as the different disciplines involved in their restoration and maintenance. In order to help make these tasks more successful, a good idea would be to develop and implement an application that uses all this data. The best way to accomplish this goal would be by using a 3D scan tool followed by parametric modelling. The process for creating the model will rely heavily on the in-depth knowledge of your particular building.
The work investigated and described the different construction challenges which are associated with the use of data capture techniques on a complex geometry building: Maredolce Castle. The most challenging step from the modelling perspective was to obtain non-parametric objects such as those of historical buildings such as Maredolce Castle. Finally, this work allowed achieving a high-resolution digital model of the castle and has highlighted some issues related to focus with scan to BIM technologies in architectural projects.
Historical Building Information Modeling(HBIM)
Heritage structures are typically complex models, but digitizing them can be difficult and complicated. Recent developments in remote sensing technologies have been key to helping preserve historical assets from deterioration.
3D laser scanning and photogrammetry reviews spare time in the field and can end up being very precise at registering non-regular measurements of structures. The accurate transformation of remote sensing data into as-built parametric smart models is a recent innovation that is yet to be solved.
The preparation of realistic and organized Historic Building Information Modeling (HBIM) approach is required for consistency to bring benefits and coordinate conservation and rebuilding work.
Using virtual reality (VR) to enhance Government Buildings, Heritage Structures and Old buildings that need rebuilding or reconstruction is an excellent choice, because projects can be completed a lot more efficiently. BIM is also helpful for such projects, since it offers various options for the design and construction of sites.
The great part about virtual construction modeling is the approach that is followed in both documentation and the overall work process.
There are many industries for which the need for data points has never been greater. With point cloud modeling, surveying companies can employ more-efficient survey strategies that provide tangible results today.This process was very time-consuming, and there was a high likelihood that it would produce slower and more inaccurate documentation.Although reading scan data and converting these scan data into BIM models is not an easy or effortless process, it can be more viable to measure the site on actual measurements.
There are anomalies and irregularities found in scanners as well as 3D geometry, like holes and uneven dimensions. Additive manufacturing projects need a technical expertise and intimate knowledge of parametric modeling and an understanding of how to read a scan. As such, individuals involved with these projects create a library of 3D components that can be used over and over again to produce multiple building structures from scans.
Building Information Modelling has changed into a category called Historical Building Information Modelling, or HBIM. This technology allows you to develop a library of components that can be used in the design process for constructing historical or heritage buildings. These families include Revit carvings among others.
3D modeling is challenging because of how technically and creatively intricate it can be. Unlike regular two-dimensional models, where the building may appear to only have irregular shapes, 3D models are more complex. Before the scan can be acquired and translated into a 3D model, the scan must be precisely lined up on a flat surface by extruding its image in sections. This process makes the design extremely difficult and helps illustrate the shapes that were drawn by hand.
Let's talk about the shape modeling in point cloud. Normally, remodeling of historic buildings falls under the Architectural BIM Services domain. It's very important that all the complex sizes and shapes for geometry like planes, curves, extrusions are accurately translated in this process.
The 3D project needs to be identified from the raw scan data so it can be modeled manually using Revit. We need to create different families and levels that are parametric before categorizing them in order for the process to be successful.
Aside from Architectural models, Structural and MEP Models can also have other components like ducts, valves, columns, beams, joists and bolts. They need to be created in the final as-built model.
Conclusion
Professional Services firms across the country are adopting BIM, or a business intelligence method of 3D architectural reconstruction. The reason? With multiple uses such as design alternatives, cost estimation, and more—BIM can make it harder than ever for engineers to create structures on their own.
How Milestone PLM Solutions can help you gain expertise in your business?
Milestone is a multidisciplinary company and caters in CAD, CAM & FEA services since 2004. We majorly work in Mechanical, Mill-work and Automotive domain across the globe. With a team of experts, we can help you and your team in performing better and faster than your competition. You can outsource you Product Design, 3d Modeling, Drafting & detailing, Reverse Engineering, FEA Analysis and we assure to you guaranteed quality results with the quickest Turn Around Time possible.
You can email us at info@milestonetech.net and can log in to our website www. milestonetech.net  to know more about our services and our work portfolio or contact us on  +1-844-598-0005