Process of Product Manufacturing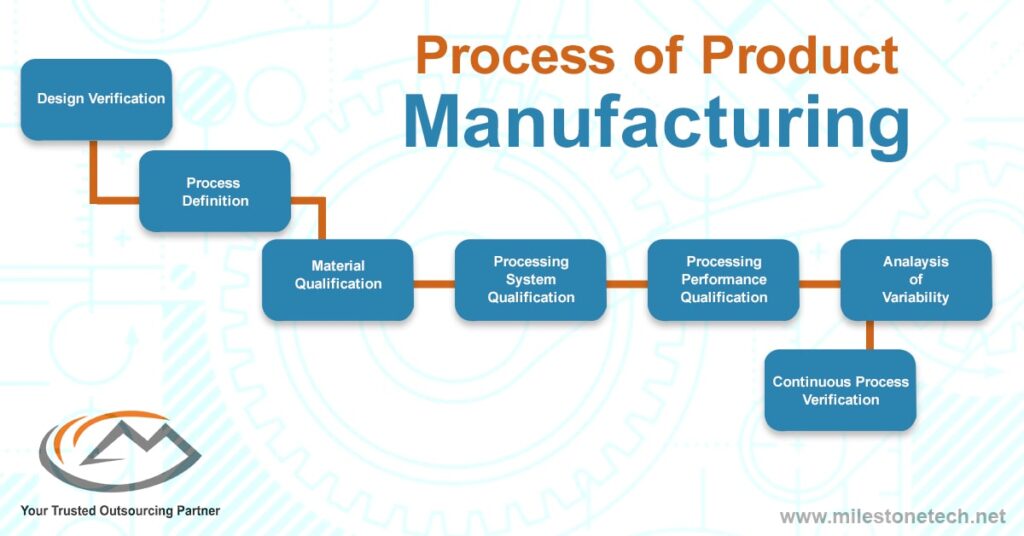 Much more goes into the Product Manufacturing process than putting all your raw materials in one place and creating a production line. In theory, while mass-manufacturing might look very simple, it is actually not. There are tons of steps involved to even end up with a small piece of product!
If you're thinking about setting up your own Product Manufacturing line sometime in the future, this article is for you. It's important to know the ins and outs of the process if you want your invention fast-tracked. The more you know about outsourcing, the better prepared you'll be. Our suggestion is to partner with professionals who can take care of everything. However, if you want to maximize your profits, it's best to be knowledgeable of where outsourcing is concerned.
⭐ Initial Planning Stage
If you're thinking of launching a new product or business idea, it's crucial to do your research first. Many people don't take the time to research their idea before getting started, and this can create a lot of headaches down the line. It's important to do the research now so you know what the market expects from your product before producing it and starting to finance your company.
Market research is crucial for most business owners, and you want to find out if there's a need for your product idea. You'll also want to learn about potential competitors as well as any product like yours already on the market. Finally, it would be wise to consult experts in your industry in order to get an opinion on your ideas.
⭐ Product Design & Development
 After you have gathered feedback from your market, it's time to start building the product. This means discussing the specifications in greater detail and deciding what features the product will have. The design should also be looked at so that it appeals to your target customers.
While developing the design consider the following:
Product function
The use of the product
Material to be used
How long the product will be used
Is warranty required
Product Manufacturing cost
How much profit the product will make
Packaging design
⭐ Creating the Final Design & Production of Prototype
 The previous step involves a lot of questions that you and your team will have to answer. Once you've answered these questions, you can move on to adjustments for the product since most of the big picture issues should have been solved at this stage.
Depending on your product, the final design can be made using 3D modeling software to produce a 3D model of the final product. If you don't want an actual physical version, you can specify that during the order process.
Creating a product is difficult, and that's why it's important to know what features you need most. You can do this by ranking them by difficulty, as well as how important they are to your business. This will show you and your team which features will take the longest to create, and which ones can be put on the back-burner. If you find that a feature is taking too long to produce, or if you're struggling with it, you should go back to the drawing board.
Prior to development, you'll want to think about managing the resources needed for the process. This increases the likelihood of a successful release and high user experience. Regardless of who you work with, you'll want to provide a visual reference of what you have in mind. From there, they can tell you exactly what information they need to move forward.
⭐ Testing the Prototype
 When you create a prototype, it's time to start evaluating the product and find any flaws. You don't want to wait until the product is perfected before testing because there may be issues that need to be solved before you get to that phase in development.
Making your product successful is all about dedication. Use this step to make sure you are fully committed and willing to do whatever it takes to get the desired results. If something's not working out for you like you planned, don't be afraid to change tactics and go back to step three in the process.
Would your target market buy your product? Before you bulk produce, consider testing them with a smaller batch. Find out if they are able to use the product just as you intended and if they would be likely to purchase it post-launch. We do this at every stage of our production process.
⭐ Assembly & Manufacturing
 The Product Manufacturing phase is where your idea comes to life. As the creator, you'll be responsible for deciding the type of production process, sourcing suppliers and manufacturers, quality assurance practices, and logistics. This can get tricky and will require some creative solutions such as:
Strategies for pricing & manufacturing costs
Which type of manufacturer to use
Product will be made of which material
Time it will take to manufacture
It might seem tempting to cut corners when you're releasing a product. Remember that if the quality is sacrificed, then your customers won't want to use it. Too many products have been released that you know were put together in the cheapest way possible.
⭐ Feedback & Testing
It's a monumental moment when your product is finally manufactured and ready for release. That said, before it can be delivered to consumers, there are some important factors to consider to ensure the best possible outcome. Test your product with a focus group or have other people put it through its paces. Take their feedback (positive and constructive criticism) into account, and make any necessary changes before launching your product.
Before you start marketing, you should use your website visitor data to find out who your best customers are. Try things like "customer preference" questions and surveys to get real-time feedback. Keep track of all your customer's personal information, including their demographics and any specific interests they may have in your products or services.
⭐ Official Release
 Now that you've successfully created your product, it's time to take it to market so that you can start making money. The first step is to launch a product marketing campaign in order to reach your target audience. You may also wish to consider launching a press release, various advertisements, or even a public launch event.
If your product is niche, consider creating a website around it. Alternatively, if you have a mainstream product and want to reach more potential customers, pitch your idea to large companies who could potentially use your product. Whichever category your product falls in, building a strong narrative behind the brand and its product is critical- so that consumers understand why they should buy it.
How Milestone PLM Solutions can help you gain expertise in your business?
Milestone is a multidisciplinary company and caters in CAD, CAM & FEA services since 2004. We majorly work in Mechanical, Mill-work and Automotive domain across the globe. With a team of experts, we can help you and your team in performing better and faster than your competition. You can outsource you Product Design, 3d Modeling, Drafting & detailing, Reverse Engineering, FEA Analysis and we assure to you guaranteed quality results with the quickest Turn Around Time possible.
You can email us at info@milestonetech.net and can log in to our website www. milestonetech.net  to know more about our services and our work portfolio or contact us on  +1-844-598-0005