Advantage and Power of Point Cloud Data in Commercial Building Modeling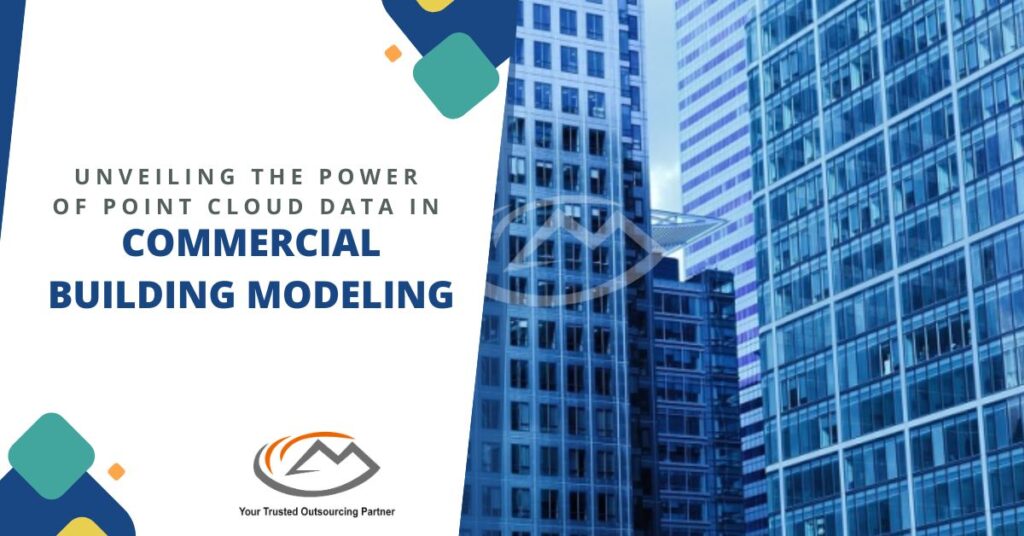 If a picture paints a thousand words, why settle for inaccurate models where there are so many details left out? When point cloud data is used to create 3D models of buildings, these detailed 3D models will be precise and accurate. As a designer, you can use point cloud data to build the 3D model data. However, this could require very expensive 3D BIM modelling services if you don't already have them in-house. Power of Point Cloud Data Commercial buildings are generally described as buildings and property used for business operations. There are various types of buildings such as office buildings, retail stores, factories, etc.
Office Buildings
Retail Buildings
Industrial Buildings
Hotels and motels
Commercial buildings are found in various shapes and sizes in urban areas, from small structures to skyscrapers. They can include retail sales shops and restaurants, as well as manufacturing facilities. Industrial buildings have manufacturing, repair services etc. Certain types of businesses in the construction industry need to work closely with local agencies. That's because they're located in locations where regulations exist, so they have to be effectively communicated and planned out right from the start of the project.
Why BIM?
In order to reduce the process of creating 3D models from architectural blueprints and preserve cultural heritage, we work using scan to BIM. First, let's talk about why we should be using BIM.
3D modeling is a method of sketching out and constructing a model before it is ever built to generate plans, specifications and CAD drawings.a BIM model can hold the details of an entire commercial building, its surroundings and its physical and functional characteristics in a single data
This intelligent 3D model is easy to apply because of clearly defined design elements and how the elements relate to one another.Changes made to any element in the BIM model will update themselves across all sections.If you are looking to save time, money and energy in the design of large commercial buildings, one suggestion would be elevations and views.
With BIM, the process involves improved collaboration between multiple stakeholders. This will allow everyone involved in a project to adjust data in a model.The aim of the workflow management software is to allow the project team members to work simultaneously on the same coordinated models without having to worry about coordinating use.
The need for BIM schematics in the industry is on the rise. For existing commercial buildings, these plans have become more critical to getting a well-designed project underway.In conclusion, point cloud data is highly relevant to a scan to BIM process for many reasons, encompassing high positional accuracy and easy integration into industry standards.
If you're planning a commercial construction site and want to create an accurate online 3D model of your structure before renovations begin, Point Cloud Capture can be used.
Scan to BIM and Design
In what ways is it helpful to scan model data and convert to BIM?
To make BIM efficient, a laser scan of the space is captured as digital data. This data enables the creation of The development and maintenance of a BIM model is something that requires getting your hands dirty. And, when you place a lot of trust in technology, there's always the chance to run into issues. But it's worth it for the time and money saved later when applying models to construction Which means that we can effectively and accurately represent the external or internal surface of a building.It takes a long time and meticulous planning to collect data on an existing building.If the building is constructed with wood, bricks, or something else that needs special treatment, it is important to make sure that the information in the BIM models is complete and accurate.Some information about BIM may be outdated, incomplete or both. To bring together fragmented data, some models may not be reliable. Attaching physical data to models can be time-consuming and requires a physical visit
Building information modeling (BIM) is a system for understanding and sharing projects across the building life cycle. It's often used in the construction industry to help use the latest technology. 3D laser scanning is an important part of how BIM works, providing information about the physical structure of buildings.3D laser scanners create a high-density point cloud of a physical building. The BIM model created reflects actual conditions and details.Using accurate 3D models instead of traditional 2D drawings creates a more detailed, realistic and flowing product. In the long run, it's worth the increased effort and costs.
Many commercial construction projects involve scanning a larger area where 3D data is needed, like runways and warehouses. The 3D laser scanner can quickly build a precise point cloud dataset, to create a model of the area surrounding it.
Get more reliable floor plans with a seamless 3D model that has been generated directly from point cloud data.
What sets Scan to BIM apart from another pricing tool is that our toolkit gives you access to a variety of project planning tools, so you can get an accurate and up-to-date projection on the financial impact of your project before you start building.
If necessary, inspections of your company's software can be conducted off-site.
With schematics of your utility building's potential problems, your nearby structures are better protected from damage.
Commercial facilities managers can use the energy data generated in this system to efficiently manage buildings, preserve much-needed cost savings, and further reduce their carbon footprint.
Point cloud data is great for commercial projects where a building needs to be retrofitted or demolished. It's also perfect for creation of a model of an existing building that can then be applied to new construction. Point cloud data has lots of advantages, including:
With point cloud data, a single digital 'source of truth' is responsible for a shared understanding of an environment. It contrasts with the drawn-from-different-sources method, which leads to uncertain data.
Point cloud data used in scan to BIM can create considerably precise and transparent data, which could greatly benefit large-scale construction projects with complicated and highly engineered designs.
3D data generated from this survey will enable clients to view the building without having to visit the site.
Is your office currently undergoing a remodel? Having a 3D walk-through of the building during construction can help speed up the process and make it feel more engaging.
These are detected by examining patterns in the collected footage and can include toxic materials or difficulties in accessing the site.
With the help of point cloud-generated 3D models, architects and engineers obtain certain key benefits. Their applications include:
Speed 
We can quickly identify what is currently happening.
It is possible to construct buildings faster thanks to a unique technology
3D models make it easier to produce accurate work.
Architects and engineers are spared the headache of dealing with clashes in 2D drawings by not spending time on it.
Precision and control
3D laser scanning collects accurate as-is data
Professionals not only use data sets to create pin-point models of real spaces, but they can also augment or replace those models with the latest technology.
Architects and engineers spend time with clients to better understand their needs and design structures for them. They don't spend time measuring their designs or other structures so they can develop a precise model.
Sometimes it's not possible to fix issues or vulnerabilities in the design of commercial buildings right at their early stages. As an engineer or architect, notice these issues as soon as you're able.
Visualization
Architects and engineers can test their designs with their plans as 3D models, helping to validate and identify any problems.
3D renderings can save architects time and money by showing the work that has been completed based on design requirements.
Using 3D modelling that uses data collected from laser scanners will give design professionals the advantages they need to finish projects quicker, efficiently and within budget. If, due to time and resource constraints, they require reliable BIM (Building Information Modeling) modelling services, it is becoming increasingly popular to source these overseas as well.
Follow Milestone PLM Solutions for AEC Industry Updates, CAD Tips and Global Construction News. 
Milestone PLM Solutions  with its exclusive delivery center in India is a global CAD, BIM outsourcing partner serving the needs of the AEC industry since 2004. MILESTONE focuses on the unique needs of clients and believe in tackling real-life problems with efficiency, smooth and ease.
The MILESTONE team can assist you with DD Set, CD Set, BIM Modeling, Rendering, walk through and more. We support multiple BIM software including AUTOCAD  REVIT, Architecture cad, Vector works etc. Our approach is to provide a dedicated team for each customer over ongoing project and deliver the quality output consistently.
With our state of art technology and large talent pool of Engineers & Architects, we are developing best in class solutions for our customers across the globe. We align with your culture and values to form unbreakable partnerships and are primed for success with over 100 employees and 150 customers in the US, Europe, India, and Asia.
You can email us at info@milestonetech.net and can log in to our website www. milestonetech.net  to know more about our services and our work portfolio or contact us on  +1-844-598-0005