Overview of 3D Laser Scanning and Scan to BIM Processes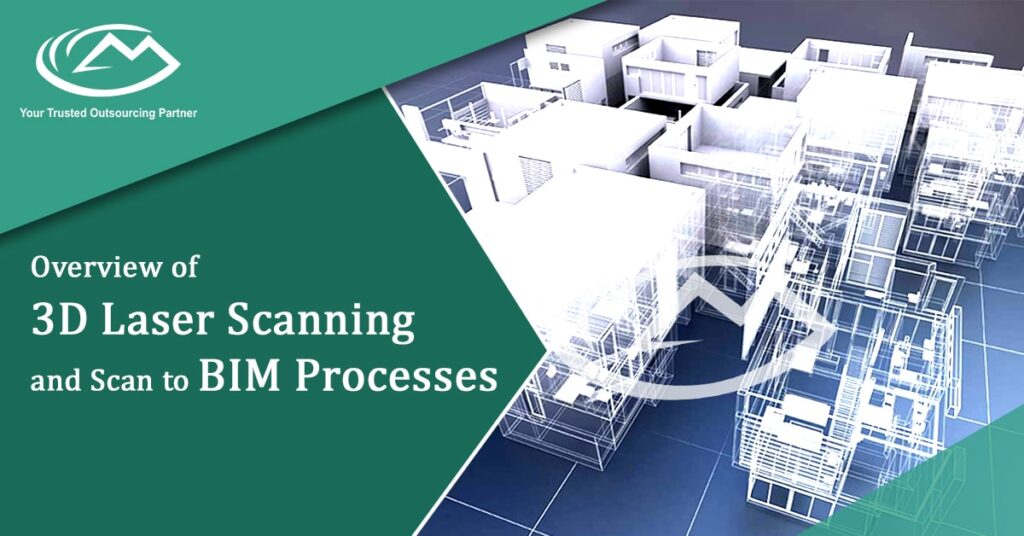 Overview
Scan to BIM Services is the process of capturing scanned data from the site's construction conditions in the form of 3D digital models. This tool can be used for carrying out renovation projects, retrofitting, and even converting existing buildings. It's also valuable for extracting accurate and precise construction information from as-built buildings. 3D Laser Scanning is a cutting-edge technology that captures precise measurements of objects and environments in three dimensions.
Here are some ways Interactive 3D Visualization can benefit your facility:
You can apply the software to the construction of new buildings or making changes on existing plans.
The plan that's altered or added will be evaluated and analyzed through this tool.
Energy efficiency audits and virtual tours of existing structures will also be made possible through this approach.
Scan X is a software that contains the features of scanned data. It provides both complex and accurate results, which help with geometry, mesh modeling, topography extraction, etc.
Used by Laser Scanner by Contractor
Contractors can now get accurate data that they need while they are on site, thanks to 3D laser scanners. These scanners make it easier for them to gather a ton of data and also work with their planning process.
Multiple uses of laser scanner for the contractors :-
Learn the overall progress of your model by checking the progress bar.
Envision is an extension of the architectural software, REVIT. It can generate accurate as-built models from your existing buildings.
This is an application that can add any missing element or design to the model.
Inspecting the as built model is our specialty.
Contractors in the construction industry can benefit as follows :-
Less rework from human error –Certain construction projects can be affected by rework or things which happen at the later stages that affect the time and cost of the stage. This can be because of unforeseen factors. With the advent of 3D laser scanning, architects can drastically reduce their need for rework by taking a model and redesigning it with software . They will be able to save costs and prevent rework. This will not only allow you to change the building design, but it will also allow you to measure things like height and area. You can easily use 3D laser scanners to grab all the essential information about your model.
Evaluating documentation throughout the construction process –Scanner can be used for more than just capturing data. It can also be used to document any project's life cycle throughout its lifespan and help create the best possible design according to the client's needs. If a change within the model needs to be made, it can easily be tracked and kept in order on whichever software is being used. It's a way for the company to stay ahead of its schedule by informing the entire team. This speeds up any future updates because there will already be alerts set up.
Reduction of cost and schedule –Staying organized and not wasting work by getting it done faster can help you save time, reduce the amount of work, and avoid adjusting future schedules. This can help you stay on track with your project and minimize rework. Sometimes, it's helpful to know what materials are required and determine the costs involved with laser scanning. Simple plug-ins can provide detailed material supply and use information, helping everyone in your business gain a clear understanding of what they need.
High precision data –3D scanners and other point cloud models can capture smaller details more precisely and provide more information for designers. They are especially useful for capturing the depth, texture, and materials that make up a product.Thanks to this new technology, we don't have to worry about human errors. All the information captured by the system can be needed by contractors for editing tasks and completing them in an efficient and effective manner.
How does scan to BIM work through 3D laser scanner ?
Scanning: Capturing Data
You can use a scanner or a laser rangefinder to determine what surrounding objects are in any given area, including from above ground. This is an instrument that should be handled with caution though – it's not harmful to the naked eye. The process of scanning is easy. The laser beam captures the surface, and the relative location between the surface and scanner is recorded as XYZ values commonly called a "point".
To get the best scans, it takes an accumulation of data points. Once the scanner is able to capture a million-plus points, it will produce three-dimensional data in a precise way. Colorful pictures are generated from that data. If you want accurate and precise scanned data to help model your building in Autodesk BIM, there are some important steps to take. We can check on our scanning process and make it more useful and fruitful by understanding the requirements.
The purpose of the point cloud should be crystal clear to the team before they visit the site for scanning. This will increase the efficiency of your capturing point cloud data, which will then provide a better project.
When a team goes on-site to capture the point cloud, they must set up the scanner and prepare it with the number of points to take and the density of scan.
To get a clear 3D scan, it's necessary to take multiple scans from different angles and directions. If you know the purpose of your scan, then we'll be faster and more concise while capturing that data.
We'll now have to take this data into a system. All the individual scans must be registered into multiple points accurately. We can use point cloud software to register and model the data.
Absolutely! We use that laser scanner data to produce high-resolution, accurate 3D models which can be produced quickly. They're easy to sync with the on-site information and documentation, so you don't need to spend hours running trial and error data.
Process of Modeling with Point Cloud Software
High density scan data –Since RTI has been introduced, more accurate buildings are being completed and the accuracy of their geometry is higher.
Low density scan data – 
Required timeline depends on how many details we're focusing on and the scale of these details. If we are focused on minute details, timelines tend to be longer.
When the point cloud is placed in a project (by origin to origin/by center to center/ by shared coordinates or by last-place settings), we can commence modeling.
So where we find the edges, we create "detailed lines" all through the walls everywhere. At a glance you should be able to see where the walls are protruding from the floor or from then surface of another wall. In a room with smooth surfaces, this would be hard to tell if they're not correctly set up.
Now that you have a basic understanding of the wall segmentation, we will place walls over these lines in order to avoid errors and maintain accuracy.
Because the scan typically gets deflected, the bottom and top of the wall often don't match. We create walls based on the bottom of the scan (the tip).
The Quality Assurance/Quality Control process is an important part of the construction industry. Here's a quick rundown of what it means to you, and what it entails.
Examine each element of your 3D model using the viewport and compare it with the scanned object's surface. When there is a mismatch, fix the issue or ask our professional consultants to rectify it. Earlier, we discussed the QA/QC process to model. Now that we're familiar with the process, we should be well aware of the tolerances which we have kept for modeling. The tolerances are dependent on two factors:
The level of detail in which a project is carried out
The density and clarity of your scan
Tolerances are the amount of error that can be tolerated without compromising the accuracy of results. With exceeding tolerances, you risk inaccuracies and unforeseen outcomes.
Conclusion
Point cloud to BIM service (Building Information Model) models rely on construction data such as building footprints, quantities and dimensions. They compare this to the actual construction of the building and output drawings that are detailed enough to let builders know what they'll be doing so they can make efficient use of the time, materials and labor. In addition, energy analysis can be adjusted and quality assurance assured by this method before work starts to avoid costly mistakes later.
Follow Milestone PLM Solutions for AEC Industry Updates, CAD Tips and Global Construction News. 
Milestone PLM Solutions  with its exclusive delivery center in India is a global CAD, BIM outsourcing partner serving the needs of the AEC industry since 2004. MILESTONE focuses on the unique needs of clients and believe in tackling real-life problems with efficiency, smooth and ease.
The MILESTONE team can assist you with DD Set, CD Set, BIM Modeling, Rendering, walk through and more. We support multiple BIM software including AUTOCAD  REVIT, Architecture cad, Vector works etc. Our approach is to provide a dedicated team for each customer over ongoing project and deliver the quality output consistently.
With our state of art technology and large talent pool of Engineers & Architects, we are developing best in class solutions for our customers across the globe. We align with your culture and values to form unbreakable partnerships and are primed for success with over 100 employees and 150 customers in the US, Europe, India, and Asia.
You can email us at info@milestonetech.net and can log in to our website www. milestonetech.net  to know more about our services and our work portfolio or contact us on  +1-844-598-0005