The Need for Mechanical Engineers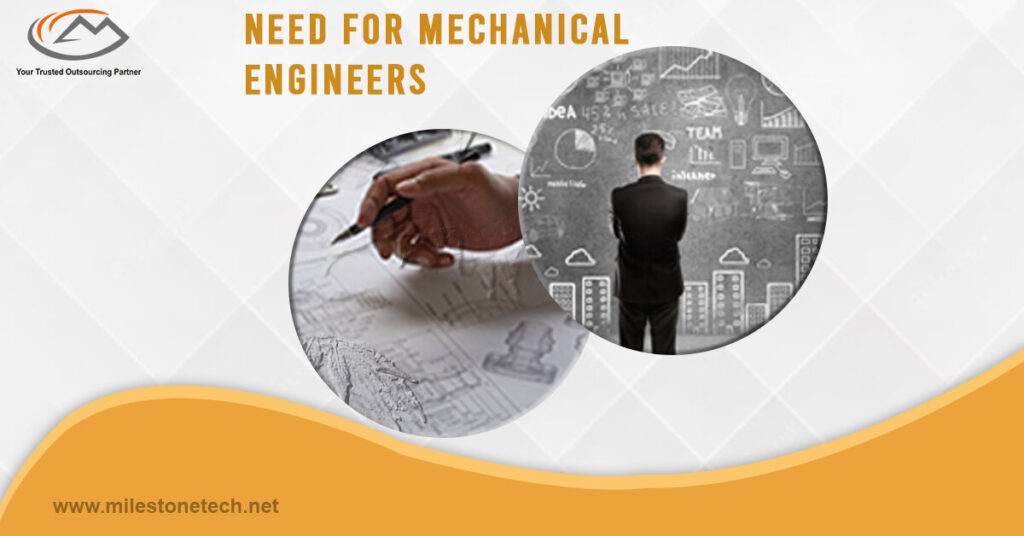 Mechanical engineering is a diverse field that can offer many opportunities for those ready to take the necessary steps to becoming a mechanical engineer.The need for mechanical engineers arises from the fact that many of the products and systems we rely on every day require mechanical engineering expertise
Where is the need for Mechanical Engineers?
There are vital roles for Mechanical Engineers in many industries and fields including:
Aerospace
Acoustics
Design Testing
Packaging and Production
Medical Industry
Control and Instrumentation
Nuclear
Manufacturing
Automotive
Oil and Gas
Mechanical Engineers Work with Detailed Projects, and their Skills are in High Demand for the Following:
Automotive Field -The mechanical engineers design machines, systems and processes in manufacturing or other applications.
Aerospace Field – Mechanical Engineers research and develop tools, engines, machines, and other mechanical devices.
They also work at power-producing machines, such as electric generators and steam turbines.
Energy Conversion Field – Mechanical Engineers help design and develop the industrial equipment and systems needed to convert biomass to fuels. They also design engines that run on sustainable bio-fuels.
Manufacturing Field– They work on machine tools, prototyping, machining and micro fabrication.
The need for mechanical engineering is growing for the design and development of renewable energy systems, such as wind turbines, solar panels, and geothermal systems.
With mechanical engineering outsourcing, you have an engineering team that can help you with your CAD drawings. It outlines how the parts are connected and what types of measurements are required for the particular design.
With the proliferation of AI, mechanical engineers are still in high demand. They are responsible for making production quality designs that will sell to manufacturers. They invest a lot of time assessing wall thicknesses, drafts, steel safe conditions, tolerances, and material selection because they are responsible for bringing inventions to life at their most crucial stage.
This phase and the detail in the engineering will reflect in the molds that are used to generate each part of a design.
The weighted residual is noted down first
The integration of the differential equation is made by performing integration by parts a significant amount of times to ensure that the distribution of the different variables and the weighting function is even. It should also be noted that the weak form of the weighted residual is developed. This must be done in order to solve for internal boundary conditions.
The differential equation of the weak form of the N element are added
The function is then interpolated to find the shape and is used as a weighting
To engineer a finite element system, we need to model the equations for our structure.
Outsourcing Mechanical Engineers for Product Design
Your need for mechanical engineers is  for the inventions that you have in mind, sketches or ideas. When you create an invention, a good mechanical engineer is essential, especially during the manufacturing phase.
Regardless of what stage you are in or what type of company you have, mechanical engineering outsourcing will provide you with a team of professionals who will keep your design idea on track.
The Growing Demand
 Becoming a mechanical engineer is advantageous for people who want to enter the field that continues to grow and be successful. Right now, mechanical engineering employment is expected to grow 4.5% by 2022; there will be 11,600 new jobs created.so,the need for mechanical engineers is high.
In 2019, the census bureau reported that the motor vehicles and vehicle equipment manufacturing sector had the largest share at 26.1%.Mechanical engineers are employed in several industries. The largest are machinery manufacturing with 13.3% and architectural engineering with 9.56%.
Aircraft manufacturing increased from 2.08 to 3.46 percent, and medical equipment design  increased from 1.17 to 2.21 percent.
The Quality of Profession
 Mechanical Engineers can work in a variety of jobs. They are involved in R&D, engineering and all sorts of other jobs too.The U.S. Department of Labor predicts that future mechanical engineers will need to have skills in mathematics, reading comprehension and problem-solving.
New technical skills for the digital world include knowledge of Matlab and Nastran, CAD design programs like Solidworks, database management software like Microsoft Access, and configuration management software like Perforce Helix.
How Milestone PLM Solutions can help you gain expertise in your business?
Follow Milestone PLM Solutions for Mechanical Industry Updates, CAD Tips and Global CAD, CAM & FEA News.
Milestone PLM Solutions  with its exclusive delivery center in India is a global CAD, CAM & FEA services outsourcing partner serving the needs of the Mechanical, Millwork and Automotive industry since 2004. MILESTONE focuses on the unique needs of clients and believe in tackling real-life problems with efficiency, smooth and ease.
The MILESTONE team can assist you with Product Design, 3d Modeling, Drafting & detailing, Reverse Engineering, FEA Analysis and more. We support multiple software including AutoCAD, Solidworks, Catia, NX, Inventor, Solidedge & Ansys etc. Our approach is to provide a dedicated team for each customer over ongoing project and deliver the quality output consistently.
With our state of art technology and large talent pool of Engineers, we are developing best in class solutions for our customers across the globe. We align with your culture and values to form unbreakable partnerships and are primed for success with over 100 employees and 150 customers in the US, Europe, India, and Asia.
For more queries regarding any of the above-mentioned topics, feel free to connect with us on our website www.milestonetech.net or contact us on  +1-844-598-0005