Modular Construction - The Importance of BIM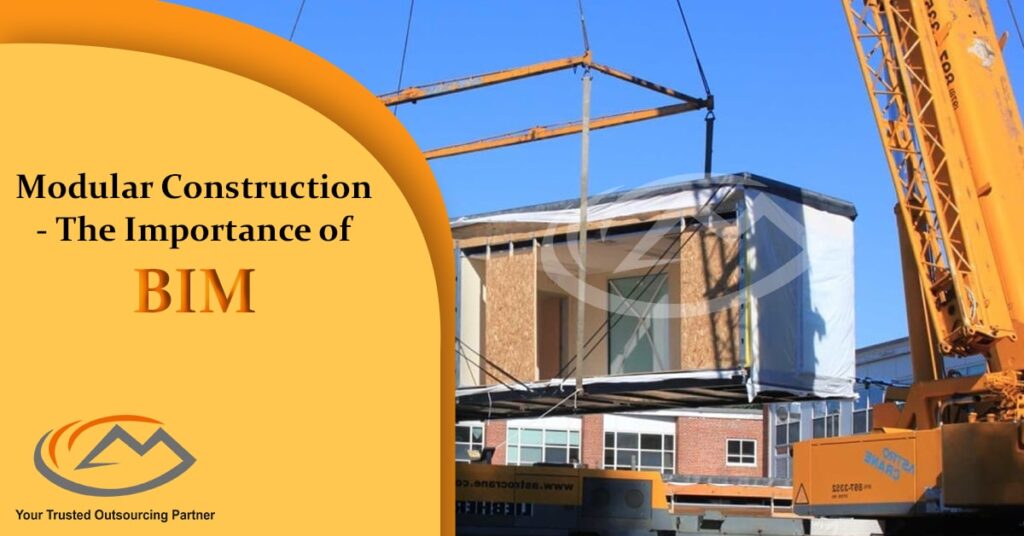 Construction companies are struggling with a shortage of manpower and the disruption in the supply chain due to the past pandemic. But there is hope all hope is not lost.The Modular Construction technique can be viewed as Lego blocks that are stacked and bound together to create a structure
Construction companies are expecting a lot from modern technology. They need help getting back on track, controlling costs, and being more efficient. That's why, increasingly, they're adopting modular construction.
Manufacturing companies are now turning to modular construction in the hopes of cutting costs and speeding up building schedules. Unlike 3-D printing, this method is more focused on per-fabricated units that can be built offsite before being put together on site.The productivity and lower costs make it highly valuable, with McKinsey predicting it to be a $130 billion market by 2030.
The Modular Construction Process offers Multiple Benefits, Such As:
Using steel instead of wood can make construction projects go twice as fast.
You can save up to 20%
Using a content re writer can reduce the labor costs of a project by 25%.
Modular Construction has great benefits for the construction industry, but it also has been found to come with challenges.
In general, the footprint of a manufactured unit is specifically configured to house a pre-fabricated or modular building. If the unit is not precisely manufactured, it may not fit well and special attention will be needed on site to ensure it is completed and installed seamlessly.
Producing something from scratch is always a risky endeavor. For example, in many cases the company might have to do an additional 30% of work because the initial product was scrapped due to problems with the design.
Technology like Building Information Modelling (BIM) can help you find creative solutions during design and construction
The Role BIM in Modular Construction
BIM is a software that helps construction sites create accurate models and drawings. This can help to make the construction process much smoother, because every detail will be accounted for.
With BIM, you can create a 3D visualization of your completed building project. It will incorporate accurate dimensions and different elevation views. In addition to the surface of the structure, this visualization will also include better information about the foundational components.
Digitizing the Construction Workflow 
Some construction companies have started considering a Digital Engineering approach. One of the key benefits to this is digitizing workflows, which can lead to increased efficiency in the construction process. The digitization of these processes can also help companies accurately estimate their costs and reduce risk by automating errors.
Reduce reworks, promote transparency in project status, and maintain quality. You can also create digitized workflows to help with the offsite construction of complex designs of components.
Enabling MEP Coordination
Mechanical, Electrical, and Plumbing MEP coordination can be very tedious and time-consuming. This type of coordination accounts for 40% to 60% of the project. In the context of offsite Modular Construction, this is vital because all three disciplines should be aware of the precise location of the proposed installation during the model phase.
If you don't take the time to make sure your project is coordinated and you're using different planning tools, there's a chance you'll run into problems. That's where Building Information Modeling can help. BIM gives specialists a 3D view of the structure during pre-construction so they can tackle challenges as they arise.
Project coordinators benefit from the precision that BIM provides and are able to identify potential clashes in the MEP systems. This reduces the risk of any clashes occurring before pre-fabrication design even starts.
Reducing Cost Escalation
A recent study showed that while Modular Construction can cut costs, it could lead to costly issues if the initial planning is not done correctly and the workforce is not skilled enough. BIM can help companies with this issue by reducing escalating costs.
A resource management system is a software that helps companies to streamline their construction workflow, as well as find the right people who can integrate and reduce insurance costs. A study by McKinsey found that at least 75% of construction firms saw positive ROI with BIM.
Adhering to Project Schedule
With Modular Construction, offsite and onsite work can happen at the same time, so construction can be done up to 50% faster than conventional methods. Modular Construction is also a great choice for construction companies as they don't have to worry about weather delays, among other risks. To make sure that everything runs smoothly and according to schedule, these companies have been using BIM.
BIM improves the process of communication among project stakeholders, which ultimately makes it easier to create a successful project. Countries like the UK and Norway use BIM to submit designs to the government electronically, so they can quickly check if the construction meets regulations for electronic submission.
Reducing Wastage of Pre-Fabricated Material
The Leaden-hall Building, located in London, is known as a landmark and tourist attraction. However, architects know it best for its sustainable construction model. The Leaden-hall Building is a great example of how modular construction can help companies to achieve zero waste. A lot of the building's components are manufactured and designed offsite. Not only does this cut down on labor costs and increase productivity, but modular construction also helps build sustainable buildings that reduce up to 90% of waste.
BIM helps you avoid errors in your project and decrease the amount of wasted time and materials. All because, with BIM, drawings are made three dimensional which brings stakeholders visualizing the plans early in the process. It allows them to identify and fix any problems immediately, reducing the number of chances for rework.
Conclusion
The joint technology of Modular Constructionwith BIM can help construction companies to improve the progress and quality of their projects. No wonder governments and construction companies all over the world are backing it to fast-track projects. Have you considered how BIM can help you effectively implement your offsite Modular Construction?
How Milestone PLM Solutions can help you gain expertise in your business?
Milestone is a multidisciplinary company and caters in CAD drafting and modelling, AEC and BIM services since 2004. We majorly work in Mechanical, Architecture and Civil domain across to globe. With a team of experts, we can help you and your team in performing better and faster than your competition. You can outsource you CAD Design, Modeling, rendering, Construction documentation and BIM services, and we assure to you guaranteed quality results with the quickest Turn Around Time possible.
You can email us at info@milestonetech.net and can log in to our website www. milestonetech.net  to know more about our services and our work portfolio or contact us on  +1-844-598-0005