Kinetic Building and BIM : The Vision of Future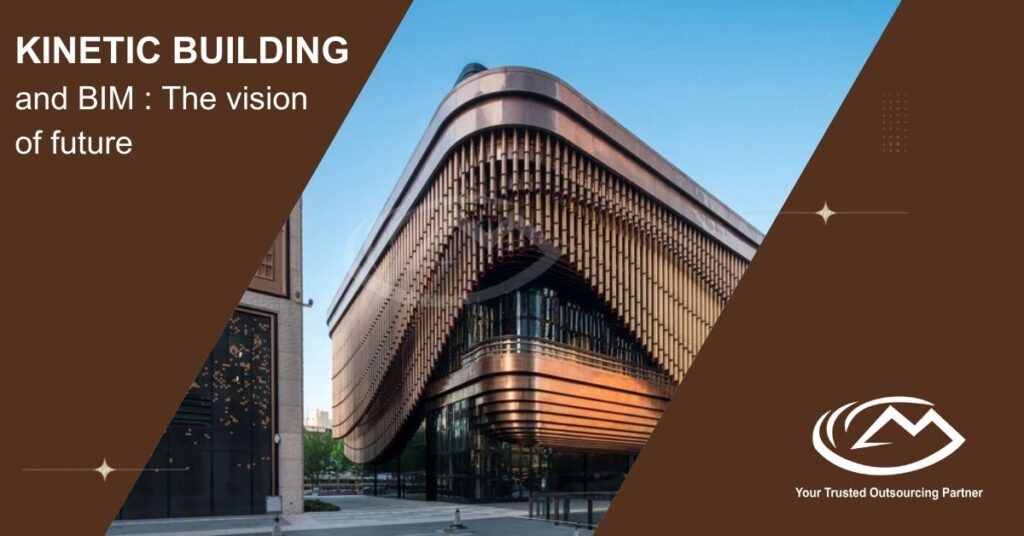 Architecture is a combination of science and design with one goal: to transform the world. Kinetic Buildings are a great advancement on the field of architecture. They blend design and science to create innovative designs with sustainable ideas for people to interact with their surroundings. The following article discusses the meaning of Kinetic Architecture and its purpose. We also discuss how this modern vision can be enhanced by Building Information Modeling Systems, like Revit BIM Services.
What are Kinetic Building?
Kinetic Architecture is creating structures and spaces that can physically change self-configuration depending on the changing needs.These are responsive systems which are produced by a combination of people, air, water and other Kinetic forces.
They can be incorporated inside or outside the building in automated thermally-controlled shading, moving walls, rotating components, etc. Kinetic Structures have always been around, like bridges that can open or close when ships pass, or draw bridges on castles. While construction technology, robotics, and mechanics are advancing at a rapid pace, their potential to produce innovative Kinetic Building designs is not limited. Whenever there is a static surface, Kinetic Facades wants to change it by providing kinetic energy. It has protective properties for the environment and can generate electricity. With the help of their own proprietary media and technology, Eco sphere has made HD video production a less difficult task.
Kinetic build for Multi Function
Architecture is typically a very static and straight-forward style. Kinetic Energy has the ability to create spaces that can modify its design layouts with their functions. These can be walls that you'll see move or disappear to create bigger rooms or reconfigurable floors. This helps maximizing the available space, especially in big cities where there's a scarcity of spaces.
Kinetic Build for Conceptual Adaptability
Contextual adaptability comes in three ways: forms, environmental factors, and active patterns. Thus, contextual adaptability refers to the form of the building that responds to climatic factors in an active manner. We believe that flexibility is the most important part of sustainable design. There are many purposes for revolving doors other than just moving people in and out of buildings. They can manage light, air, energy and even information. They can be used to reduce or enhance solar gain, as seen in Sharific-Ha House when it features three rooms that rotate through 90 degrees.
A new development in constructing buildings that move is able to automatically respond to climatic factors like time of day, occupancy level, weather, etc. This technology can lead to more energy efficiency and a better performance for the building overall.
BIM for Construction Kinetic Buildings
Kinetic Architecture is a company that stands for making buildings more sustainable and accessible to users. Their software helps clients manage their buildings so they can focus on client needs like comfort, productivity, energy saving, etc. The 3D Intelligent Model includes all systems that control the building. With Kinetic Buildings, the focus is on the 3D visualized MEP BIM Services to properly bring together all HVAC, fire, lighting and other systems which respond in accordance to environmental stimuli.
BIM, or Building Information Modeling, is an essential part of designing a building. It becomes particularly important for complex and precise design like the case of Al Bahr Towers in Abu Dhabi. This requires the use of Revit Families. The BIM Model can be optimized for performance with structural representations, hierarchical blocks, and design rules. Using topographic modelling in Revit, the software allows you to visualize shadows at different times of day and year. 3D Model provides a more accurate understanding of real-world build ability and helps make your idea a reality. They also help to coordinate workflows and facilitate collaboration among all stakeholders.
Conclusion
While kinetic architecture is a relatively new concept, it's already produced real-world projects that have shown its potential. Now it just needs to be seen how effectively these design patterns can be applied in the future.
Follow Milestone PLM Solutions for AEC Industry Updates, CAD Tips and Global Construction News.
Milestone PLM Solutions  with its exclusive delivery center in India is a global CAD, BIM outsourcing partner serving the needs of the AEC industry since 2004. MILESTONE focuses on the unique needs of clients and believe in tackling real-life problems with efficiency, smooth and ease.
The MILESTONE team can assist you with DD Set, CD Set, BIM Modeling, Rendering, walk through and more. We support multiple BIM software including AUTOCAD  REVIT, Architecture cad, Vector works etc. Our approach is to provide a dedicated team for each customer over ongoing project and deliver the quality output consistently.
With our state of art technology and large talent pool of Engineers & Architects, we are developing best in class solutions for our customers across the globe. We align with your culture and values to form unbreakable partnerships and are primed for success with over 100 employees and 150 customers in the US, Europe, India, and Asia.
For more queries regarding any of the above-mentioned topics, feel free to connect with us on our website www.milestonetech.net or contact us on  +1-844-598-0005