A Guide: Scan to BIM-from Scanning to Creating an AEC Environment as a Product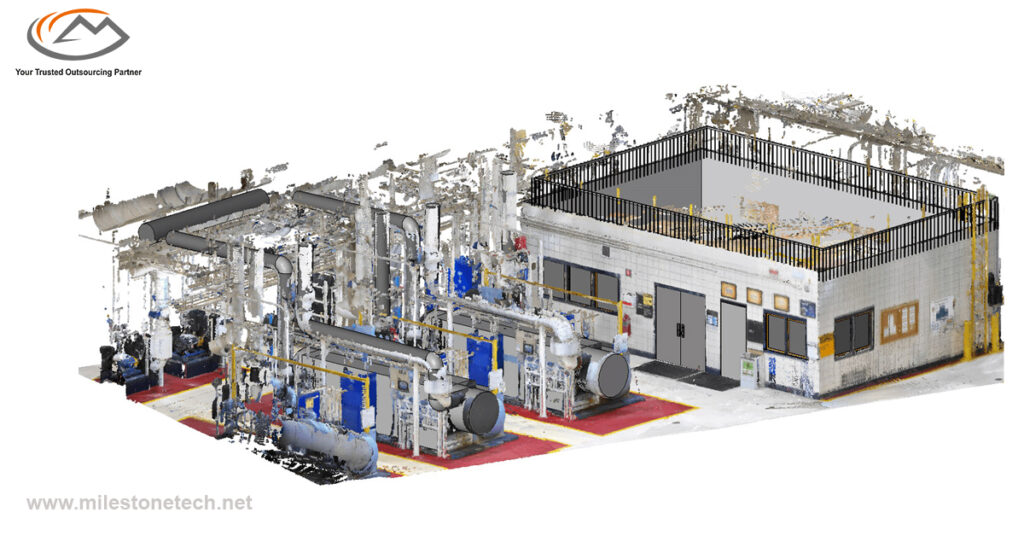 Have you heard how Scan to BIM can help you save time and money? If so, this is a Building Information Model created from 3D Scan technology. Is there more to it than just scanning though? Let's break down the process step by step.
The first use of laser scanning in architecture was back in the 1990s. It was used to capture existing building conditions and design purposes. Now it is quickly becoming a standard way for construction companies to accomplish their Renovation, Refurbishment, Retrofit, or Reconstruction Projects.
What is scan to BIM?
Process of Scan to BIM
Scan to BIM has four stages:
How to get all the information you need
3Dimentional Modeling
Scanning
Space Planning
1.How to get Information you need
 To make it easier to understand what Scan to BIM means, we'll first discuss the necessary requirements for modeling. It's important to list the desired level of detail in your 3D model so you can be sure it will meet the desired application. Higher modeling accuracy means that data in this BIM will be more accurate, but it also costs more time and money. Once you know how much time and money you have, you'll need to weigh that against your desired level of accuracy. The following are some things identified during this stage:
Required LOD
Possible non-geometric attributes
Required building elements
2.Dimentional Modeling – As Build Ready for the Built
Once we've scanned the existing building with a Point Cloud Scan, we will convert it into a 3D BIM model with the as-built condition of the building. This stage of the Scan to BIM process consists of two major steps: acquiring and converting.
3.Scanning – Capturing the Reality
 3D laser scanning is a way of measuring distances. A 3D Scanner uses a safe, eye-safe laser rotating fast enough to collect data at high speeds and with high precision. The device usually sits on a tripod on site and records the point where the laser beam hits any surface. Those points are mapped together in a highly accurate digital picture. Once all points are gathered, the scanner will colorize them to create a 3D map with multiple viewpoints, known as point cloud scanning.
The 3D laser scanner can capture the structure of both the outside and the inside, including concealed mechanical, electrical, plumbing, and fire protection installations. The scanned data is then translated into a 3D model using Revit.
There are many ways to execute a scanning process, including:
360-Degree scan

Time of flight scans

 -The scanner head must run through every possible position to take up all the grid spaces on the page.

Phase based scan

– One of the critical differences between a laser scanner and a ruler is that the laser pulse is used to calculate distances.
4.Scan Planning
Before acquiring a 3D scan, you should determine what is important to include in the scan, otherwise you might miss something. There are many attributes that need to be determined before acquiring a scan. Below, there are just a few:
Accurate Information
Coverage
Resolutionof Space
Other attributes like location, resolution, etc.
3Dimentional Modeling
This scan technique will be illustrated with as-built conditions of the building. These conditions will then be used for a variety of purposes: remodeling, redesigning, and renovating some portion of the building. With this final stage of Scan to BIM  we'll have our desired As-built model including all necessary building system detail.
Decoding the Point Cloud Data
One way in which AUTODESK helps Project Owners manage complex buildings is with AUTODESK  Recap. BIM modelers use this software to extract physical and functional attributes about each building system. In this stage, point cloud data is used to generate an accurate 3D representation of the building's systems.
Various application of Scan to BIM
Scan to BIM is a growing trend in the industry. The primary function of this technology is to capture the actual as-built conditions of a building. It can be used to manage knowledge repositories that generate and coordinate building facilities throughout the life cycle. Let's look at how Scan to BIM can be beneficial during different stages of construction projects.
1.Design
A 3D BIM design of the construction site during the design stage can make it easier for designers to understand the site conditions and make decisions about their buildings.
2.Construction
  BIM is a 3D representation that encompasses all the on-site construction work going on. It identifies any disparities between the as-built BIM model and an as-designed model, which are then closely compared to the tolerance values tagged in relevant codes and regulations. In the construction phase, there are many aspects to take into consideration like:
Virtual Installation –

A Scan to BIM can be used to create accurate as-built models that provide a basis for virtual installations and assemblies. A scan to BIM will allow you to simulate the installation and assembly process in order to identify potential problems or issues before the actual installation.
Safety Management-

The Scan to BIM model can help construction safety by identifying safety hazards and suggesting ways they can be solved. This results in safer and more successful projects.
Digital Reproduction-

Scanning to BIM helps you streamline your workflow by replacing the need for thousands of drawings. It also allows you to visualize your design and make changes as needed.
QA/QC- The BIM model is made up of prefabricated elements including all the components that are processed for quality assurance/control.
3.Facility Management
Documentation- If you've got a building with unclear, outdated documentation, Scan to BIM will extract the information for you. This is essential for any future changes or construction. Texture and geometry are by far the most important things to document at this point.
Building Performance Analysis– Building performance analyses are carried out in order to study and improve the building's performance with regard to energy savings, accessibility, and structural reliability, among other factors.
FM Functionality- With BIM, you'll see a significant increase in functionality for things such as operations and management, space management, renovation planning and execution, emergency management, and personnel training.
Follow Milestone PLM Solutions for Mechanical Industry Updates, CAD Tips and Global CAD, CAM & FEA News.
Milestone PLM Solutions  with its exclusive delivery center in India is a global CAD, CAM & FEA services outsourcing partner serving the needs of the Mechanical, Millwork and Automotive industry since 2004. MILESTONE focuses on the unique needs of clients and believe in tackling real-life problems with efficiency, smooth and ease.
The MILESTONE team can assist you with Product Design, 3d Modeling, Drafting & detailing, Reverse Engineering, FEA Analysis and more. We support multiple software including AutoCAD, Solidworks, Catia, NX, Inventor, Solidedge & Ansys etc. Our approach is to provide a dedicated team for each customer over ongoing project and deliver the quality output consistently.
With our state of art technology and large talent pool of Engineers, we are developing best in class solutions for our customers across the globe. We align with your culture and values to form unbreakable partnerships and are primed for success with over 100 employees and 150 customers in the US, Europe, India, and Asia.
For more queries regarding any of the above-mentioned topics, feel free to connect with us on our website www.milestonetech.net or contact us on  +1-844-598-0005