Exploring the Definition and Benefits of 3D, 4D, 5D, 6D, and 7D BIM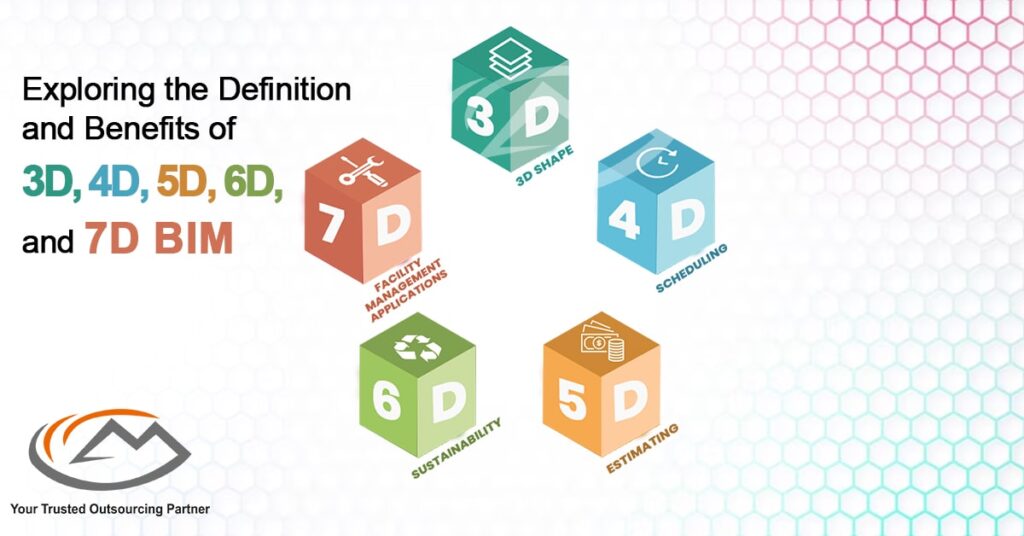 BIM is a process which manages the entire life cycle of construction projects. By generating information-rich models, BIM assists architects and contractors in project management. Level of detail in a model increases depending on the phase it is in. For example, modelers will work at LOD 100 to 200, but only model at level 300 and beyond if the project demands it.
BIM models are commonly used for specific reasons, known as use-cases. But how do you choose what to model when you have a range of project stages and complexity levels? That's where BIM dimensions come in. These dimensions can help to enhance your understanding of a construction project. The BIM technology we have today has evolved from the basic dimensions of 3D and 4D to more sophisticated dimensions like 5D, 6D and 7D. These new developments could be the future of an industry full of changes.
BIM dimensions- 3D, 4D, 5D, 6D, and 7D – all have different purposes that can benefit your construction project. You may use them to find out how much the project will cost, when you can expect to get it, and how sustainable it will be in the future.
What is 3D BIM? BIM 3D dimension all about geometry
3D photography lets you visualize three dimensions of the building before it's even started. This is helpful for stakeholders so they can understand the project from beginning to end. When it comes to structural design, 3D BIM enables stakeholders to work collaboratively. For example, a company may have difficulty deciding which materials to use. As everything is stored in their BIM model, this issue can be discussed at a later date and easily solved.
Benefits of 3D BIM
With the enhanced 3D visualization of the entire project, you can easily see how your decision will impact other building spaces.
We make communication easier with an intuitive and modern design process. You'll also be able to share your target design expectations while collaborating with our team.
Collaborating across different teams is easy when you use an in-office whiteboard system.
Eliminate the time-wasting process of doing rework and revisions with complete transparency from the start.
What is 4D BIM ? BIM 4th dimension : duration , time & scheduling
4D, also known as the fourth dimension of time, is related to the construction process by adding an element that was previously not accounted for: time. Scheduling data helps clients better understand how long their project will take, and how changes in their project may occur over time.
Information about construction schedules can provide more details about installation, operational time, and the sequence of installation of various components.
Benefits of 4D BIM
 By being able to better plan and time your website, it can get you the rankings you deserve.
No matter who is responsible for building a project, the coordination of multiple people is critical.
Preparation for construction projects is one of the most important things on your mind. Or it should be! You want to know what to do in case things don't go as planned. We'll help you with that.
Enhanced sharing of timeline expectations can help to avoid costly delays and frustration.
With a fully documented work plan and timeline, you'll get better visibility into progress, better communication within your team, and enhanced safety and efficiency.
What is 5D BIM 5th dimension : cost estimation analysis and budgetary tracking
5D BIM is a useful tool for analyzing budget and cost estimation early on in the process. It goes without saying that cost is one of the most important factors in any project. With 5D BIM, project promoters and owners are able to analyze estimated costs over time for a project. 5D BIM is an innovative construction practice that will help you extract accurate costs and account for changes as they arise.
Benefits of 5D BIM
The ability to see real-time costs and changes with your mobile app is powerful.
Automatically calculate the number of components/systems/equipment associated with a project
All budgeting is done automatically, including calculating predicted and actual costs over time.
We've minimized budgetary requirements due to regular cost reports and budgeting, so you can breathe easy.
What is 6D BIM ? BIM 6D dimension: making a structure self sustainable and energy efficient
6D Building information modeling can be used to analyze a building's energy consumption and gives estimates of energy usage during the initial design phase. 6D BIM technology can predict energy consumption requirements, an important feature for new structures; in addition, it has the ability to measure occupant energy usage, which is crucial for mature structures.
6D BIM technology is the next step in a conventional approach that only focuses on upfront costs. For example, with 6D BIM technology, you can also model the impact of maintenance costs over time to determine the true cost of ownership for each project. This approach helps in determining the total cost of an asset, and how you should spend your money to get it to a level of sustainability and cost-efficiency.
Benefits of 6D BIM
You'll spend less on energy costs in the long run.
There's no need to make decisions about installation of components during design. Don't worry, we'll take care of it and you can focus on other important aspects of your project.
The process and effect of a decision on the long-term economic and operational aspects
Improved operational management of the building or structure after it is handed over
What is 7D BIM ? - BIM 7D dimension : holistic facility management information for entire life cycle
7D BIM is all about predicting and preventing problems before they happen. This allows building managers to know a project's true value, schedule more manageable renovations, and make changes with the utmost confidence. The 7D BIM solution provides owners with information that can be used at any time: the asset data is tracked in real-time, so it always up-to-date.
With 7D BIM, all the aspects of the facility management process are brought together in one place. With this, you'll have a complete building information model to offer a seamless operating experience. Building Information Modeling (BIM) is an engineering process that helps to ensure the highest quality of service during a project. It ensures that everything in the project is at its best from the beginning to the day of demolition
Benefits of 7D BIM
From design to demolition, optimized asset and facility management will help you save time and money.
If you need to replace any parts of your building or do any repairs,
Contractors and subcontractors will benefit from our streamlined maintenance process for updating their profile pages.
How Milestone PLM Solutions can help you gain expertise in your business?
Milestone is a multidisciplinary company and caters in CAD drafting and modelling, AEC and BIM services since 2004. We majorly work in Mechanical, Architecture and Civil domain across to globe. With a team of experts, we can help you and your team in performing better and faster than your competition. You can outsource you CAD Design, Modeling, rendering, Construction documentation and BIM services, and we assure to you guaranteed quality results with the quickest Turn Around Time possible.
You can email us at info@milestonetech.net and can log in to our website www. milestonetech.net  to know more about our services and our work portfolio or contact us on  +1-844-598-0005