Contraction with MEP and BIM Modeling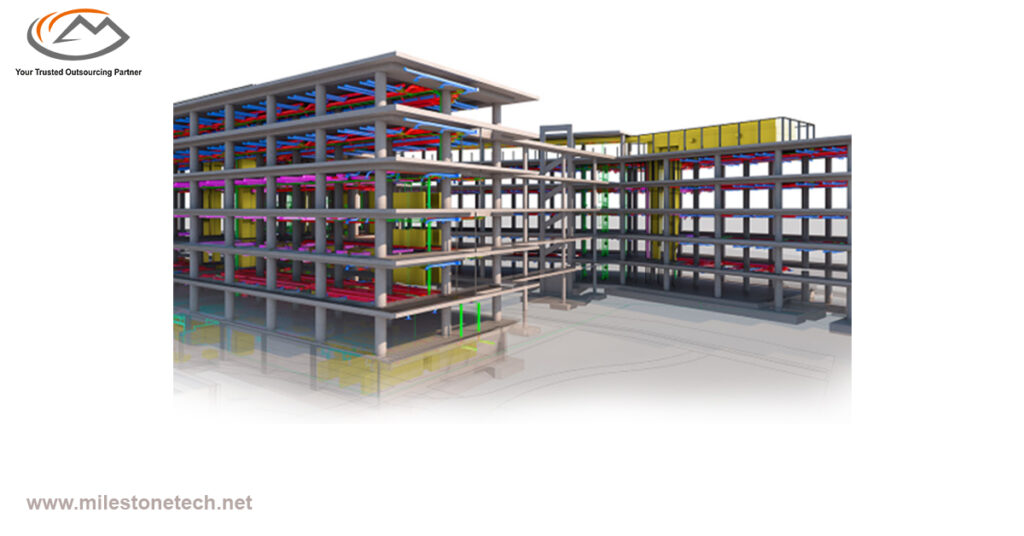 The cost of a house can be reduced with the use of BIM  Technology on any project. The cost reduction is one in five, along with the amount saved in time. MEP Design Services has created a way to reduce the time it takes to design and engineer houses by engineering what would take days into a few hours.
It is very expensive to own a building in New York City. However, with smart decisions you can reduce expenses like operation and maintenance costs. Use Building Information Modeling software when designing the mechanical, electrical, and plumbing (MEP) installations because it helps make your building smart.
Building a is expensive and maintenance costs are high, but using intelligent design decisions before the process begins can decrease those costs. Utilizing Building Information Modelling with Mechanical, Electrical, and Plumbing installations reduces the overall cost significantly.
With the use of modern approaches such as BIM, a new building can be created in 3D modelling with all of its information and systems. This creates a realistic model which can be used to make tweaks before construction begins.
Mechanical systems such as heating, ventilation, and air conditioning systems exist in current buildings for making indoor climates that are conducive to human habitation for prolonged periods. Mechanical installations address a large percentage of development expenses, and often represent more than 30% of the budget for many building projects.
Getting Faster Engineering Process
With 3D CAD Software you can create designs that are easy to understand and coordinate with engineering. 2D models are not as effective because they do not show where equipment overlaps each other which lead to design change when they need to start building.
Reduction In Frequent Changes
 Construction companies find it challenging to change the design after it's been passed to construction managers, which can result in missed deadlines and increased costs. A BIM Company has found a solution – make adjustments to the design that are cost-effective and quick
Maintenance Made  Easy
 BIM is being used not only in new construction, but also now in renovations and modifications of an existing building wherein scanning with the software can help determine the condition of the components of a house. This helps for proper estimates, leading to more cost-effective ways of getting renovation or modification done.
Human involvement is a benefit to efficiencies in the building and design fields. BIM's clear vision and prediction leads to savings through the prediction of what efforts will need to be put forth.
⭐ Clash Detection and Resolution
Independent models created by architects and specialists are combined with a coordinated BIM model. The new unified models are then compared for clashes and resolved via coordination services
⭐ Enhanced Operation  Mid and post construction phases
 Contractors can use BIM models to create custom MEP Installation.  This can lead to a reduction of human errors when it comes to the placement and routing of parts and ensures the contractors they are in contact with and work with are meeting quality standards.
When you're managing buildings, it's important to know what kind of thing is going on inside them. When contractors have easy access to detailed information about the building and its MEP components, it makes management much easier.
⭐ Improve Project visualization
The latest imaging technology lets contractors see the layout of MEP systems in real time. This helps them make repairs without disturbing the integrity of buildings, or other fixtures such as HVAC and plumbing.
⭐ Assistance with Fabrication
Contractors can access certain models to extract highly accurate drawings of pipe spools, penetration drawings, coordination drawings, and as-built drawings. These specialize though complex structures and projects aid fabricators with the ability to create accurate materials.
Housing or commercial developers can use standardized drawings and sectional views to boost spatial structure, improve space utilization, and reduce mistakes. General contractors can take advantage as well.
⭐ Timely Project Completion
With accurate scheduling, you can save time by never having to rework your on-site efficiency and avoid material wastage. Contractors can also schedule their resources efficiently based on their skills and competency.
➡ Conclusion
40% of contractors create MEP BIM models and they are able to come up with less errors, decreased rework, and save time as well as money. They have more efficiency in their work.
How Milestone PLM Solutions can help you gain expertise in your business?
Milestone is a multidisciplinary company and caters in CAD drafting and modelling, AEC and BIM services since 2004. We majorly work in Mechanical, Architecture and Civil domain across te globe. With a team of experts, we can help you and your team in performing better and faster than your competition. You can outsource you CAD Design, Modeling, rendering, Construction documentation and BIM services, and we assure to you guaranteed quality results with the quickest Turn Around Time possible.
You can email us at info@milestonetech.net and can log in to our website www. milestonetech.net  to know more about our services and our work portfolio or contact us on  +1-844-598-0005