Streamlining Construction with Scan to BIM: Minimizing Unnecessary Efforts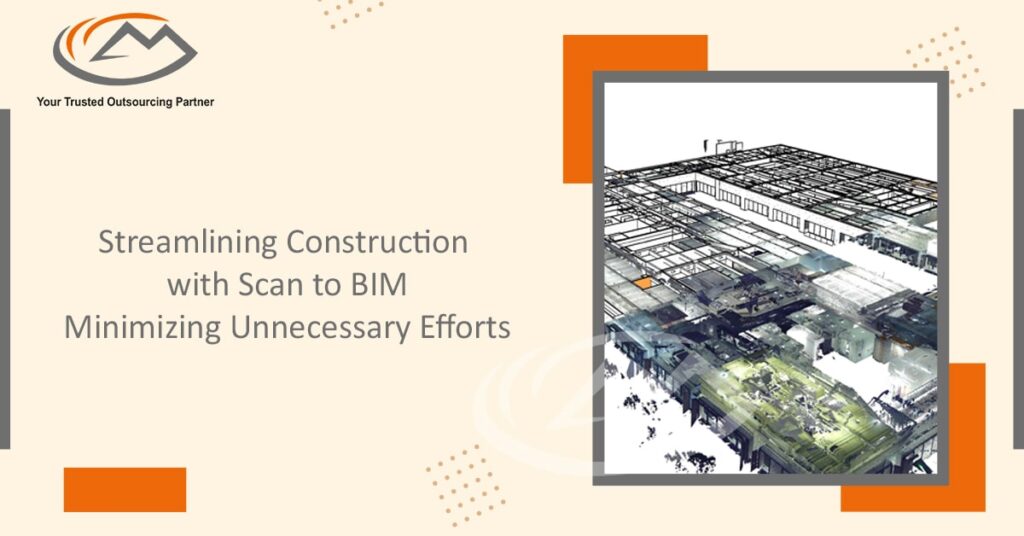 Construction with Scan to BIM can benefit from increased accuracy, improved collaboration, clash detection, and streamlined processes and  reduces unnecessary efforts, enhances project efficiency, and delivers better-quality results.Building Information Modeling:Even though these structures were erected by some of the world's finest minds and constructed with top-tier materials, they have withstood a lifetime of challenges, such as rain, hail, extreme weather, war, etc.
Over the The majority of historically significant buildings were constructed before the advent of years, many people have ruined their skin by exposing it to harsh chemicals and other rigorous treatments.
Restoring and maintaining these magnificent architectural marvels is crucial for them to last for years and years to come.
It is extremely important to have precise drawings, documentation and models available to carry out any maintenance or restoration activity. Without them, it becomes difficult to do even minor work.
A 3D scan of an old building can be uploaded to Scan to BIM Services and processed within minutes. This will help you determine the type of maintenance and safety repairs your building needs before it starts collapsing under its own weight.
Scan to BIM has one objective and that's helping with restoration and renovation projects. Some of the advantages are discussed here.
Capturing Exact and Highly Detailed Data
Restoring and maintaining these magnificent architectural marvels is crucial for them to last for years and years to come.
The Scan to BIM API can help you generate a structure's 3D model from laser scanners. The lasers scan every inch and collect millions of coordinates, also known as point cloud.
The process used here employs cutting-edge laser scanning technology and can map every detail with accuracy.
A digital model of your building can be created automatically from your blueprints that will integrate seamlessly with a standard 3D BIM process.
With our 3D modeling and design software, building patents can be drawn with extreme precision. Architects and engineers can visualize structural complexities and understand them quickly. This way they can attend to any areas that require their attention without wasting time on pointless details.
Accurate Cost Analysis
When buildings are undergoing expansions, existing MEP systems and components running through the walls provide valuable Intel.
This data can help contractors and project managers to expand MEP services from the appropriate points and eliminate guesswork when repairing damages, thereby saving time and money for all parties.
Scanning an existing structure that is to be demolished can provide crucial data on the removal of systems and components, which might be reused.
Utilizing BIM modeling services ensures accurate cost projections so stakeholders can put their minds at ease. These tools also foster planning for and executing of effective project execution tactics.
Facility Management
The integration of scanned 3D models allows for a safe archive that can be accessed in the future with minimal work.
Professionals who want to keep themselves updated on their building's condition can use this app anytime and anywhere. They'll be able to see maintenance needs, as well as a host of other data points. It will also allow them to monitor their building's condition on their own, from the comfort of their desk or wherever they happen to be.
Expanding a company can be difficult and stressful. Scan to BIM is an innovative new technology that's designed to help businesses succeed during expansion efforts – here's one example of how it can be advantageous.
Project overview : Reconstruction of Community Center, Spain
The community center in Spain needed to increase the utility of utilize space that they had available. The project spanned over 3000 square meters and included different types of buildings, such as hotels, churches, theaters etc.
The company wanted to make renovations to the space, and knew they had to be extra careful. They employed a company that would understand their needs in order to carry out their plan of action.
The client submitted their data through the cloud server and CAD Drawings. The task was to develop a REVIT  model, extract plans, elevations, and sections. The total turnaround time for this project was estimated to be 5 workdays.
Project Deliverables
As a business owner, you want to get the best outcome you can in your construction project. Although this sometimes means dealing with different types of issues and complications during the process, it is important that you are aware of them beforehand. The company delivered a 3D REVIT model of LOD 200 by combining architectural, structural, and engineering models. They also gave the client 2D Architectural Sheets with detailed and informative plans, elevations, and sections extracted from the aforementioned 3D model.
Tacking on Resolving Project Challenges
 The provided scans were not in alignment or correlating to each other. Though the external part of the house such as the garage, lawn, driveway etc. matched with the ground plan shapes, but internally in a few of the scans, the internal rooms were overlapping rather than aligned. One thing which was observed was that the walls represented in these scans were not orthogonal and this was going against what our client wanted. For that reason, we had to place the walls perpendicular to one another following which finally all room areas had to be calculated.
Identifying gaps in knowledge was a constant challenge for the team, which would raise RFIs (Request for Information) and virtual doubt solving sessions with the client. The client provided tremendous support, responding promptly to all of their requests, making it a smooth and insightful experience for the team members involved.
In Closing
Scan to BIM opens endless opportunities for expansion, renovation, refurbishment, and maintenance of projects that were built before BIM. With the help of laser scanning technology that allows the development of digital 3D models of structures and integrating them with BIM software, it's become easier to visualize and understand all the intricate details.
By focusing our efforts on the uniquely damaged areas of the building, we are able to significantly reduce time and cost for project managers.
The models scanned by BIM can be used for other aspects of the project, like designing time and material schedules. This helps to streamline renovation projects by ensuring that operations are seamless.
How Milestone PLM Solutions can help you gain expertise in your business?
Milestone is a multidisciplinary company and caters in CAD, CAM & FEA services since 2004. We majorly work in Mechanical, Mill-work and Automotive domain across the globe. With a team of experts, we can help you and your team in performing better and faster than your competition. You can outsource you Product Design, 3d Modeling, Drafting & detailing, Reverse Engineering, FEA Analysis and we assure to you guaranteed quality results with the quickest Turn Around Time possible.
You can email us at info@milestonetech.net and can log in to our website www. milestonetech.net  to know more about our services and our work portfolio or contact us on  +1-844-598-0005