How BIM Can Save Contractors Money and Time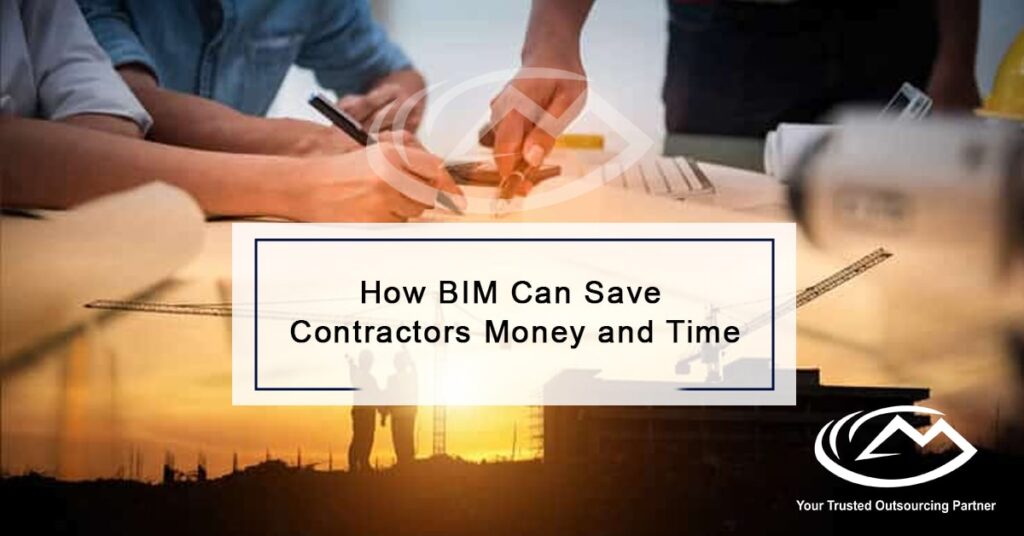 The path to profitability is an arduous and unpredictable one for general contractors. It can be difficult balancing deadlines, coordinating your schedules with different stakeholders, placing sub-contractors and staying within budgets while also taking care of manpower issues. The integration of BIM has already led to changing the way construction is managed in the government sector.
The government mandate to use BIM further enhances efficiency of construction management through technology interventions. The collaboration across disciplines and the use of BIM technology has streamlined most of the construction challenges. It ensures that projects are viable and contractors remain competitive.
McGraw Hill reports higher ROI on BIM investments
A survey from Bio-Design-Innovation revealed that 75% of surveyed contractors are seeing positive ROI in the range of 10% to 25%. Japanese and German contractors showed the highest ROIs which held to a range of 60%. In fact, it seems these statistics hint at the collaborative abilities of BIM and its visualization enhancements will offer further improvements for their BIM ROIs. Scoring a higher ROI is essential for businesses who want to maintain profitability, flexibility and productivity. To ensure this, companies should consider how they can reduce project disruptions, costs, and RFI's.
What are the challenges BIM can help to overcome?
2D drawings are often time-consuming, error-prone and difficult to use. Designers would have to create a new drawing for every project and bid on it during the whole process, which would be well over an hour long.
How do contracts get the BIM advantage ?
BIM is a digital platform that offers services in the areas of design, construction, and maintenance. It also streamlines processes and drives efficiency in the entire life cycle of a project. A virtual simulation during pre construction can eliminate cost inefficiencies and problems that could arise during construction by streamlining processes.
With BIM, you'll see reduced error rate, reduction in rework, and improved speed of construction. Expect to also benefit from increased level of collaboration among stakeholder, ability to integrate with external tools, more accurate estimation and scheduling
Integration with external tool
With BIM, managing every aspect of a building project is easier than ever before. Integrating with external tools and data systems such as analytic and value engineering software, project management tools, facility and asset management tools are a cinch. Digital GIS integration in architecture, design and construction facilitates project planning, 3D modeling and more – it transforms infrastructural development. GIS information about disaster-prone areas helps project contractors plan supply logistics and construction sequences. Digital geospatial integration with BIM makes easier the planning and execution of urban projects.
Site Logistics and Site Monitoring
4D BIM simulations can help bring a construction project to life with real-time, high-definition visualizations. These tools can precisely track construction equipment and activities while also including the risks and potential threats of site logistics. With data from previous projects, this system can optimize project management with RFID and sensor tracking. Early heads up allows for advanced preparedness by all stakeholders, as well as reducing non-value added services.
3D laser scanning helps track progress during construction and reveals any deviations from the original plan. As part of a long-term project, 3D laser scanning with 4D BIM creates models that are more accurate and detailed than ones made after construction.
Interdisciplinary Coordination
BIM coordinates interdisciplinary 3D models and 4D simulations, so it enables collaboration across settings to detect and resolve clashes before construction. BIM allows for a much quicker and easier interface check across design settings and model elements. Now with coordination, you save time, money and protect the intended design for your business.
BIM enables project stakeholders to collaborate and share data in real-time across the construction value chain. Right information received at the right time, in the right place makes co-creation less error-prone and more efficient. By leveraging BIM technology during erection of structural steel for the stadium of Washington Nationals baseball team, in Washington DC, only 100 RFI's were submitted before completion instead of 10,000s
Material take-off and Estimating
3D model and BIM is the key to more streamlined material-quantity take-off. It eliminates the need for manual take-offs, which are resource consuming and open to human error. This also enables quicker changes in design, which reduces resources and speeds up construction process.
Without BIM, suppliers and subcontractors would be operating in the dark. This makes every part of the tender process less transparent and more likely to lead to bid abuses. With BIM, you'll have accurate information at your fingertips to make sure you're bidding on quality work.
Enhance Design Understanding
Presenting a 2D drawing of your project at every juncture is often inconvenient. But using 3D visualizations to communicate design intention is helpful, especially to people outside of the creative process. The design intended model developed by a designer may not show the details required for construction. Construction teams will modify the model to make them work. For example, a constructor may split the slab from the design intended building information model, divide it into individual concrete pours, and show the construction sequence in that way.
3D Survey of Refurbishment Project
Designing and implementing renovation projects involves a lot of unknowns about the building structure. Therefore, it is vital for you to understand your building as soon as you can as Point Cloud and 3D scanning does. This enables your contractor to have the information they need according to the project without visiting the site, making sure all risks are reviewed before construction begins.
6D and 7D open door to future of BIM
BIM is integral during the construction of a new home, helping to increase efficiency throughout the life cycle. Once the construction is completed, BIM software integrates with facility management software and can be used for efficient operations. 6D BIM also increases efficiencies by including information about how a building component should operate and function in order to optimize its energy performance. The addition of this data into the project's building information model during construction phase enables facility managers to manage assets as intended.
Conclusion
Customer experience and profitability are two typical drivers of any business strategy. Technology and digital tools help contractors build efficiency and better engage with customers, making the "time" to invest in these things far more viable than it used to be. Although the time is right for everyone, contractors need to look at ways they can reinforce or farm out their digital firepower so they don't have to keep assuming all the risk. Building a central initiative to institutionalize digital activities within your company would improve your company's overall digital competency.
How Milestone PLM Solutions can help you gain expertise in your business?
Milestone is a multidisciplinary company and caters in CAD drafting and modelling, AEC and BIM services since 2004. We majorly work in Mechanical, Architecture and Civil domain across to globe. With a team of experts, we can help you and your team in performing better and faster than your competition. You can outsource you CAD Design, Modeling, rendering, Construction documentation and BIM services, and we assure to you guaranteed quality results with the quickest Turn Around Time possible.
You can email us at info@milestonetech.net and can log in to our website www. milestonetech.net  to know more about our services and our work portfolio or contact us on  +1-844-598-0005