Unlocking the Benefits of Scan to BIM for As-Built Modeling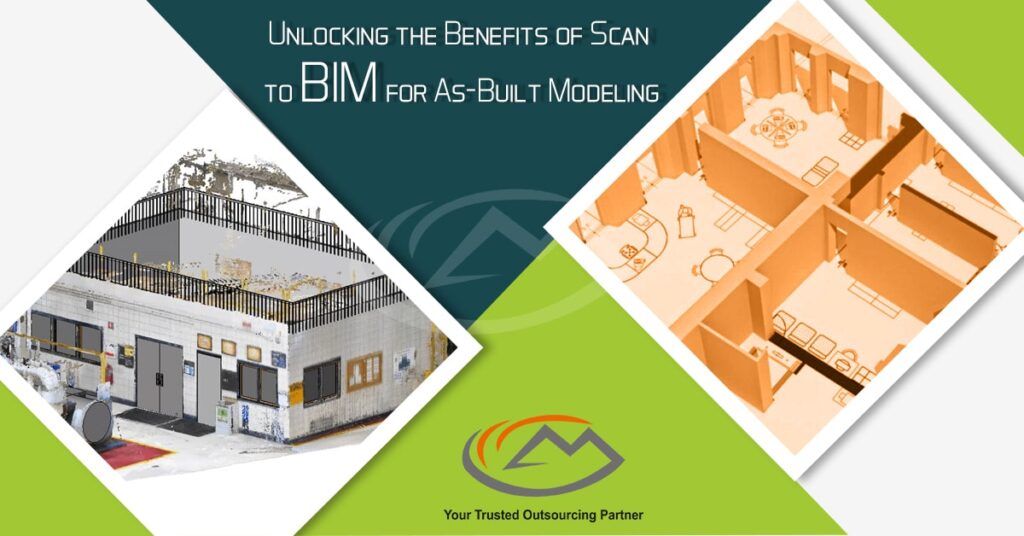 What is Scan to BIM?
As-Built Modeling are digital representations of existing buildings or structures which are created by its physical characteristics. Scan to BIM is a software that aids in the production of 3D laser scanning. It utilizes 3D laser scanning technology to capture points of existing buildings as point cloud data, which is then used for the creation of Building Information Modeling (BIM) models.
These 3D models accurately represent the building's current condition. Humans do this today by scanning a site or building to create these models. Scan to BIM Services are being used for a variety of reasons, including documentation, renovation, refurbishment, and site management. These techniques are also increasingly being used as part of creating an As-built BIM model. The project was accelerating in scope; she needed more time. She needed more time because the project was getting bigger.
What is as Built Modeling ?
With an As-Built Modeling, you can tell what the building looked like following all the changes that took place during construction. You'll notice the difference between the original building plans and what was finally constructed.
When a product is being introduced to the market, it needs an instructions manual. This manual shows all of the changes in location of components, records all the differences in materials, fabrications, and dimensions.
Logbooks are useful for the contractor to reference in order to show hard evidence of all the changes made during on-site construction.
Building Information Modeling (BIM) is a technology in the construction industry that stands for Building Information Management. This collaborative method of working enables professionals from architecture, engineering, developers, contractors, real estate, and other construction industries to make efficient plans and designs. The use of BIM can also extend to the operation and administration of buildings by optimizing data available to owners.
What  are the Advantage of Scan to BIM ?
The primary benefit of Scan to BIM is that it is much more reliable than any other process. This will insure the quality of any building renovation, refurbishment, or facility management you may go through.
The more accurate information you have, the better your decision-making and project alteration will be.
When point cloud data is used to create a BIM, it fosters collaboration, increases transparency and helps avoid any errors that might occur due to misunderstandings.
Slinks has tools that can increase the coordination between different team members. This way, there are no clashes in scheduling or workflow, and projects stay on budget.
Scan to BIM also leads to buildings that are more sustainable, as you will know the exact condition of each building component and can reuse a lot less materials.
BIM systems offer all the information a construction professional needs, and they eliminate unnecessary trips to the site with their departure from paper.
What are Advantage of As Built Modeling ?
There are many ways to keep records of changes made during construction projects. One way you can do this is by creating an as-built model through As- Built Modeling.
The app provides all the information about the location, manufacturer's details, and asset number.This means that facility managers will always be updating their physical assets in a timely manner, as well as quickly remedying any potential problems.
When it comes time to rebuild, renovate or refurbish your home, you'll want to know where the final documents are since you'll be going through them all the same.
This software also includes a guide for which building components might be used and then tracks their functionality throughout the building's life cycle so that AEC professionals know whether to use the information for future projects.
Scan to BIM for As-Built  Modeling:
After a building has been constructed, many AEC companies will conduct a laser scanning and use the point cloud data to update their existing BIM models with all the changes that would have been made onsite.
Surveyors have traditionally relied on inaccurate methods such as surveying and manual calculations. These models are both accurate and high-quality, so the resultant actions will be without errors. Manufacturers can glean valuable information from these models before they commit to anything.
This includes a judgement etc. Moreover, the smallest component or design element can be seen with laser scanning so it is easy to analyze and account for.
With laser scanning, architects and engineers are able to create As-Built Modeling that have accuracy and quality. These specific goals will help us reach our final objectives with better results for all.
How Milestone PLM Solutions can help you gain expertise in your business?
Milestone is a multidisciplinary company and caters in CAD drafting and modelling, AEC and BIM services since 2004. We majorly work in Mechanical, Architecture and Civil domain across to globe. With a team of experts, we can help you and your team in performing better and faster than your competition. You can outsource you CAD Design, Modeling, rendering, Construction documentation and BIM services, and we assure to you guaranteed quality results with the quickest Turn Around Time possible.
You can email us at info@milestonetech.net and can log in to our website www. milestonetech.net  to know more about our services and our work portfolio or contact us on  +1-844-598-0005