Advantages of Implementing 4D and 5D BIM in Construction Projects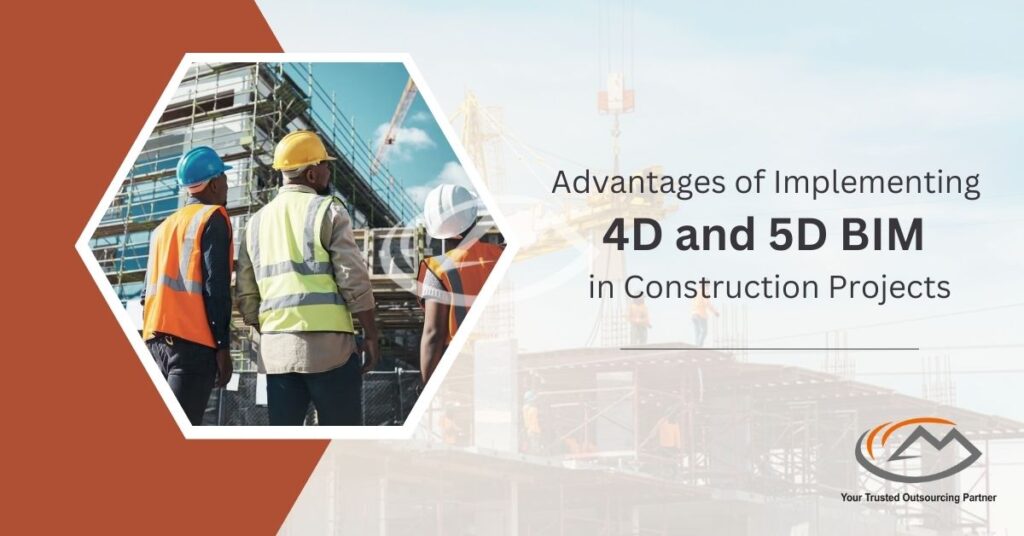 Without accurate 3D plans, the construction of buildings can be challenging. BIM technology is making it easier for construction companies to plan for their projects more effectively. They're able to fabricate better-planned and more cost-effective builds using 3D models that have been augmented with 4D and 5D models. 4D and 5D BIM are leading the way in construction technology. These types of BIM models can help revolutionize your company by integrating information rich 3D virtual models with additional dimensions of scheduling, cost, and material estimations.
Construction projects can quickly go awry when the project managers fail to manage change, which results in late delivery. However, using 4D and 5D BIM modules can reverse those losses by ensuring that your construction project can integrate with your design seamlessly, allowing for timely deliveries.
What is causing the overrun of costs and schedules?
Planning is a crucial part of the construction process, and it's important to do it right the first time around.
When data is lacking, project estimates prediction can be inaccurate during the initial stages.
No need for planning or readiness for change orders.
Background errors caused by system flaws or human errors.
These issues have direct negative consequences for anyone involved in the work flow, whether it be the staff, production process or clients.
Why you should consider 4D BIM Technology?
Builders and contractors have a variety of construction sequencing options, of which 4D scheduling is one. These options help them stay on schedule, so their projects finish on time and without any errors. 4D BIM is the go-to solution for addressing project needs and overcoming any challenges. With its many capabilities, we're confident that 4D BIM will help you bring your projects to life with precision.
Clash free construction scheduling :-This viewer generates information about building products schedule, and displays a visual in a step-by-step manner. With 4D BIM, you can integrate time-related information. This information includes lead-time, construction and installation time, allowances for drying and mixing period, and inter dependency on other products.
4D graphical visualization :-The scheduling feature easily converts scheduled data into graphical design, allowing you to visualize the planned and actual schedules.
Optimal resource utilization :-The coordinated approach to data and graphs can improve resources' visibility and help deter resource mobility. The design of a data sheet can also improve operational efficiency and timelines.
Better interdisciplinary coordination :-Reorganized workflows and transparent communications streamline the construction project. By minimizing the number of reworks, workers handling different areas of the site have plenty of time to coordinate and plan in a logical manner. They'll also know exactly what they're working on at any given time and can maximize their work efficiency by using the updated workflow.
Why should you consider 5D BIM technology ?
5D BIM is a step-up from 4D, which includes the scheduling of time, estimation of costs and quantities (BOMs/BOQs), development of rates and overall cost.
Enhance cost forecast and estimation :- Higher-detailed 3D models can assist companies in estimating the cost of building a structure. By comparing the generated quantity of various components with their current purchasing rates, companies can determine whether time is spent wisely.
More accurate and faster quantity take-off :- An estimator typically spends 50% to 80% of their time on quantity take offs, which is an important part of the project. Automating this task saves a lot of time, money, and human errors. As a result of more time available, estimators can now focus on other project-specific tasks like assessing financial risk factors and identifying construction assemblies involved. Most construction failures are due to economic factors. If a company wants to ensure they're getting the most out of their endeavors, they need a way to create instant financial estimations against time. Five dimensions, 5D BIM, allows companies to minimize errors while also having work completed in minutes instead of days.
Automated quantity take off as per design modification :- Whenever a single component is modified, the direct cost impact is calculated for you. BIM model instead of drawings mean that take-offs, counts and measurements are generated directly from the underlying model. Therefore, the information always matches with design changes. When any change is made in design, the change automatically ripples to all related construction documentation and schedules take-offs, counts and measurements that are used by estimators.
Easy selection of available option :- The idea of design options can be overwhelming if you don't know where to start with your project. That's why we've made it simple for architects to estimate design options with less effort and accuracy than ever before. It helps owners, contractors and sub-contractors during the bidding process as well.
 Multi- platform access :- As a construction company, the addition of cloud technology to BIM increases the speed and efficiency of your project. For example, you can change designs or plans without having to be on-site constantly. It's convenient for you team, and makes it easier for contractors and project managers to stay organized.
The next step up is 6D BIM
 6D BIM provides all involved in the construction process with real-time data, giving a better understanding of the timeline and costs associated with every construction project. It offers valuable information on component manufacturers, installation details, and maintenance throughout its life span. This pre- planned O&M capability of 6D BIM enables stakeholders to track data in real time on any device at any time. Informed decision making is reinforced through rational decision making based on unpredictable or unexpected situations during construction projects.
How Milestone PLM Solutions can help you gain expertise in your business?
Milestone is a multidisciplinary company and caters in CAD drafting and modelling, AEC and BIM services since 2004. We majorly work in Mechanical, Architecture and Civil domain across to globe. With a team of experts, we can help you and your team in performing better and faster than your competition. You can outsource you CAD Design, Modeling, rendering, Construction documentation and BIM services, and we assure to you guaranteed quality results with the quickest Turn Around Time possible.
You can email us at info@milestonetech.net and can log in to our website www. milestonetech.net  to know more about our services and our work portfolio or contact us on  +1-844-598-0005