Competitive Advantage, Integration of Design & Manufacturing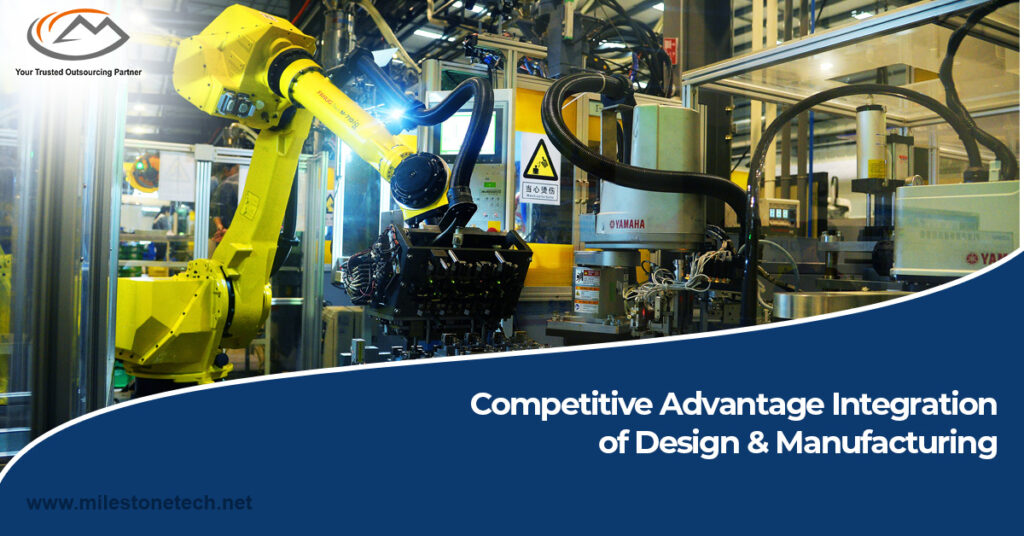 Globalization has led to the introduction of more features, which in turn means that products are being improved through updates. Companies have to compete with each other to stay competitive. To do that, they must provide quality content at an economical cost. The engineering business is a rapidly changing landscape. Concept to delivery is how engineering changes and it requires an organized system of procedures. Leading businesses offer rapid transformation from design to manufacturing for their customers.
Corporate markets becoming increasingly competitive requires companies to differentiate the products they offer. This is why it has become essential for companies to balance cost, time, performance, and quality to get a share of the market.
Companies are finding ways to boost profitability through designing and manufacturing together. Designing is crucial for keeping up with the latest trends and lowering supply costs, while manufacturing can result in improved quality. There are three factors that can affect the production costs and quality of the product. Firstly, design decisions made by the designer while designing will have long-term implications on the company if the product is manufactured. Secondly, the development process where designers and engineers will interact to build upon the ideas sketched by a designer can affect the quality and costliness of the product, similarly to how design alone affects it. Thirdly, changes in materials can lead to issues with manufacturing and again have implications for time and cost. When companies neglect the inclusion of manufacturing considerations while designing, it can result in expensive scrap and reworks.
A great design tool should be flexible and allow manufacturers to create the finished product while designing. It should also be easy for designers to design, visualize, and animate their product. Design tools help to identify misalignment, errors, and tolerance issues in the design which helps in preventing risks that arise due to late findings of these problems. Tools should help with all stages of design, from animation and simulation to ensuring product quality and performance.
Integration of Design & Manufacturing products together helps in enforcing standards, preventing assembly problems, and projecting the impact of fabrication. Manufacturers now have quicker access to relevant parts and are able to design and create things more quickly with no trial and error. Using tools such as 3D modeling the design of a product can be constantly updated with new information and live-checked against an ever-changing target.
A fundamental barrier is created due to the lack of collaboration between designing and manufacturing. Lack of communication between the two teams can create a variety of challenges and bottlenecks in manufacturing. Manufacturers and designers should share their data to avoid translation errors – this will be key in the future of manufacturing innovation. Globally, new models need to be adopted that rely on the combination of design and manufacturing to create competitiveness. For Integration of Design & Manufacturing of a good product, one must first be able to market it. To grow through innovation and improvement on other processes, a product must help these efforts by speeding up the time it takes to reach the market.
If you integrate design and marketing, your company can scale up quickly. This strategy includes raising awareness of design in all areas of the company and building capacity among employees to work collaboratively in a team. Organizations can leverage this integration to quickly produce and launch innovative products, while being prepared for the future. This Integration of Design & Manufacturing creates a knowledge base that is specific to manufacturing and design, so you always have the right expertise on-hand when making decisions. With an integrated approach to research, you can identify and target potential new innovation
Designing parts streamlines the manufacturing process, cutting down on costs. Manufacturing good at designing can integrate design into processes that affect other stages of production and make it more efficient. Manufacturing and design have a lot in common, as they are both focused on creating innovative products that can be used by the organization.
An integrated manufacturing and designing approach increases profitability by controlling manufacturing costs. This strategy also helps to prevent downtime and production stoppages when a design change is necessary. Organizations can find many benefits with this approach. Changing things on the fly and optimizing in order to save material and time, which can be done by simulating designs.
Manufacturing can speed up the time-to-market by ensuring your design is streamlined and ready to be produced. A guarantee of production readiness saves you time and ensures manufacturable products. Manufacturing operations will be sped up as the design team can simulate the product before production. It also cuts costs if quality is supreme and accuracy high, in turn reducing the number of items in need for warranty or refund.
Manufacturers can now use an integrated approach to design and manufacturing to avoid delays, costs, and quality issues. By integrating these two aspects of the industry together, organizations have a stronger competitive edge, thereby increasing overall profitability.
Follow Milestone PLM Solutions for Mechanical Industry Updates, CAD Tips and Global CAD, CAM & FEA News.
Milestone PLM Solutions  with its exclusive delivery center in India is a global CAD, CAM & FEA services outsourcing partner serving the needs of the Mechanical, Millwork and Automotive industry since 2004. MILESTONE focuses on the unique needs of clients and believe in tackling real-life problems with efficiency, smooth and ease.
The MILESTONE team can assist you with Product Design, 3d Modeling, Drafting & detailing, Reverse Engineering, FEA Analysis and more. We support multiple software including AutoCAD, Solidworks, Catia, NX, Inventor, Solidedge & Ansys etc. Our approach is to provide a dedicated team for each customer over ongoing project and deliver the quality output consistently.
With our state of art technology and large talent pool of Engineers, we are developing best in class solutions for our customers across the globe. We align with your culture and values to form unbreakable partnerships and are primed for success with over 100 employees and 150 customers in the US, Europe, India, and Asia.
For more queries regarding any of the above-mentioned topics, feel free to connect with us on our website www.milestonetech.net or contact us on  +1-844-598-0005