Profits of Using 3D CAD Modeling in Mechanical Design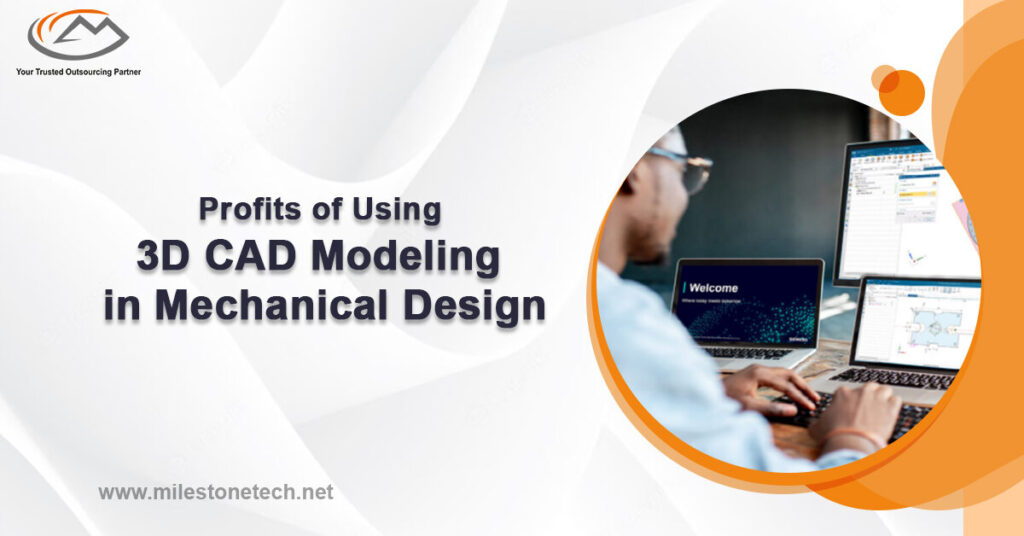 Profits of Using 3D CAD Modeling in Mechanical Design are vast.The necessity of Precise documentation and design in this age cannot be ignored- engineering drawings take a long time to create using traditional drafting procedures. Errors are more likely at the end of the development, so all of the phases must be updated several times and editing becomes difficult.Mechanical engineering relies on the use of 3D modeling and animation software. 3D modeling integrated with CAD, complicated and exact mechanical models can be produced.
Consumers are becoming increasingly selective, looking to buy a product without any mistakes. Manufacturers are now using 3D modeling to present their product and avoid any errors or misunderstandings.
3D modelling cuts project time and costs and give producers more leverage in terms of design for companies who do not take advantage.
3D CAD Modeling Benefits in Mechanical Engineering Design
If a company decides to outsource their Product design and development, they are able to take advantage of eight important advantages. These include increased profit margins and decreased short term risks for the company.
These are the reasons why you should use 3D CAD modeling for mechanical engineering design.
Improve Design Quality
3D CAD Models have a variety of libraries containing 700,000 standard templates for mechanical components which designers and modelers can choose from. This ensures accuracy and efficiency as all design irregularities are eliminated and also saves an ample amount of time
Enhance Productivity of the Designer
3D CAD modeling helps mechanical CAD designers visualize the design, and make changes instantaneously. It also reduces tedious parts of the process by modelling automatically. the more the reduced number of iteration the greater the productivity of the designer
Quick & Easy Documentation
Traditionally, mechanical components are constructed by hand, which was a tedious process that needs high levels of precision. 3D CAD modeling reduces the time it takes to draft complicated mechanical parts and allows for consistency with detailed documentation. This gives the solid foundation and clear background understanding of a mechanical project.
Adaptable with international standards
You can ensure that your CAD drafting process matches the industry standards. The main objective is to create a safe and consistent process, which will result in higher-quality products. By implementing national standards like those published by ISO, you can easily guarantee the quality of products and services offered.
As there are standards for mechanical designing, BSI, ANSI, DIN, CSN, GB, ISO and GOST are used as guidelines. As standards are more crucial
Save Energy, Time & Cost
Design patterns have become a standard in CAD modeling, so with just plug-ins, mechanical engineers can work faster. With this time and experience saving feature, they can up the quality of their product while saving money in the process.
Companies have the ability to test design variables with the help of the best CAD software. This allows errors and flaws to be corrected before they take effect, thus saving time and money.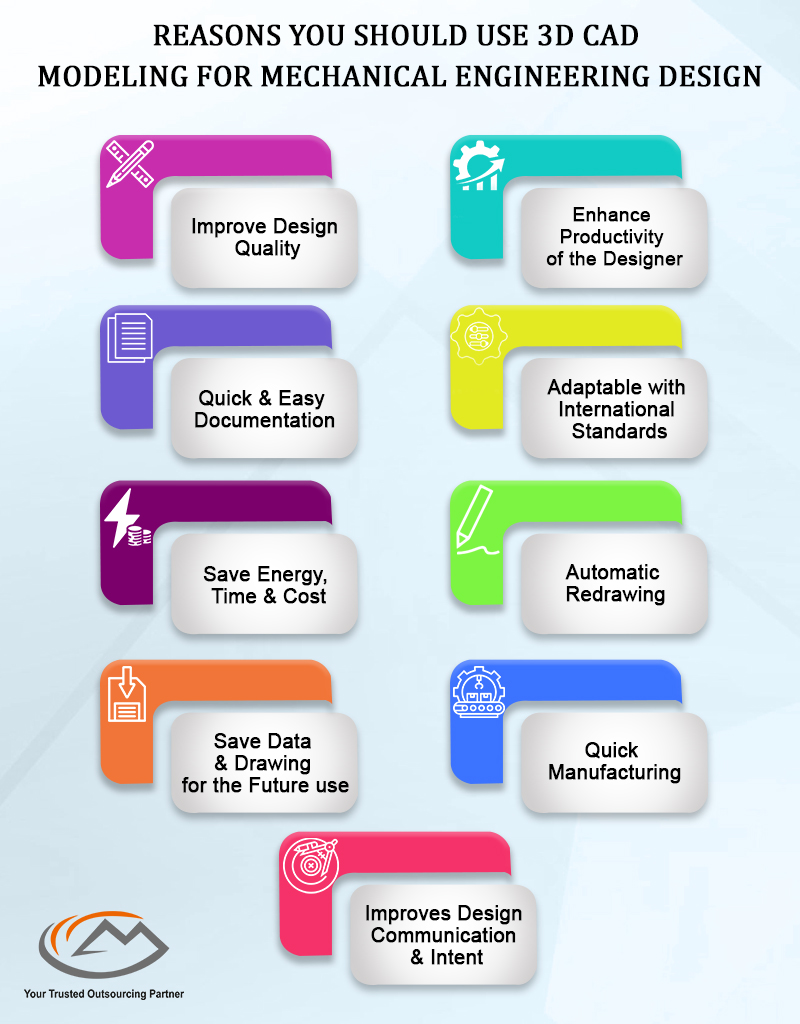 Automatic Redrawing
3D CAD redraws the parts of a design that are partially obscured, so that designers won't make mistakes when they're drawing. If anything changes in the design, then 3D CAD will automatically redraw accordingly to reflect it.
Save Data & Drawing for the Future use
CAD and 3D Modeling make all the work of mechanical engineers accessible, with saved projects to use in the future. This helps with the clients in the future for their unique project completion.
CAD software can be used to create images that look more realistic. Engineers can use CAD software in combination with 3D modeling in order to create any product they imagine. This helps in resolving many technical challenges in design
Quick Manufacturing
3D modeling is quicker than traditional methods, and can produce a market-ready product in less time.
Because the same 3D model is also used to design and create the plastic injection molded product, production time is reduces. Similar design qualities are transferred to CNC machines for metal products, which can produce prototype parts swiftly and with constant exacting geometry and tolerances.
Improves Design Communication & Intent
Using 3D models, companies can be saved time and money with increased communication. Product development teams will consist of different members from within the office; non-engineers may offer input on product ideas, which would then result in more efficient evaluations.
In physical modeling, CAD allows engineers to create accurate models in minutes. 3D CAD modeling can be used in any industry but is most widely used in auto manufacturing. Problems arise when transforming designs into usable models because the traditional methods are expensive and accident prone.
More users are creating solutions to their problems with 3D modeling and it has broadened the user base. Mechanical engineering is one domain where 3D CAD modeling is becoming more popular.
With enhancing organizational design correctness and removing the need for redundant designs, 3D CAD modeling can assist you in solving these issues and lowering design costs.
Therefore Profits of Using 3D CAD Modeling in Mechanical Design should be considered.
How Milestone PLM Solutions can help you gain expertise in your business?
Milestone is a multidisciplinary company and caters in CAD, CAM & FEA services since 2004. We majorly work in Mechanical, Millwork and Automotive domain across the globe. With a team of experts, we can help you and your team in performing better and faster than your competition. You can outsource you Product Design, 3d Modeling, Drafting & detailing, Reverse Engineering, FEA Analysis and we assure to you guaranteed quality results with the quickest Turn Around Time possible.
You can email us at info@milestonetech.net and can log in to our website www. milestonetech.net  to know more about our services and our work portfolio or contact us on  +1-844-598-0005