Atlassian Central: The World's Tallest Timber Tower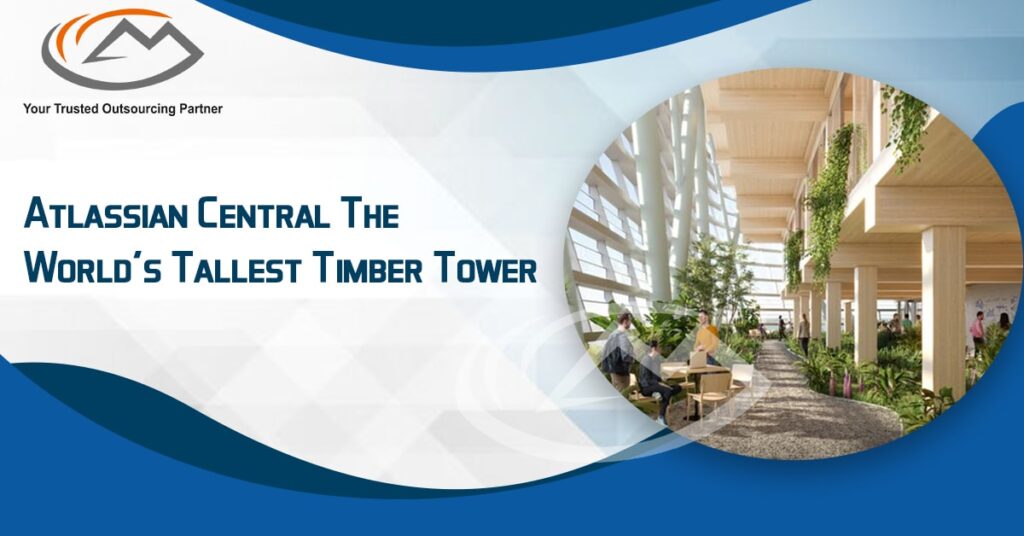 Obayashi, the Japanese general contractor, has been give to opportunity to work on the world's tallest timber buildings. The building is 182 meters tall and will include sustainable materials. A State Significant Development Application was given to Atlassian Central, which was approved. The construction of the 39-story building will begin soon and Built Obayashi Joint Venture is preparing for this development. Obayashi intends to make use of renewable energy to create the project.
Worlds Tallest Timber Tower - Powered By Renewable Energy
The construction of the tallest timber tower in Sydney has begun, which is a joint venture by Construction firms from Japan and Australia. The 25story Atlassian Central tower will be located in Sydney's Tech Central innovation and technology district, adjacent to the Central railway station. A hotel and retail businesses will also be housed in the mixed-use tower, which has a floor area of 70000 square meters. In comparison to a typical building project, the firms hope to reduce carbon dioxide emissions by at least 45 during construction. renewable energy technology run these fuels into usable forms of energy-most often electricity but also heat, chemicals.
Dexus and Obayashi have agreed to finish the building of a 70-story tower. The two companies differed in opinions on the use of lumber flooring, so they both compromised by using timber and reinforced concrete on the basement and floors below the seventh story. However, with new technology, these builders are able to work together without hitch. 0By promoting the use of materials such as wood, they want to create a sustainable world. One way to do this is be meeting their goal of carbon neutrality.
Atlassion Central - Linking Past And The Future.
The design would reuse the old building and adapt it to a space for new technology. The design reflects on Sydney's past, but also looks toward its future. Atlassian, which is a company that uses renewable energy, is a member of the RE100 program. Members are committed to using zero-carbon and renewable energy, to accelerate the transition worldwide.
Atlassian's sustainability goals are pursued through new strategies to construction, design, and the operations of their buildings. There are three objectives in this proposal: Compared to a traditional building, a building built using environmentally efficient construction will consume less energy and produce less carbon emissions.
5 Ways REVIT Support Green Building
Sustainable building design is becoming more necessary as green building goals, such as Architecture 2030 Challenge, are becoming more popular. Government regulations are in place to reduce emissions through new policies regulating the energy efficacy of buildings by 2020. Countries and mayors around the world have embraced this, with the United States Conference of Mayors unanimously supporting the 2050 Challenge, which stipulates that all new buildings will be net-zero by 2030. China's climate commitment is 50 percent of all new buildings being green by 2020.
Benefits of BIM – Sustainable design and green buildings are saving money, helping businesses to compete, and supporting more environmentally friendly markets. Tools such as AUTODESK REVIT enable architects to create green buildings by using data about building performance.
Real time -feedback –REVIT is a program that helps with designing and improving buildings' energy performance. Design teams use REVIT to work on their design in the early stages, when changes are easiest to make. The program is fairly new, but building owners and developers recognize that it will increase the efficiency of construction, which, in turn, increases green buildings.When undertaking green building design, data and collaboration are crucial. The best tools offer accurate feedback to guide designers towards improved performance. With REVIT, you can see a fast and intuitive outcome-driven guide that helps you manage building energy and environmental performance throughout the life cycle through key performance indicators and benchmarks.
Day lightning Analysis –The REVIT software is used to simulate, calculate and visualize key day lighting metrics. Day lighting improves a building's footprint by empowering designers and engineers to identify sustainable lighting options. It accounts for 15% of America's electricity consumption.
Heating and cooling –Reports generated by REVIT can explain how much energy is needed to heat and cool the building, where that energy is used, and it allows you to identify which spaces will be more susceptible to higher loads. With this information, you can make design changes like adding zero-carbon heating and cooling technologies for buildings that have the potential of reducing CO2 emissions by two gigatons.
Solar radiation –When designers incorporate energy offsets relating to sun exposure, they can improve the energy efficiency, comfort and financial value of the building. Revit lets you calculate incident solar radiation per building surface and articulate PV potential; this data analysis can help create a sustainable design.
By incorporating sustainability into the design process ,project teams can inform better decisions and improve energy efficiency throughout the life of a building.
The Intergovernmental Panel on Climate Change warns that drastic changes are needed to limit the increase in global temperatures to 1.5 degrees Celsius by 2050, because it will lead to 100% more buildings being built over that time period. As technology continues to make new breakthroughs, we are giving project teams more responsibility to make buildings better. We can now optimize performance without a need for intensive manual calculations by using Building Information Modeling (BIM) and Building Energy Modeling (BEM) tools.
BIM Services for Sustainable Buildings and Infrastructure
There's a big demand for houses and infrastructure to welcome future populations. Buildings are generating the largest portion of our carbon footprint on the planet. How can we make a better place for our children in the future? BIM and digital tools can help you design more sustainable structures.
High- Performance Building
One of the biggest challenges in climate change is the ever-growing population, which places greater demands on nature. The solution starts with an environmental design, which emphasizes urbanization and encourages the use of buildings. One way we can produce environmentally friendly buildings that are sustainable and less energy-consuming is by setting a carbon-neutral building goal for 2050. Respondents are building green and sustainable buildings worldwide, with new projects in the majority of countries, with a continuous increase over time.
BIM: A powerful process to Achieve Suitable Goals
Here are some steps you can take to be more efficient while also creating a better quality building. The first step is using BIM, which will help you imagine, create and build in a much faster and more efficient way. In order to understand the change that is shaking our traditional ways of thinking, we have to step back and look at the past 3 periods of technological disruption.
The first era of design is the documentation and efficiency of AUTOCAD platforms. They are not intelligent, they are only able to account for lines and circles – they do not connect to one another nor do they give any meaning to their drawings without additional programming.
Follow Milestone PLM Solutions for AEC Industry Updates, CAD Tips and Global Construction News.
Milestone PLM Solutions  with its exclusive delivery center in India is a global CAD, BIM outsourcing partner serving the needs of the AEC industry since 2004. MILESTONE focuses on the unique needs of clients and believe in tackling real-life problems with efficiency, smooth and ease.
The MILESTONE team can assist you with DD Set, CD Set, BIM Modeling, Rendering, walk through and more. We support multiple BIM software including AUTOCAD  REVIT, Architecture cad, Vector works etc. Our approach is to provide a dedicated team for each customer over ongoing project and deliver the quality output consistently.
With our state of art technology and large talent pool of Engineers & Architects, we are developing best in class solutions for our customers across the globe. We align with your culture and values to form unbreakable partnerships and are primed for success with over 100 employees and 150 customers in the US, Europe, India, and Asia.
For more queries regarding any of the above-mentioned topics, feel free to connect with us on our website www.milestonetech.net or contact us on  +1-844-598-0005