Why you're not maximizing your BIM Investment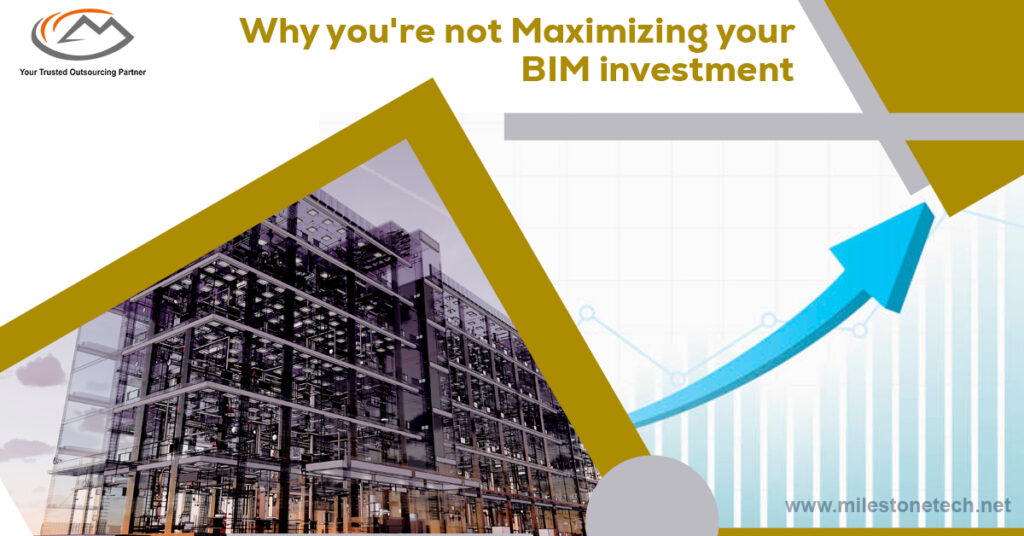 BIM is an innovative design technique that's growing in popularity. It's great for designing virtual structures using 3D modeling software while also being a smart solution for managing and documenting physical buildings. BIM Investment can very much beneficial in long terms.
The AGC survey showed that a third of organizations see technology as the appropriate response to address the growing labor shortage. This can be done by increasing productivity and improving planning.
Organizations across construction are adopting the practice of including BIM in their projects. These groups have done their research and made initial investments to adopt this strategy, which has resulted in a growing number of companies including BIM in their building processes.
If you've been hearing about BIM you're probably wondering what it is and why it's beneficial. A formal definition of what BIM is can be found within the article "Building Information Modeling,"
The Following are Some of the Benefits of BIM
Processes that are quicker and more effective
Visually-pleasing website design
We will create better-quality videos for you than you could on your own.
Fully-automated assembly
Though adoption rates are increasing, the rise of BIM software has been more gradual than it ought to be.
As the conversation around BIM becomes louder, some companies have begun to demonstrate your benefits. It is difficult for any company to quantify the value of a BIM but it's obvious that as technology improves, so will BIM adoption.
Lots of organizations have been implementing pilot projects with BIM. As a result, many of them have seen benefits. However, the organization doesn't want to expand the initiative to other departments in the company.
Reasons for Not Investing in BIM
1.Shortage of Skilled Tech Talent
 It's well-known that the construction industry has an issue with not enough workers, but other professions such as technology are struggling too. In many ways, the situation is even worse for job seekers in specialized industries like technology. There aren't many qualified tech candidates to choose from to start with.
There are many more glamorous options in the tech industry than there are in construction. That's why most of the people who are attracted to construction want to work for a larger company, instead of a small or mid-sized one. But it's not just about large companies having an advantage; this also includes small and mid-sized companies in smaller towns and locations away from major tech hubs. BIM Investment can be hard to scale if you don't have enough employees – even if they are qualified ones – to make them run effectively from start to finish.
2.Cultural Changes in the Construction  Industry
The lack of experience in a traditionally traditional industry such as construction creates hindrances in the proper utilization of BIM software.
This is not a comment on the individual's skill at using the software. I'm more concerned with how rigid current processes and workflows can be.
A lot of businesses are reluctant to adopt new technologies that have the power to improve productivity and efficiency. They're worried about how it will impact the operations and culture of their company. This is why BIM Investment is a great option for companies. However, successful adoption requires things like transparency, accountability, collaboration, and communications.
Employees will have to change their ways of working, which may cause conflict. This may be difficult for some people.Employees may be concerned about what impact AI will have on their jobs. They may also worry about whether they will be able to learn new solutions and understand how to use BIM models in the context of their roles.Organizations and project managers should evaluate how to mitigate potential challenges from BIM Investment before taking the plunge. Issues such as employee experience, culture, support, training, and education need to be addressed before implementing BIM. Employers should work to educate their employees and provide them with strong training so they are aware of their rights.So, in addition to hiring an expert, construction companies also need help with the process of going digital.
Finding the right person to teach your employees about BIM and its potential benefits is essential. But once you've found that perfect person, what should you do?
3.Return of investment calculation
Building Information Modeling can lead to positive impacts in all stages of the construction life cycle, from design and construction to maintenance.
While the perception of ROI is always changing, some impact is more easily provable than others.
For example, it's easy to enumerate the savings that may happen from a better material estimate. These higher accuracy estimates can help you prepare for expenses more efficiently.
Organizations that are not used to this technology may have a hard time quantifying its impact in broader terms. For example, there might be a schedule adherence but how much of that is due to BIM and how much just to better execution?Research indicates that many organizations that incorporate BIM in their projects report a positive ROI. Organizations that invest more time and money into training and the full adoption of BIM also see a positive effect. It would appear from this research that BIM helps companies to construct higher quality buildings, resulting in more profitability for the company.
It can be tough to measure the impact BIM has for an organization. For example, many assessments are based on the experience of people at that company–and there's always room for new perspectives. That's why turning to a partner who has that experience could help drive more reasoned assessments of the ROI and lead to new insights.Excelling is an expertise you can rely on: award-winning BIM experts with a deep understanding of building codes and standards. It's what we do!
3D modeling and pre-fab construction is easier said than done, so we've partnered with an established European consulting firm who specializes in this field. With years of experience in both Europe and the USA, your consultancy will not only save you time and money but it will also have a broader reach. As a result, you'll be able to initiate your 3D modeling initiative faster so you can start seeing the benefits of BIM today.
How Milestone PLM Solutions can help you gain expertise in your business?
Milestone is a multidisciplinary company and caters in CAD drafting and modelling, AEC and BIM services since 2004. We majorly work in Mechanical, Architecture and Civil domain across te globe. With a team of experts, we can help you and your team in performing better and faster than your competition. You can outsource you CAD Design, Modeling, rendering, Construction documentation and BIM services, and we assure to you guaranteed quality results with the quickest Turn Around Time possible.
You can email us at info@milestonetech.net and can log in to our website www. milestonetech.net  to know more about our services and our work portfolio or contact us on  +1-844-598-0005