Exploring Virtual Design Construction Digital Content Construction and Point Cloud To BIM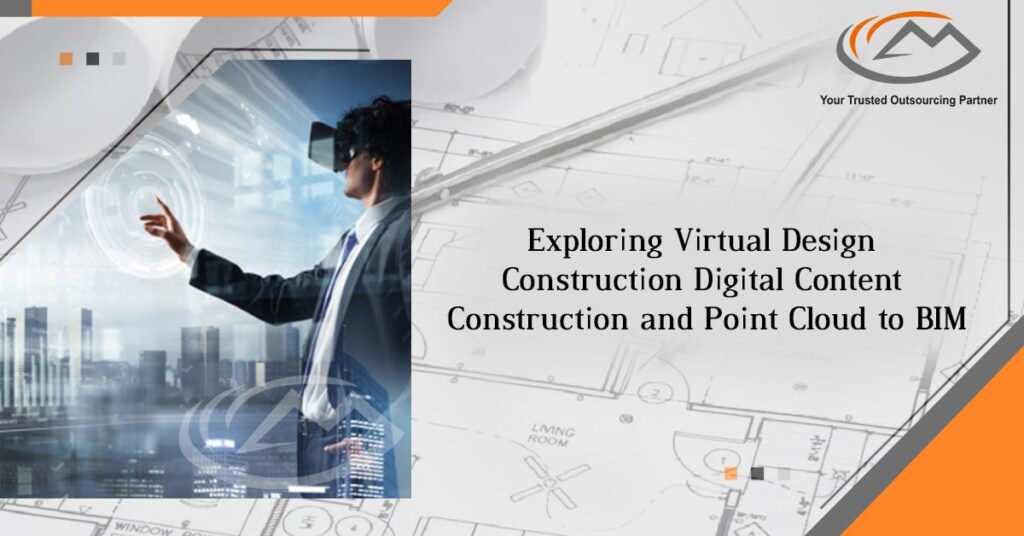 Just 50 years ago, Architectural Designs and construction drawings were mostly done in 2D format, such as hand-drawn sketches or 2D Engineering drawings. It's tough to find the time and resources to focus on composing high quality technical drawings. They take way too long, are very challenging to produce, and don't always come out accurate. The millennium saw architecture evolving through the use of architectural BIM modeling, and BIM coordination. Construction industry saw the rise of virtual designing which includes 3D visualization. Computer Added Design (CAD) came into existence and helped to pave the way for much more innovative services. BIM Services is an excellent technology that can help in maximizing profitability, increasing project productivity and also leads to quick construction.
Technical jargon can make it tough to understand what's happening. If you want to understand the in's and out's of building work more than just from a stand point, do what Millennium does and become fluent in Virtual Construction Modeling! BIM is now prevalent and has opened up new avenues for increasing efficiency. We've also helped with "Energy Analysis" "Scan to BIM" or "Point cloud" "Facility Management." The development of Virtualization of design has brought about a boom in the construction industry as well
BIM Modeling
BIM is a process of developing virtual construction models. It includes everything related to building, including material quantities, building components, locations and more that makes the process feel real-time. BIM Modeling is a new way of doing architectural services and it's now the standard for all architects. Since BIM Modeling includes Architectural BIM Services, Structural and MEP BIM Modeling, BIM coordination, 4D Construction Sequencing, 5D BIM Modelling, etc., you'll get all these benefits under one roof with us. 3d presentation or geometry alone is not enough when it comes to BIM. BIM has the capability to contain the complete end-to-end process, which can be useful across different stages of construction.
BIM can change the way in which construction is conducted. It gives us a better understanding of what our project looks like before it begins and helps make more efficient decisions on how we should build your project. It also allows projects to be interconnected with other scheduling application or software to carry out other construction activities such as scheduling, material orders, estimation etc. The technology allows for multiple reports to be generated later that can be used in actual construction. Building Information Modeling can offer the team unique insights that would have been missed before. It's an innovative technology that lets the client, contractor and design team work together in real time on a single model to help skip the finishing stage of construction. What this means is that with BIM, you may save more time and bring more value to your clients.
Building Information Modeling (BIM) has been shown to increase accuracy and lower construction time while still delivering the quality product that our customers demand. BIM provides a cost-effective way of organizing information from multiple trades, like Architectural BIM, Structural and MEP. These checks are called "clash detection". Our skilled teams make well-executed Co-ordination processes a reality for all parties involved in the construction process. We'll help you reduce your budget, maximize your success and increase the overall success of your project.
Point Cloud to BIM Modeling
Architects and Engineers have always had difficulty with renovation and restoration projects. Obtaining complete and accurate information of existing buildings was tough, especially because it took so much time. It used to be a difficult process for surveyors, who would go onsite, measure everything by hand when writing the plans for renovations. Because of this, there lots of inaccuracies and uncertainty in the design process.
Laser scanning is a digital process which uses equipment called laser scanner to create the 3D data from the scans of old buildings or sites. The scanner can produce an output in several formats such as .RCS, .RCP, and other formats. We can convert these scans or Point Cloud into completed and precise 3D BIM models. As a multi-awarded BIM software provider, we specialize in creating and developing Agency Design, BIM, 3D Asset Management and Technology solutions.
Conclusion
As you can see, there are many new technical advancements like Big Data, Robotics, and Artificial Intelligence that will make Virtual Construction Modeling obsolete.
How Milestone PLM Solutions can help you gain expertise in your business?
Milestone is a multidisciplinary company and caters in CAD drafting and modelling, AEC and BIM services since 2004. We majorly work in Mechanical, Architecture and Civil domain across to globe. With a team of experts, we can help you and your team in performing better and faster than your competition. You can outsource you CAD Design, Modeling, rendering, Construction documentation and BIM services, and we assure to you guaranteed quality results with the quickest Turn Around Time possible.
You can email us at info@milestonetech.net and can log in to our website www. milestonetech.net  to know more about our services and our work portfolio or contact us on  +1-844-598-0005