Trends in Mechanical Engineering in coming times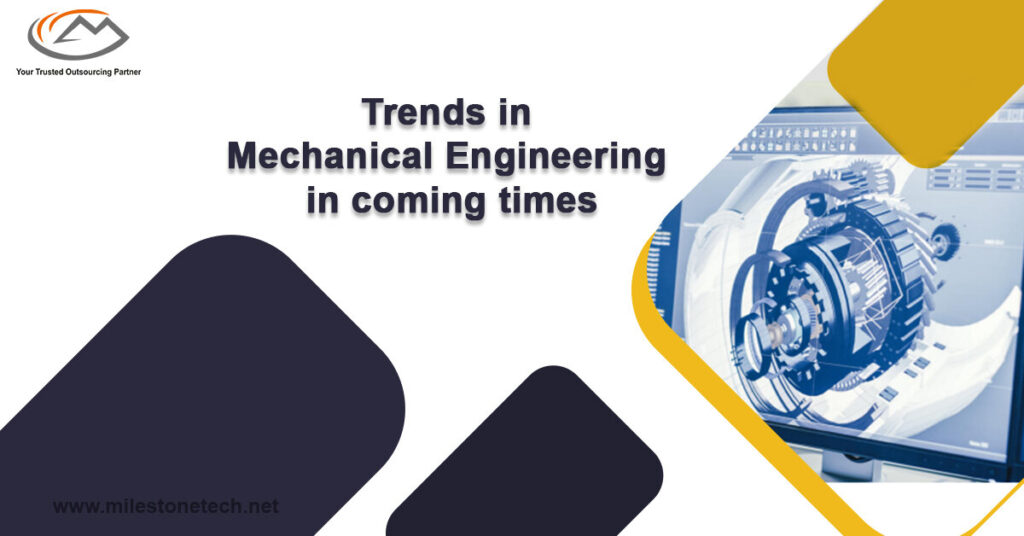 The Future of Mechanical Domain:
Trends in Mechanical Engineering in coming times will be very important as Mechanical engineers will be instrumental in developing technologies to make the workplace healthier, safer and sustainable. They'll need help from their outsourcing partners around the world. They're not sure that the skills they currently have will be enough for the future.
The world of Mechanical Engineering is Changing
Mechanical engineers will have to learn through continuing education courses to work with team members from other engineering professions. Mechanical engineers should get in touch with their adaptability before deciding on outside coursework.
What will the Challenge Mean for Mechanical Engineering:
Some mechanical engineers are realizing that their specialization is not enough to keep innovating, so they must have optimism and self-belief. They need to be open to explore blue-sky engineering ideas. To stay able to move forward, they also need skills like multilingual capabilities, animation, and team management.
Some of the Latest Trends in Mechanical Domain are
Additive Manufacturing
3D printing is a way to bypass supply chain issues in the event of a pandemic. 3D printers have flexible, on-demand production capabilities that were essential for meeting demand during the first year of the pandemic in 2009.Additive Manufacturing will continue to grow in the future. It will soon be used in many more sectors, such as aerospace and medicine. Advanced technologies like metal printing and polymer recycling will improve the design process.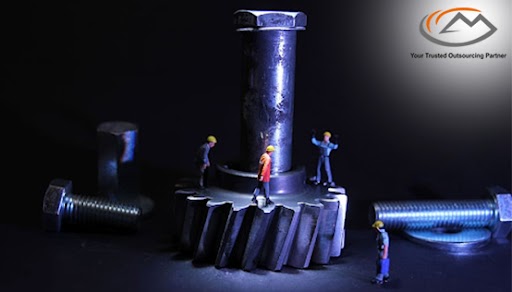 The global market for AM is estimated to reach $51 billion by 2030 as more engineers explore the possibilities of this technology, improving their skills at any stage in their career in industries who do not currently use AM.
CAD/CAM
CAD software has been in use for a long time, now it is being applied better than before. CAD software has allowed engineers to run performance simulations and create electronic design automation.
CAD is being used for more than just 3D printing. It can be used for countless other engineering projects, thanks to cloud technology.
Multiple disciplines are committed to designing a CAD/CAM standard to make data transfer seamless. Without this, all mechanical engineers will have to learn the new programming.
Green Engineering 
As climate change continues to take their toll on the planet, many engineers have rightfully been placed under greater scrutiny.
When engineers design green technologies, they can minimize risk to human health and the environment. According to the EPA, this includes reducing pollution, promoting sustainability, and sizing efficient processes
Adopting Twin Technologies.
A virtual representation of an system or object that spans its lifecycle, is updated from real-time data, and utilizes simulation, machine learning, and reasoning to aid in decision-making is known as a digital twin.
The computerized twin can be outfitted with virtual sensors, permitting mechanical specialists to put their items through pressure and execution tests without making another model for each test. The twin in the real world can be improved by utilizing all of the digitally collected data.
What future Mechanical Engineers Need to be Prepared for in Terms of Green Engineering:
Find out about the practical and sustainable trends in mechanical engineering
How mechanical engineers can help preserve resources
Use the Trends in sustainable engineering (or working with renewable sources)
Arm yourself with the knowledge to protect our environment
How IIoT and IoT have Changed Mechanical Engineering.
In 2021, there were 27.1 billion devices connected to the Internet of Things and that number is only expected to grow.
The Industrial internet of things connects industrial equipment to the internet, like sensors and machines.
The IIoT will focus on making the efficiency and accuracy of engineering operations more efficient and accurate. One way this is being done is by improving machine-to-machine communication, which could include using machine learning.
Shortening the time-to-market for design and production

Controlling the quality of the product

Tracing the production bottlenecks

Supervisory controls
Follow Milestone PLM Solutions for Mechanical Industry Updates, CAD Tips and Global CAD, CAM & FEA News.
Milestone PLM Solutions  with its exclusive delivery center in India is a global CAD, CAM & FEA services outsourcing partner serving the needs of the Mechanical, Millwork and Automotive industry since 2004. MILESTONE focuses on the unique needs of clients and believe in tackling real-life problems with efficiency, smooth and ease.
The MILESTONE team can assist you with Product Design, 3d Modeling, Drafting & detailing, Reverse Engineering, FEA Analysis and more. We support multiple software including AutoCAD, Solidworks, Catia, NX, Inventor, Solidedge & Ansys etc. Our approach is to provide a dedicated team for each customer over ongoing project and deliver the quality output consistently.
With our state of art technology and large talent pool of Engineers, we are developing best in class solutions for our customers across the globe. We align with your culture and values to form unbreakable partnerships and are primed for success with over 100 employees and 150 customers in the US, Europe, India, and Asia.
For more queries regarding any of the above-mentioned topics, feel free to connect with us on our website www.milestonetech.net or contact us on  +1-844-598-0005