Transforming the Construction Industry with Open BIM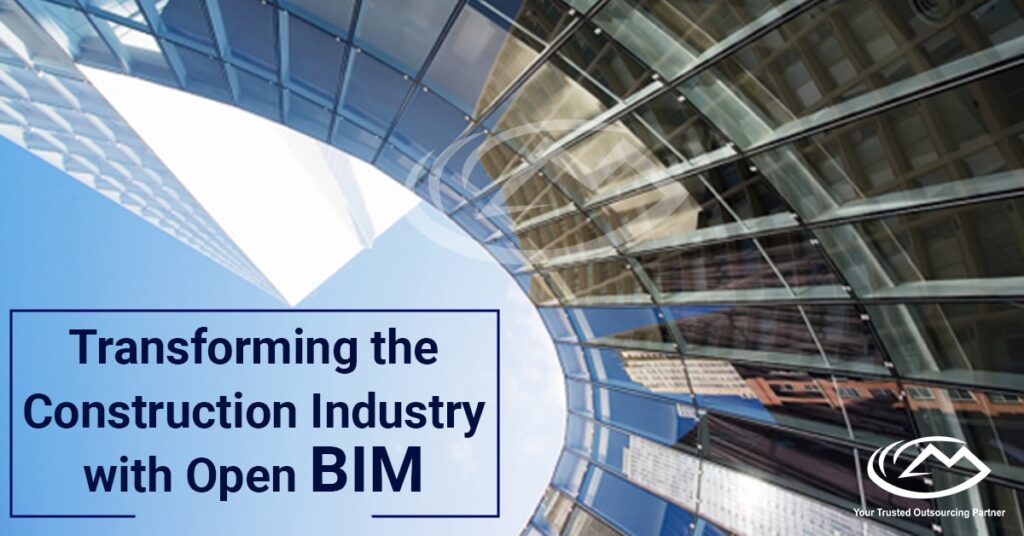 Introduction: What is open BIM?
The approach of working with BIM while using open software, standards and processes is considered a future-proof way of collaboration because it allows your business to continually adapt and survive.
With implementations for "traditional" BIM procedures becoming more common, there has been a need to make these better. This new methodology is a collaborative process which extends the benefits of "traditional" BIM by improving its usability, management, accessibility and sustainability of digital data in order to increase the efficiency of design and construction.
You enter parametric data in the same way you would with a closed BIM model. As such, you can include:
Quantity take-offs
Phase construction
Specifications
Cost estimation
Materials for procurement
While open BIM has led to the development of several open standards and protocols, the most common ones currently include COBie and IFC.
Open BIM is a tool designed to make the exchange of information between construction professionals easier. It also helps streamline efficiency by increasing communication and coordination among related projects.
It's helpful to connect stakeholders such as owners/clients, software vendors and software users during the design process.
The workflow for text-based customization ensures accessibility of data and workflow transparency, as well as lasting quality.
The technology has been fully approved by the International Organization for Standardization and has undergone rigorous testing.
3D building modeling app permits digital workflows, including schedules and budgets. It even works with 3D models, such as COBie, gbXML and IBFC.
What is closed BIM?
Closed BIM is different than open BIM because it uses proprietary formats and requires traditional stakeholders to use one platform right through the building process.The AutoCAD protocol centers around the use of BIM tools from the same provider. This is done to ensure interoperability and eliminate compatibility issues.There are two main software for pre-qualifying designs: Revit Architecture and Revit Structure.
The process of converting files from one format to another does not always require any change in the project, but it can be very restrictive and only allows those people who are already familiar with using specific tools.However, this is not to say that closed BIM is inherently "worse" than open BIM For example, often software solutions for the same project have to deal with its own data.
Furthermore, one of its biggest benefits is easy product integration. It's also superior to other retailers when it comes to user experience and a specific set of features.
A brief History
The construction industry has seen massive changes in the recent years. One of these changes is the move towards more open standards and technology. One of the organizations that's helping this transformation is building smart which encourages transformation in things like buildings, homes, and infrastructures.
Building Smart works to establish industry standards that are seen throughout the industry, such as BCP, IFC, and bSDD. Open BIM can now be seen on many residential and commercial architectural projects. Since the first open BIM standard has been introduced in 2006, it's seen an increase in popularity. There are now several open BIM software tools available that allow you to use this digital design process for your architecture projects as well as other projects you may be involved in. Many people are involved in making the site. If you would like to get more involved, feel free to contact bSI and we will make sure to work you into the process.
Benefits
Open BIM removes some traditional issues with BIM data, which can often be constrained by proprietary vendor mediums or project phases. You can use any software to manage and extract data. As an online business, it's important to know your strengths and have a clear understanding of what you're up against. By using open BIM software, you'll save money in the long run while also increasing team efficiency.We have streamlined asset management, including pre- deployment, deployment and store operations in order to enable you to focus on changing models of work.
Access to BIM Data created during design across the entire life cycle of the building. By standardizing on a common workflow for both construction and design in order to share data through Building Information Modeling, the depth of a building's features are expanded. Business owners can develop new software apps, workflows and technology automation via a common data environment.Digital twin helps you get insight into how your assets are working. They can help determine how much of a build asset should be created, how often it needs to be updated, and when it needs to be decommissioned.
What are principle of open BIM?
People who use different platforms need tools that make it easy for them to be productive. This is crucial for digital transformation.
Standards need to be developed for digital content so all devices can access it and then there will be no restrictions on how content is shared.
Quality benchmarks are used for comparison in data exchanges to ensure a reliable outcome
Open and agile data formats help facilitate greater collaboration, as well as the seamless entry of external information
Do you want to know more about technology? To-Be-Announced
Long-term interoperable data standards safeguard sustainability.
Conclusion
When people say the word "BIM," they usually mean Revit. Though open BIM is increasingly replacing conventional modeling, this concept has not been introduced to many clients or laymen who express their understanding of building information modeling. One of the fastest-growing sectors in the world today is the development of buildings and infrastructure. Organizations who don't take advantage of advancements in technology risk losing profits or building properties that don't meet contemporary standards.
At BluEntCAD, we believe the way to address transparency, coordination and compatibility challenges is to adopt a standardized format. Open BIM makes it easier by packaging your design into a single file with all of your project requirements packed in. You don't need to be a software engineer to run your business–we're here to help! If you work in the construction industry, then you know how hard it is to keep up with constantly changing technology. As a local firm that offers construction-oriented solutions, we're here to help. We offer scan to BIM solutions which can be applied to architectural companies, general contractors and design build contractors. Our clients have a lot of feedback for us!
Follow Milestone PLM Solutions for AEC Industry Updates, CAD Tips and Global Construction News.
Milestone PLM Solutions  with its exclusive delivery center in India is a global CAD, BIM outsourcing partner serving the needs of the AEC industry since 2004. MILESTONE focuses on the unique needs of clients and believe in tackling real-life problems with efficiency, smooth and ease.
The MILESTONE team can assist you with DD Set, CD Set, BIM Modeling, Rendering, walk through and more. We support multiple BIM software including AUTOCAD  REVIT, Architecture cad, Vector works etc. Our approach is to provide a dedicated team for each customer over ongoing project and deliver the quality output consistently.
With our state of art technology and large talent pool of Engineers & Architects, we are developing best in class solutions for our customers across the globe. We align with your culture and values to form unbreakable partnerships and are primed for success with over 100 employees and 150 customers in the US, Europe, India, and Asia.
For more queries regarding any of the above-mentioned topics, feel free to connect with us on our website www.milestonetech.net or contact us on  +1-844-598-0005