Debunking the Top 5 Digital Manufacturing Myths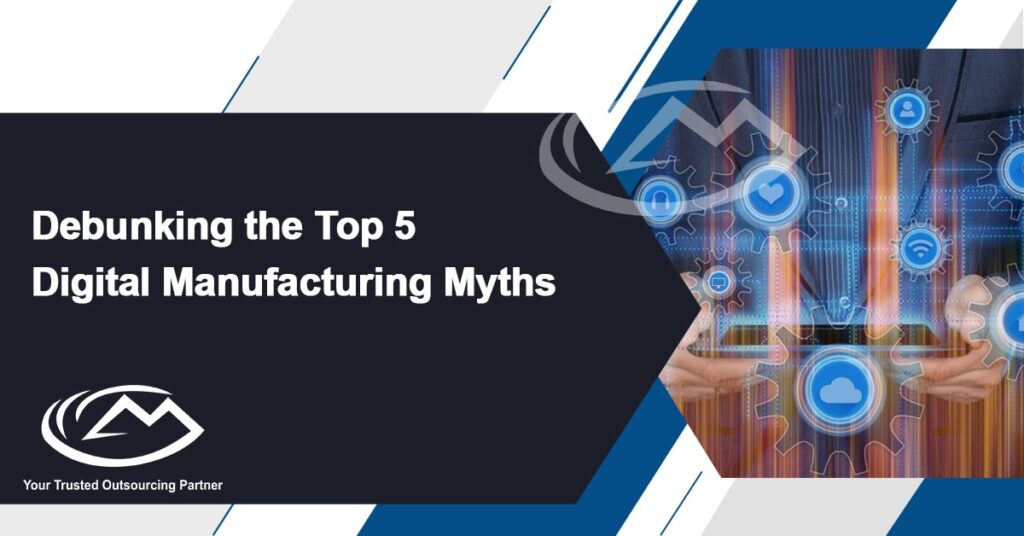 There are endless myths around Building Information Modeling, but luckily today we're going to focus on breaking down the most common ones. With enough research and thought, you can debunk many of the misconceptions and false assumptions that might lead to big mistakes when making strategic decisions. These seemingly basic misunderstandings of BIM technology, can actually prevent its progress. Only with a deeper understanding of BIM will it be possible to make the most out of such tech and help more projects to be designed and built according to plan.
Misconception: BIM just is a software
When people hear BIM, they often think of just software. In reality, BIM is a process which enables teams to collaborate more efficiently on a construction project. Building Information Models rely on many different software and applications. Of course, the software is very important, but it's the overall process that makes BIM so valuable.
Misconception: BIM is only applicable for big scale project
BIM deals with the design, the manufacture, and the construction of a building. That's not to say that smaller projects don't use BIM. Even if they don't have perfectly coordinated stakeholders like large-scale building projects, they must comply with governmental regulations.
BIM has been associated with complexity and high costs, but the truth is it increases efficiency and reduces cost. Here are facts to consider when deciding whether or not BIM is the best option for your project: BIM will improve workflows, increase collaboration, Building Information Modeling leads to cost and time savings, regardless of the project scale or complexity.
Misconception : BIM is like cad 3D
Although 3D geometry modeling is a large part of BIM, it's not the only thing. The concept includes much more than the creation and visualization of a model. Beyond representation, the process includes intelligence and utilizes information that can later be leveraged for planning, designing and building. It's important to understand specific properties and features of every element in your BIM model. This information can come in handy for certain areas such as collision detection, quantity take-offs, cost estimation and building maintenance.
The Common Data Environment refers to the digital space where both graphical and non-graphical data is stored in order to generate data-rich models, which can then be analyzed with information from other sources. A more comprehensive description of BIM technology would call it an umbrella which encompasses both processes and technologies. It involves people, too, and must be implemented across the whole life cycle of a building in order to scale efficiently. To say 3D modeling is just one facet of this iceberg would only be touching the tip.
Misconception : Implementing BIM is expensive
Although not completely false, the concern has shown to be valid in many cases as long as there is a lot of modeling required. It's likely associated with scenarios that require 3D coordination with takeoffs to LOD 400 or 500 and 5D, 6D and 7D BIM uses. It's likely that projects would be more successful if an optimal balance of requirements are met through careful planning and attention to detail from the design team.
It's true that the initial costs involved with this new technology would be substantial, but there are ways to minimize them. One solution involves partnering with a BIM Company to support a project, which can help to minimize these costs. Before you decide if BIM a project is worth your time and money, think about how much it would cost to not BIM the project.
Misconception : BIM is buzz word and it will soon be obsolete
It's undeniable that BIM is here to stay. Since its release, more than 75% of AEC companies have adopted this method, proving it has already exceeded the critical mass of adoption. The AEC Industry is undergoing a digital transformation and it's trending to digital twining. To stay competitive, data-rich models are necessary. Right now, several construction companies are trying to make more buildings to get the productivity improvements of industrial processes. Those that aren't prefabricating have little chance to compete with those who are, mostly because on complex projects adding prefabrication is almost impossible. And when you don't use BIM it's almost unthinkable
While there are many misconceptions about BIM implementation, it's important not to fall for them and continue to use these myths as excuses. By now, it has been proven that building everything in computer form before it's built on your site will save you tons of time and money.
How Milestone PLM Solutions can help you gain expertise in your business?
Milestone is a multidisciplinary company and caters in CAD drafting and modelling, AEC and BIM services since 2004. We majorly work in Mechanical, Architecture and Civil domain across to globe. With a team of experts, we can help you and your team in performing better and faster than your competition. You can outsource you CAD Design, Modeling, rendering, Construction documentation and BIM services, and we assure to you guaranteed quality results with the quickest Turn Around Time possible.
You can email us at info@milestonetech.net and can log in to our website www. milestonetech.net  to know more about our services and our work portfolio or contact us on  +1-844-598-0005