Top 6 BIM Software for Enhance Construction Process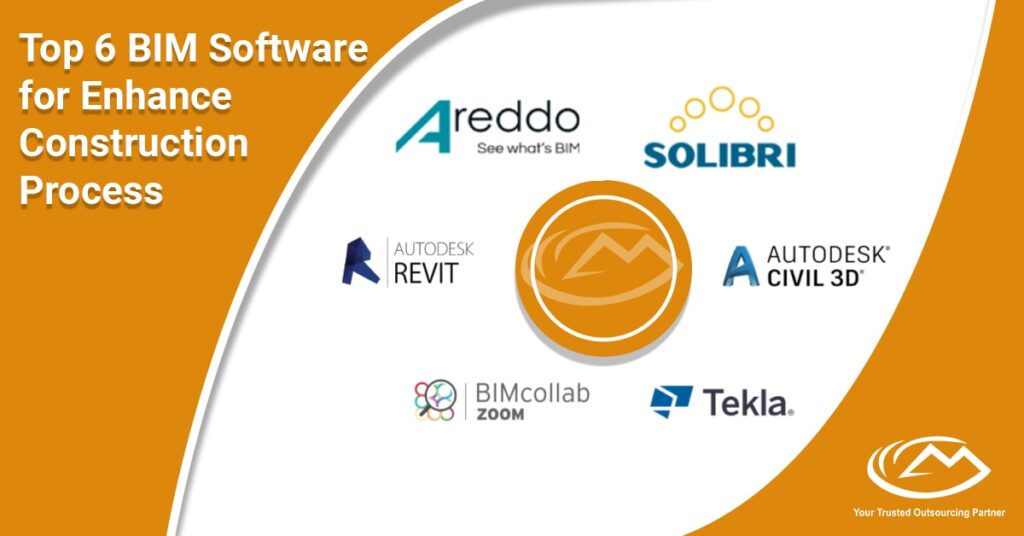 It's easy to assume that BIM software is just a software. Explore the leading Top 6 BIM Software options, optimizing construction processes with advanced technology and boosting project efficiency. However, there are other tools that are necessary in order to make your BIM project successful, such as software for modeling, clash detection, and many others. So which software is used for BIM?
A report from 2018 shows that there is a shortage of BIM software, and as a result, the market for this service will grow by 8 billion USD in 2025 at a growth rate of 24%. There's no shortage of software to get you started with your projects though; it's really dependent on what type of BIM software you need.
Introduction what is BIM software?
Building information modeling software lets you create a 3D representation of a structure and see its functional properties. BIM technology is now an imperative in the construction industry, as it allows all parties to work together and reduce risk and costs. This technology is gradually being considered a standard in modern projects. BIM has become a mandatory part of many types of projects in various countries and US cities. It's even been prescribed for specific jobs like construction, electrical wiring, and sewer engineering.
Get the best-of-the-best BIM software that caters to your specific needs, or upgrade to the most advanced and feature-laden software our industry has seen. Understand the type of space you're working with, a building's design and project life cycle. Some software may take longer to get up-to-speed than others, so research your options. Also, connect with people in the industry who can help you understand what works best for your business. While there may be some overlap with the best architectural rendering software, they're not necessarily geared towards BIM
Autodesk Revit
If you want a comprehensive building information system with all the design tools you need, then you want to consider Revit. It's easy to use and covers architectural designers, project managers, construction managers, drafters, and so much more.
The Autodesk Revit platform is centered around data and values.
When it comes to creating content on YouTube, you'll find that their platform offers a vast range of options.
With Dynamo, for the first time, you can design and create geometries that need just a few data-based steps to function. There are so many possibilities with such little investment.
The online-based Revit is known for having a wide range of abilities. It can export, import and link data in commonly used file formats such as DWG, DGN and IFC.
With Streamlined collaboration, you can avoid going over budget with centrally shared models.
Graphisoft ARCHICAD
ARCHICAD is a widely-known BIM software that is used by urban planners, architects, designers and interior designers.
Our intuitive, easy to use software allows for a more accessible design experience for all beginners. A complete design workflow and intuitive interface will help make your design process simple to use.
In order to ensure smooth data exchange with other partners, companies use Open BIM or a vendor-neutral format. This allows for seamless exchanging of information regardless of which design tools are being used.
Accurate estimates and precise construction documentation are essential when building a new property.
These cloud renderings come to life with photorealistic precision due to the technology and significantly high quality rendering.
Is your product data- centric and not providing the interactive experience? Create flexible, intelligent objects that are more than trendy storage containers.
Adding insightful content to your website is essential for attracting new visitors. Visualization features give you this opportunity in a convenient and streamlined way.
Vector-works Architect
If you're in the business of creating large projects and managing them, Vector works Architect is likely right for you. While it doesn't offer all the complex project management capabilities of some other BIM software, there are still plenty of reasons why it's so popular.
With some of the best design, documentation and drafting capabilities, Revit Architecture is one of the top 3 choices in the industry.
With advanced 3D modeling and more features than your standard design software, Sketch App Studio is the perfect choice for any type of designer.
Vector works also offers a number of additional products that extend their functionality to Architect. These products include software for industrial lighting, construction site mapping and entertainment venues
BIM x
BIM x empowers architects, engineers, and other professionals to better create 3D and 2D documentation by providing tools. We have a mobile application available on iOS and Android that helps us get the job done quickly.
Features BIMx Hyper-model, which is a navigation tool that helps users explore their project and understand the deliverable.
Contractors and clients can use this tool to showcase their current work-in-progress plans.
At only $49.99, BIMx PRO provides access to features such as Smart 3D Measure and 2D Measure. It's an integrated add-on that includes Cloud Print, Air Print, and integration with external databases like Salesforce.
Tekla structure
Tekla Structures is a suite of powerful software for building and engineering. It allows designers and engineers to develop 3D models that incorporate various building materials.
Trimble is the company behind Tekla Structures, a software that helps architects and engineers take design plans and extend them into three-dimensional simulations. With Tekla Structures, Trimble has maintained its architectural design and steel at the heart of the system, giving it access to concrete, glass, wood and other building materials.
If you're managing a construction project that requires managing resources and large amounts of raw materials, SWIM can help. They've been the go-to software for such projects for more than 25 years.
Because steel buildings are a common form of construction in many parts of the world, we can provide design and engineering support for projects that range from airports to bridges to mega malls.
Conclusion
If you're looking for software for your next building project, there are plenty of options that make the building process easy. Many new innovations and BIM advancements are coming as the AEC industry grows, which will make your life even easier in the future.
Follow Milestone PLM Solutions for AEC Industry Updates, CAD Tips and Global Construction News. 
Milestone PLM Solutions  with its exclusive delivery center in India is a global CAD, BIM outsourcing partner serving the needs of the AEC industry since 2004. MILESTONE focuses on the unique needs of clients and believe in tackling real-life problems with efficiency, smooth and ease.
The MILESTONE team can assist you with DD Set, CD Set, BIM Modeling, Rendering, walk through and more. We support multiple BIM software including AUTOCAD  REVIT, Architecture cad, Vector works etc. Our approach is to provide a dedicated team for each customer over ongoing project and deliver the quality output consistently.
With our state of art technology and large talent pool of Engineers & Architects, we are developing best in class solutions for our customers across the globe. We align with your culture and values to form unbreakable partnerships and are primed for success with over 100 employees and 150 customers in the US, Europe, India, and Asia.
You can email us at info@milestonetech.net and can log in to our website www. milestonetech.net  to know more about our services and our work portfolio or contact us on  +1-844-598-0005