The Synergy of GIS and BIM: Geo BIM Uniting for Dynamic Infrastructure Advancement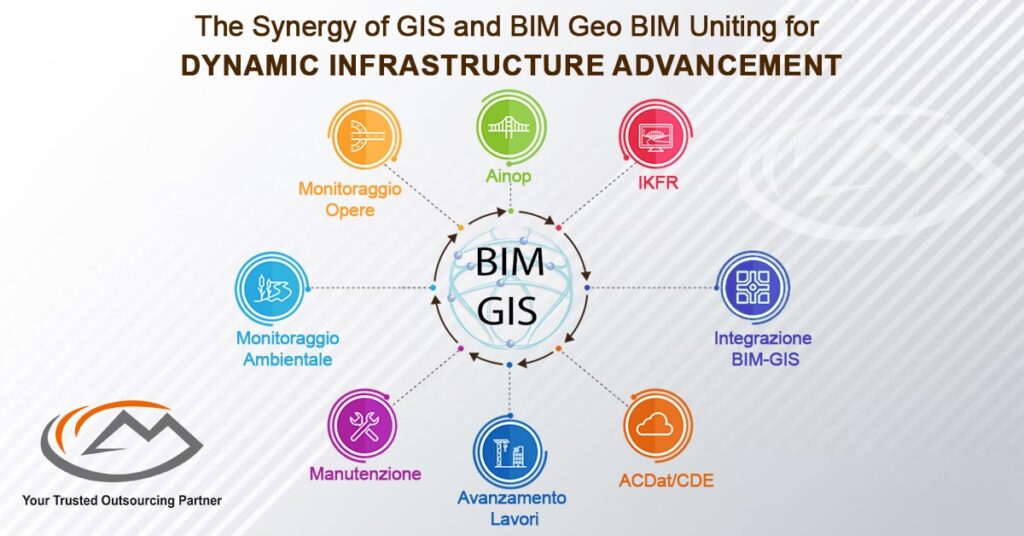 The AEC (Architecture, Engineering, Construction) sector has been able to move from 2D BIM to 3D BIM in recent years. GIS is a powerful tool for analyzing locations and geospatial research, used by more than 50 years in fields such as natural resource management. 3D modeling is also being investigated. The two industries that inform Geo BIM, BIM and GIS, have merged.
GIS - Geographical Information System
GIS software helps you access relevant geographical data, as well as other kinds of information. It's most commonly used in the environmental and logistics industries. Data sources, such as those from satellites, can be used in GIS to create the interactive maps.
BIM - Building Information Modelling
BIM is the advancement and use of computerized models to simulate the planning, design, construction, and operation of a building or facility. This process results in a digital representation of the facility which contains both graphical and non-graphical information.
Building Information Modeling provides project life cycles, including physical/functional characteristics with one unified, interactive and interoperable representation of a completed building or facility construction to aid in the decision-making process
Geo BIM -The Convergence of BIM & GIS
Data collection and storage methods have improved, so that GIS covers up-to-date information about individual buildings. BIM, or Building Information Modeling, is a domain separate from CAD modeling. BIM models are concerned with the design, construction and materials of buildings. It functions over 2D CAD drawings. More companies can take advantage of the benefits of BIM because they are constantly working on improving their standards to include GIS features
Geo BIM - The Evolution of Urban Infrastructure
The GIS domain and the BIM domain are converging. The GIS domain focuses on more detailed modeling while BIM focuses on more abstract modeling. The convergence of Geo-information and BIM has led to highly detailed 3D city models.
By integrating GIS data with BIM data, you are able to avoid redundant modeling and facilitate the flow of information between software applications. Enhanced 3D city models can serve as information hubs for computer-based urban spatial analysis and enable more detailed models when combined with historical and current BIM datasets. When going forward with an infrastructure project, GIS can provide powerful analysis tools. Geo BIM combines city-wide 3D data with architectural information and uses it to test how the building might affect other parts of the city.
Geo BIM solves the issue of location mapping in the industry of architecture, engineering and construction (AEC) by giving you accurate Geo-referenced footprints, 3D space analysis, and faster analysis
Arc GIS Geo BIM
Arc GIS Geo BIM enables the linking of projects and workflows by integrating Autodesk Construction Cloud® and BIM 360. Coordinate both Arc GIS Geo BIM and Autodesk data together in projects. Arc GIS Geo BIM is a web-based environment that can be customized to meet the requirements of many different stakeholders. Arc GIS Geo BIM is a powerful analytic tool used to assess risks, costs, and deadlines in BIM models, engineering documentation, and project management.
The rapid evolution of the building information modeling (BIM) industry has led to disruptions in both the design and construction industries. This evolution includes a digital transformation, This approach helps BIM designers to integrate a geospatial element. This allows construction and infrastructure design companies to not only plan but also place newly built objects in the appropriate contexts of the surrounding environment.
GIS is necessary for connecting infrastructure to its surroundings. GIS data can be used to create detailed simulations of the effects on nearby populations if relief supplies are being shuttled in or outgoing. BIM creates the designing and building process. GIS helps with infrastructure context.
BIM and GIS integration allows designers to better understand geo -specific biases and adjust design accordingly. If an area is prone to flooding, for instance, designers will be able to take that knowledge into account when constructing buildings. Combining GIS and BIM gives you the ability to create any structure at the "object level." You can eliminate data redundancy with managing data for use in any environment.
You can combine the experience of a web-based visualization with the analysis of multiple models to create and manage projects within a geospatial context. Using this platform, you can link data from BIM Collaborate Pro with Arc GIS Geo BIM for greater efficiency.
How Milestone PLM Solutions can help you gain expertise in your business?
Milestone is a multidisciplinary company and caters in CAD drafting and modelling, AEC and BIM services since 2004. We majorly work in Mechanical, Architecture and Civil domain across to globe. With a team of experts, we can help you and your team in performing better and faster than your competition. You can outsource you CAD Design, Modeling, rendering, Construction documentation and BIM services, and we assure to you guaranteed quality results with the quickest Turn Around Time possible.
You can email us at info@milestonetech.net and can log in to our website www. milestonetech.net  to know more about our services and our work portfolio or contact us on  +1-844-598-0005