Emergency Preparedness for CAD/BIM: A Guide for Businesses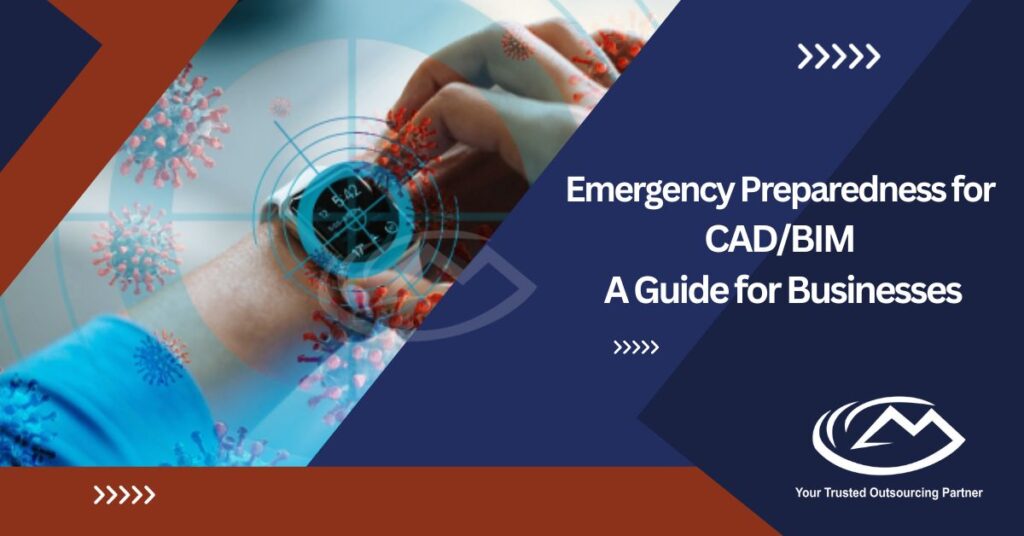 Architects are in charge of designing buildings, which is a complicated process that can be difficult and time-consuming. Building Information Modelling (BIM) streamlines the production process by reducing errors, while also improving efficiency and ensuring longevity. Architects who have a knack for rendering lines and creating models often use CAD. CAD is a software program used to create detailed architectural drawings and models of buildings. It can be employed to produce these drawings and models in different ways, depending on what needs to be communicated. Architectural draftsmen or designers can also take pride in their design coordination skills while they work on these tasks by employing these services. Streamlining Architectural Design with BIM Modeling.
The processes with which architectural design ideas are generated has changed lately, and includes BIM processes and a digital design workflow. This collaboration between different disciplines is a huge factor in remodeling the way architects work. In BIM, mechanical, structural, electrical, and construction engineers and architects can evaluate design concepts early in the process. The BIM process integrates design with 2D and 3D outputs including architectural drafting services and 3D architectural modelling. While construction design isn't new, BIM has given the industry a much-needed shakeup. The increased collaboration between disciplines that BIM technology enables leads to designs that are "accurate and efficient" from the early stages.
What are the Phases?
The architectural design process is, generally, divided into three broad phases. They include:-
Schematic design phase –Our design process starts with field surveys and client meetings where the gathered information is used to create various design options. Concept sketches are created, presented, and discussed for consideration and feedback. The price for each design option will be provided prior to the start of work. We make adjustments as necessary, depending on what the customer wants. Then, after going through a few refinements, the design will finally progress to the next phase.
Design Development phase –In this stage of the design, revisions are made to the selected schematic. The cost estimates are updated with any changes that affect materials or other factors. There is a lot of back-and-forth communication to finalize all the details of the design.
Construction document phase –When a design is close to being finalized, the client has a set of drawings, blueprints, notes and technical specifications prepared. These documents are known as construction document sets or CD sets. With the advent of Building Information Modeling (BIM) technology, the architectural design process has been streamlined to a significant extent. The influence and advantages of using BIM technology can be seen in several aspects of the process, such as:
Time solved –BIM 3D technology not only has applications in the building but also in the construction phase. For example, a line drawn in 2D is simple whereas while drawing with a BIM tool such as Revit, a 3D wall is created which then becomes part of the section, elevation and base for construction details. Compared to traditional drawing, a 3D door project would be easier and involve less effort. Because the dimensions of a door are readily visible in a BIM environment and in a schedule, structural members can be cut from the exact dimensions needed to build the door.
Design Retention –In the early stages of design, architects can use BIM to ensure that the design stays consistent throughout its creation process. With 2D drafting, this can cause a lot of time to be consumed. After all, a poorly laid out design can be extremely costly. Knowing when to review a 3D model during the design process is essential; Navisworks can help identify potential problems before they come up and ensure that designs are not drawn incorrectly.
Design communication –BIM software offers a range of features that allow you to easily create animations, interactive presentations and other ways to ensure clients understand your design.
Design Coordination –BIM software enables you to create animations, interactive presentations and other ways to ensure clients understand your design, regardless of what platform they use.
Error Reduction –In designers using BIM technology, the time taken to check data is reduced. With hundreds of doors in a single model, individual doors are not checked for correct data when using BIM. Regarding door type, fire rating, acoustic rating, insulation, protection and signage, filters can be applied to quickly scan the accuracy of a model.
Options –With options in BIM software, you can develop your design efficiently. Options allow a part of your building to be projected onto a screen so that the design team and client can view different features, such as entrance design details or roofing changes and others. This helps them decide what would work best for their project.
Follow Milestone PLM Solutions for AEC Industry Updates, CAD Tips and Global Construction News. 
Milestone PLM Solutions  with its exclusive delivery center in India is a global CAD, BIM outsourcing partner serving the needs of the AEC industry since 2004. MILESTONE focuses on the unique needs of clients and believe in tackling real-life problems with efficiency, smooth and ease.
The MILESTONE team can assist you with DD Set, CD Set, BIM Modeling, Rendering, walk through and more. We support multiple BIM software including AUTOCAD  REVIT, Architecture cad, Vector works etc. Our approach is to provide a dedicated team for each customer over ongoing project and deliver the quality output consistently.
With our state of art technology and large talent pool of Engineers & Architects, we are developing best in class solutions for our customers across the globe. We align with your culture and values to form unbreakable partnerships and are primed for success with over 100 employees and 150 customers in the US, Europe, India, and Asia.
You can email us at info@milestonetech.net and can log in to our website www. milestonetech.net  to know more about our services and our work portfolio or contact us on  +1-844-598-0005