From Blueprint to Brilliance- Unveiling the Vital Role of BIM Implementations in Architectural Design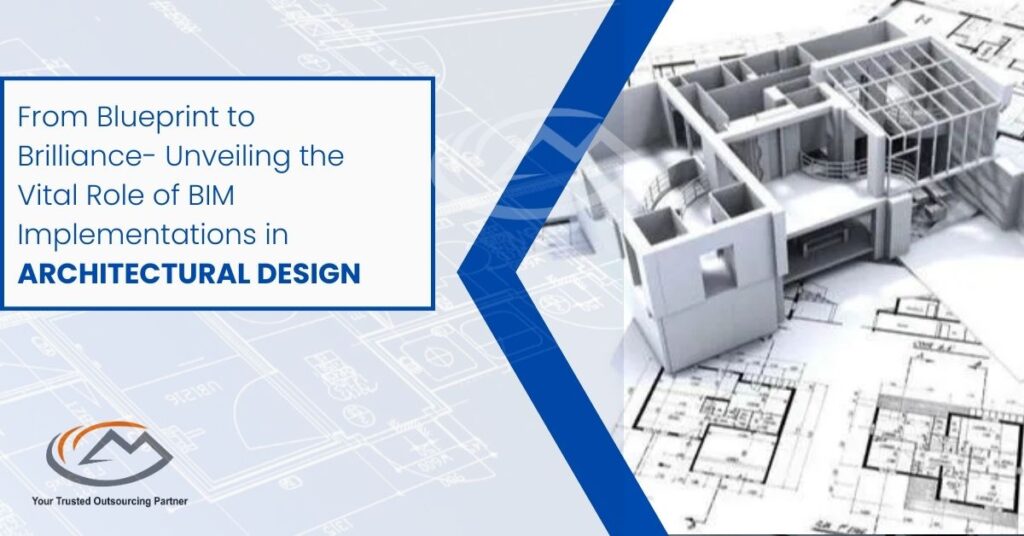 Architects are the visionaries of the world, bringing visions to life with their drawings. The process of designing architectural dwellings has changed over time, and now it's more about using models and using data-based design solutions when possible. Digital civil engineering software helps design engineers to communicate intent, assess performance and pricing and incorporate design changes before they take time.Nothing stays the same, and with the demands of the digital world, companies are evolving as well. It follows that you'll have to adapt your business process to meet those needs as well. Effective collaboration between design disciplines requires tools that enable working in a digital environment. From 3D BIM modelling to architectural CAD outsourcing, effective use of digital technology can help address challenges like real-world design and development. We will discuss about the role of bim in architectural design and more details below.
To succeed, don't neglect the initial stages of design process.
There are ways that website layout and design decisions can impact the performance of a website.

Building Information Modeling

is a powerful tool that provides architects and engineers with the ability to see early design decisions. This can have an important impact on building performance.
There are a lot of challenges with BIM. However, making good qualitative design decisions sometimes still means making things in the computer model first.
How BIM address design Challenges for Architects
Architects must understand that BIM goes way beyond being just a 3D modeling tool. It is also important for architects to know the many ways that BIM can be used beyond as a tool for creating construction documents. Building Information Modeling can help provide better design decisions as well as improving building performance. That's why data-rich 3D models are so helpful for a tool like BIM. One must be very clear on what something is and what it isn't. Every medium is situated within a certain context and how it can be used strategically becomes vital.
BIM is more than a document creating tool. BIM helps CAD users create 3D models that are layered with data, which can be used to make better design decisions.
This software is able to share the same project with other disciplines. It eliminates the issue of having to use different software for multiple disciplines.
Consider BIM as a more comprehensive design tool: A digital blueprints, 3D modeling, and renderings that serve as excellent project documentation for job progress.
One of the early lifecycle phases is the schematic design phase. Architects often spend most of their time in this phase, and BIM tools provide them with a robust platform to build models. Once the blueprints are completed, they can spit out more data for architects and designers to use.
It's as detailed as the governing layer of detail. – Models and components of a BIM model can have varying levels of granularity.
Components or parts in a model typically have different levels of development. By agreeing upon certain protocols at each level of the design development stage, various components in the BIM model can be developed, used and exchanged for different project stakeholders.
Making data-rich building models helps your business in a number of ways
In addition to physical design characteristics, BIM models provide an abundance of information such as how the spaces are used through semantic models. These language-dependent graphical representations of building model elements can vary by project.
Creating a BIM model doesn't mean the model is not detail-oriented.
3D BIM models that have been developed in depth can be used to highlight improvements at the early stages of a product or service design.
3D BIM modeling is a step up from 2D CAD drafting, so it can be used by novices or experts. Creating digital models and rendering them as 3D digital constructions is an invaluable tool to have, particularly if you're trying to design with outside partners.
3D Modelling is a notoriously difficult skill to master and will take many years of practice. While experienced designers may be able to design for you a data-rich model that could help with your design decisions, it's worth investing in those with fundamental experience and skill with 3D Modelling because they can work on BIM models as well.
There is an initial cost of training, but the end result pays off.
Many designers worry about the cost of 3D BIM modeling tools. However, as the benefits become clearer, their investment will be well worth it.
It solve design problems
When creating products, a company can use 3D BIM tools to design new concepts or improve existing designs faster and more accurately. The information can be provided in real time as well!
Each update to a worksheet is dynamically linked, making it easy to see how the design has changed on each new revision. The impact of design decisions can be viewed and improved throughout the process.
There are data that is inherent and attached to objects, such as:
Data on location
Area
Volume
Define your default data or let us create a library for you. You can find what your business needs in the "All Categories" view.
As architectural BIM becomes a dominant design tool, firms must transform from being single discipline to multi-disciplinary models that are contractor-led and risk tolerant which will help them adopt 3D BIM. In addition, firm can make better design decisions by harvesting the information intelligently and strategically using the "I" in BBCM.
Follow Milestone PLM Solutions for AEC Industry Updates, CAD Tips and Global Construction News. 
Milestone PLM Solutions  with its exclusive delivery center in India is a global CAD, BIM outsourcing partner serving the needs of the AEC industry since 2004. MILESTONE focuses on the unique needs of clients and believe in tackling real-life problems with efficiency, smooth and ease.
The MILESTONE team can assist you with DD Set, CD Set, BIM Modeling, Rendering, walk through and more. We support multiple BIM software including AUTOCAD  REVIT, Architecture cad, Vector works etc. Our approach is to provide a dedicated team for each customer over ongoing project and deliver the quality output consistently.
With our state of art technology and large talent pool of Engineers & Architects, we are developing best in class solutions for our customers across the globe. We align with your culture and values to form unbreakable partnerships and are primed for success with over 100 employees and 150 customers in the US, Europe, India, and Asia.
You can email us at info@milestonetech.net and can log in to our website www. milestonetech.net  to know more about our services and our work portfolio or contact us on  +1-844-598-0005