Rapid Prototyping Helps in Developing the Product Quickly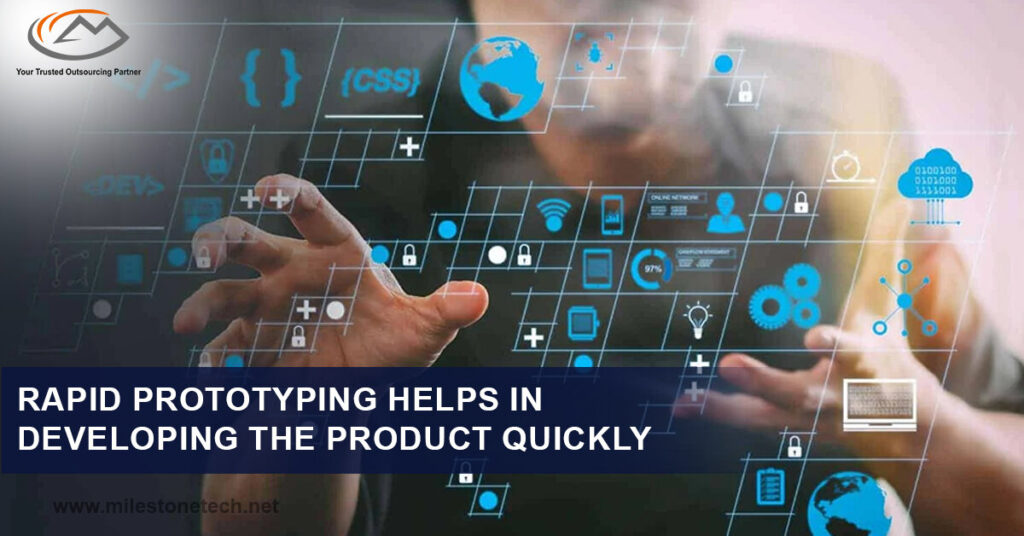 A prototype of the product makes design failures less likely to happen. A tangible model helps to make product designs less complicated and prevents errors from happening. The technology can be used in the early stage of product design. It also helps engineers to see the actual parts of their product, rather than just drawings. Rapid Prototyping Helps in Developing the Product Quickly, as it allows designers to quickly create and test multiple iterations of a product..It  also helps to refine and improve the design much more rapidly
By using Electronic Prototyping, you can create the entire product and compare each part of the design to its prototype in order to identify any errors. This means that if a section does not meet your expectations, it is easily fixed.
Why Rapid Prototyping?
Visualization of design concepts and its clear understanding
With a physical prototype, you can easily see the design and better understand how it will look than with merely computer designs. It saves time for designers in understanding the feel of their design.
Doing modifications and quick changes
To create a perfect product design that meets the needs of the customer, companies rely on manufacturers to provide an accurate depiction of how the product is expected to look and operate.
Decreasing the time consumption for designing & Reduction in monetary investment
 The best way to visualize a product is to create a prototype with the same shape. This eliminates the need to buy molds or use software other than CAD. Rapid prototypes also allow you to create a feel of what it's like to use your product by replicating the experience of holding it in your hands.
Customization of the Product
 Customized products can be made at any given time, without any special tools. Rapid Prototyping Helps in Developing the Product Quickly as CAD models are used in Rapid Prototyping.CAD models helps any change in design with minor changes in the initial model.
Accuracy level grows substantially in designing
Materials used during prototyping reflect the actual product. This means that testing and identifying flaws happen before the manufacturing process is started, minimizing the risk of halting production later on.
Nowadays, manufacturers are interested in the more rapid prototyping method. These techniques make it easier for Electronic Prototype Development companies and product manufacturers to innovate new products at a cheaper cost
Effective communication of ideas
 You can create and show 3D models of your designs with a physical model, which offers a more efficient way to share your ideas with collaborators. Rapid prototyping facilitates collaborations and clear feedback by displaying user needs rather than just the renderings on screen.
Applications of rapid prototypes
Proof of Concepts (PoC) Prototypes
 POC prototypes help product designers explore the viability of an idea and communicate the viability to stakeholders. These prototypes can be physical models, high-fidelity CAD drawings, sketches, storyboards, or wire-frames. Such prototypes are more detailed than low fidelity ones.
The goal of Proof-of-conceive prototyping is to prove theories and assumptions from the earliest stages of product development. Proof-of-concept prototypes include only the necessary amount of requirements needed to validate them.
3D printers have the benefit of being able to create and test concepts in a short period of time. Unlike workshop tools and manufacturing, they are often office-friendly. This allows designers to virtually test new concepts and make adjustments to their prototypes before sending them off for mass production or sending them to a workshop.
Looks-Like Prototypes
 Looks-like prototypes represent the final product at a graphical level and can give a sense of how it will look before the final touches are made. Looks-like prototypes can also be used to choose which features you want and need in your design because they don't include details such as user interfaces and user experience.
A major part of prototype development is the iteration from sketch to CAD modelling. The design can move back and forth between digital renderings and physical models as designers continue on. Once it's finalized, you create "looks-like prototypes" to show off your final product with realistic materials and finishes.
Works-Like prototypes
 In parallel to the industrial design process, engineering teams work on another set of prototypes to test and refine the mechanical, electrical, and thermal systems that make up the product. These prototypes might look different from what would end up as the final product. These prototype include core technologies and functions that need to be developed and tested.
 In order to improve quality, these core functions are often developed in separate sub-units and then integrated into a prototype. This approach allows teams to isolate variables so that they can ensure the product is reliable before integrating all the different parts together.
Engineering Prototypes
 Some of the engineering process involves design and engineering meeting to create a new version of a final product. This prototype is used for user testing, communication with tooling specialists, and demonstration
3D printing makes it easier to verify the design, fit, function, and manufacturing ability before investing in expensive tooling and moving into production. It helps engineers create high-fidelity prototypes that accurately represent the finished product.
How Milestone PLM Solutions can help you gain expertise in your business?
Milestone is a multidisciplinary company and caters in CAD, CAM & FEA services since 2004. We majorly work in the Mechanical, Millwork, and Automotive domains across the globe. With a team of experts, we can help you and your team in performing better and faster than your competition. You can outsource your Product Design, 3d Modeling, Drafting & detailing, Reverse Engineering, and FEA Analysis and we assure you of guaranteed quality results in the quickest Turn Around Time possible.
You can email us at info@milestonetech.net and can log in to our  website   www. milestonetech.net  to know more about our services and our work portfolio or contact us on  +1-844-598-0005