The most Common BIM Adoption Protest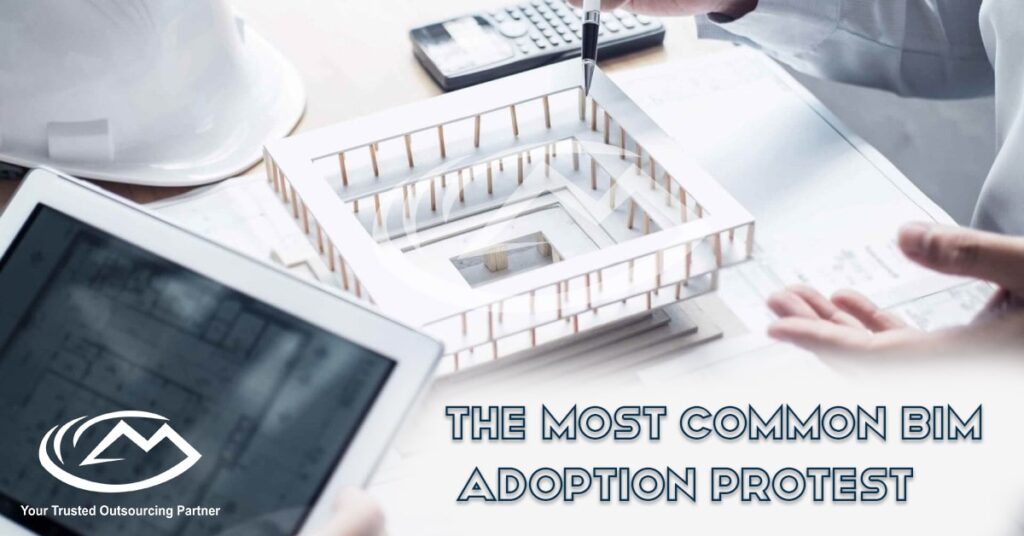 We see in construction industry the introduction of new technology, which many industries have been seeing.In this discussion, we will explore some of the most common protests against BIM Adoption. Ever since the introduction of BIM Technology, the construction industry has been transformed.All large scale public construction projects in countries like the UK are now required to use Building Integrated Modeling.
BIM leads to greater productivity and profitability.Some challenges Indian construction industry face are the infrastructural hurdles and remote site challenges, but they have started making progress with the utilization of Building Information Modeling technology.The India BIM Association has about 30-40K members who are using BIM services, but most are targeting projects outside of India.There is still needs to be a track for the modeling, scheduling and estimation; there is not enough discussion about how this can impact construction tracking and FM usage.
Challenges for Bim Adoption In India
BIM (Building Information Modeling) has been around for nearly two decades but became more mainstream about 2 years ago. Current adoption for BIM in the Indian construction industry is slow because of some issues, one being that Indian architects aren't trained in BIM design.
⭐ Inadequate Skill
The main problem faced by construction companies looking to BIM Adoption is a lack of widespread expertise. Some organizations do provide specialized BIM services, like Excelize.
Most of the construction companies in India do not have many qualified or knowledgeable employees to do BIM integration seamlessly.
The lack of in-house Skill in BIM leads to a lot of errors and unnecessary expenses in the professional context. So, even though the technology seems relatively easy to adopt, professionals find it hard because they don't have enough knowledge.
⭐ Lack of  Knowledge
 There is little awareness of BIM in India, which can be problematic because there are many construction projects in the area.
While real estate is undergoing modernization through new construction, there are still entities that have not incorporated the most recent practices.
A lack of awareness of the benefits of BIM is leading to an absence of management support- without it, no strategic initiative will be successful.
⭐
Cost -Efficient
There are benefits for small and large projects, but savings in operating costs for big projects can sometimes be offset by higher production and inventory costs.
Projects that were previously dangerous for humans to complete are now less risky and cheaper for planners.It makes sense for companies to invest in the workforce, since BIM is more expensive.
Small and medium-sized construction companies are more cautious about investing in BIM, as they don't see the long term benefits of it.
⭐ Reluctant to Change
How common BIM Adoption challenges affect construction companies.
Better planning also means that the company is responsible for perfect execution.With all of these factors, it is difficult for humans to adopt change since there is less room for error and a greater pressure to perform.
Some companies are afraid that just using a new approach will change their whole culture and don't want to take on the responsibility of training the general workforce or hiring new workers, so instead they stay with what they know.
⭐ Lack of Cooperation Between Stakeholders
 BIM technology improves the workflow of all involved stakeholders.
Project outline creation requires high levels of collaboration from the interested parties. As the project becomes larger, it will be even harder to coordinate these people.
Learn about the most common challenges in BIM adoption due to large projects
Noncooperation with stakeholders often destroys the will of all involved parties to cooperate, makes execution difficult, and creates conflicts that may arise no matter which form of BIM is used.
BIM is a powerful tool when used correctly. The key to success is understanding the organization's infrastructure and protocols, so that it can be adapted to make BIM a success. The price of implementing new technologies does hinder its impact on smaller organizations.
Going forward, the world will rely on AI to generate its content. India's construction industry needs to advance their technology in order to keep up.
Follow Milestone PLM Solutions for AEC Industry Updates, CAD Tips and Global Construction News. 
Milestone PLM Solutions  with its exclusive delivery center in India is a global CAD, BIM outsourcing partner serving the needs of the AEC industry since 2004. MILESTONE focuses on the unique needs of clients and believe in tackling real-life problems with efficiency, smooth and ease.
The MILESTONE team can assist you with DD Set, CD Set, BIM Modeling, Rendering, walk through and more. We support multiple BIM software including AUTOCAD  REVIT, Architecture cad, Vector works etc. Our approach is to provide a dedicated team for each customer over ongoing project and deliver the quality output consistently.
With our state of art technology and large talent pool of Engineers & Architects, we are developing best in class solutions for our customers across the globe. We align with your culture and values to form unbreakable partnerships and are primed for success with over 100 employees and 150 customers in the US, Europe, India, and Asia.
You can email us at info@milestonetech.net and can log in to our website www. milestonetech.net  to know more about our services and our work portfolio or contact us on  +1-844-598-0005