Mechanical Design Tools Digitization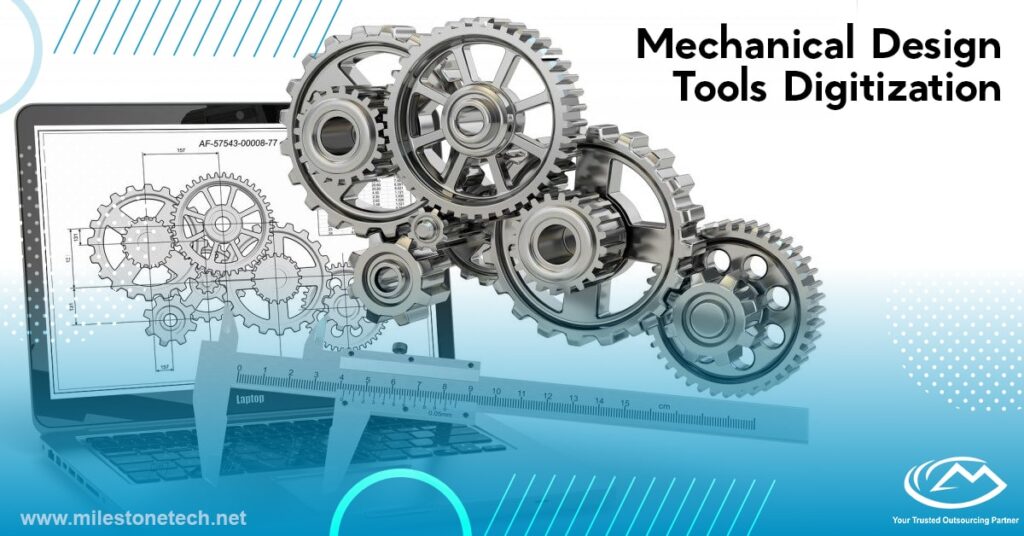 The process of converting traditional mechanical design processes and tools into digital formats is referred to as Mechanical Design Tool Digitization. Mechanical engineering design affects many aspects of life. Almost everything from vehicle design to medicine and energy conversion requires mechanical engineering. Digital technology, or digital performance, is largely incorporated in the mechanical engineering industry because it is so prevalent among individuals.
Because of digitization, Mechanical Design Tool has become more efficient, accurate, and versatile. Today's engineers can design and produce prototypes more easily with the help of new technologies. Below we take a look at four technology that have had a major impact on mechanical engineering services.
⭐ CAD
CAD is an essential industry. It helps people create and construct the things they need through the use of computers. Computer-assisted design includes 3D printing and other production technologies, in addition to CAD. CAD is also known as computer-assisted geometric design and assists with the geometric shaping of objects.
⭐ 3D Laser scanning:
 3D scanning is non-contact and does not compromise the aesthetics of what is scanned. Cloud points are created from the surface a user wants to scan. 3D laser scanning is a way of capturing the exact size and shape of a physical object. This can be used as an accurate 3-dimensional digital representation by measuring fine details and capturing free-form objects quickly. Traditional measurement methods won't work for measuring and testing complicated geometry, but 3D laser scanning will. It's not limited by the amount of data that can be obtained.
⭐

Virtual Reality
VR is the use of computer technologies to create custom-made environments. Unlike traditional interactions, VR puts users in the experience and immerses them. Instead of looking at the screen in front of them, users are immersed and can communicate with 3D systems. By incorporating a wide variety of sensors, such as sight and sound, you can use a computer to simulate an artificial world. It is limited by the availability of cheap computer content and power.
⭐ Augmented Reality
 Augmented reality is defined as using technologies and methods that allow the coverage of real- world objects while also allowing a person to see what it would look like if they existed in the 3D world. This is different from virtual reality which tries to redefine or transform the whole real world into a virtual one, unlike augmented reality which wants to enrich understanding by adding video, info-graphics, photographs, audio, or other details.
Geometric modeling processes that were once done by hand, now take place on computers. Double sided models are essential for computer typing and digital drawings. The CAD programs are commonly used in many fields including engineering, and medical design.
⭐ Solid Modeling
 The shape of a product is made by joining and cutting different types of solid rolls. The final shape is a little more visible, like the product itself. There are two types: direct editing, when you can edit the model by simply converting it; second, design with parameters to provide the body of the model using parameters
⭐ Surface Modeling
The final result is a model of the desired location by cutting, sewing and joining various locations.
⭐ Assembly
This is a technique to see the balance and performance of the models that contribute to the final assembly. This can be used to create stronger or more robust models.
⭐Drafting Details
A 2D CAD process is able to create detailed drawings of an element or assembly directly from a 3D model.
⭐ Reverse Engineering
 This process converts the physical component into a 3D CAD model. Different types of equipment such as laser scanners, white scanners or CMM are used for measuring and determining.
Automated design allows designers do repetitive, designing projects. This leads to structured processes and increased efficiency. In the past, a product would only be designed considering one factor. But with modern times the product is impacted by many external factors such as customer needs and requirements, quality, production costs and control costs, process of integration and distribution, environmental impact on the product before and after production, product reuse and renewal features. This information is useful in product thinking to meet competing market forces such as quality, price and time to market new products.
With different product designs, the company must follow a process to create it. This process starts with an idea and ends in building the final product. Once the product is created, it can grow and make sales often benefiting other industries too. As competition increases, companies fight to maintain their product and get competitive prices. So, companies must also tailor their products to what suits you need or prefer. Otherwise, this can cause a significant problem for any industry which reduces customer impact and loyalty.
Product Design Tools provide many benefits, such as improvements in performance, efficiency, lower costs, reduced product risk and easy access to the designed model. CAD designers can use a simple writing process that has the same quality as standard writing methods for better visibility of any model information. Designs are manufactured by engineers and production workers alike with a digital model visible to all stakeholders.
Overall digitization of Mechanical Design Tool enables engineers to work more quickly, efficiently, explore more designs and make it easier to integrate automation and optimization techniques.
How Milestone PLM Solutions can help you gain expertise in your business?
Milestone is a multidisciplinary company and caters in CAD, CAM & FEA services since 2004. We majorly work in Mechanical, Millwork and Automotive domain across the globe. With a team of experts, we can help you and your team in performing better and faster than your competition. You can outsource you Product Design, 3d Modeling, Drafting & detailing, Reverse Engineering, FEA Analysis and we assure to you guaranteed quality results with the quickest Turn Around Time possible.
You can email us at info@milestonetech.net and can log in to our website www. milestonetech.net  to know more about our services and our work portfolio or contact us on  +1-844-598-0005