From Plans to Profits: Maximizing ROI with 5D BIM in Construction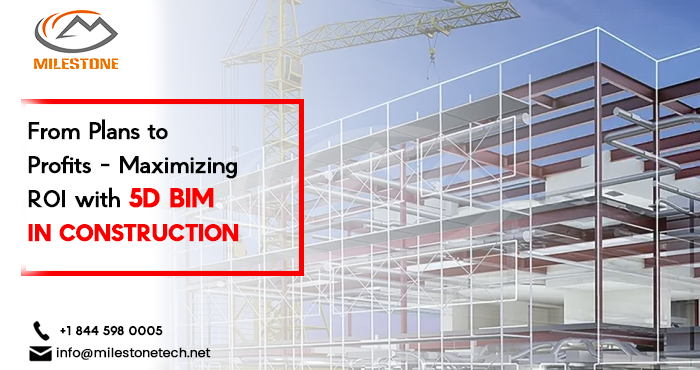 The construction industry is rapidly adopting Building Information Modeling (BIM) to streamline design, planning, construction and maintenance processes. 5D BIM takes this a step further by integrating cost data and estimates into the 3D model, providing a powerful tool for cost managers, estimators and project stakeholders. In this post, we'll explore the top benefits of implementing 5D BIM for cost estimation and how it can maximize return on investment (ROI) across the construction lifecycle.
Top 6 Benefits of 5D BIM Cost Estimation
Improved Accuracy of Estimates : One of the biggest advantages of 5D BIM is the ability to create highly accurate quantity takeoffs and cost estimates, directly from the model. By linking cost data to individual components, 5D models provide precise measurements for estimation, reducing errors and guesswork. This results in reliable budgets and bids.
Faster Estimating and Change Management : With 5D BIM tools, quantity surveys and cost estimates can be generated almost instantly, rather than relying on manual takeoffs. This accelerates the estimating process. Additionally, when changes occur, the cost impact can be rapidly assessed by recalculating the model. This efficiency results in significant time and cost savings.
Better Design and Construction Decisions : 5D modeling enables estimators and project managers to easily analyze design alternatives and construction methods regarding schedule, cost and sustainability metrics. This empowers teams to make optimized decisions at each phase, controlling costs and maximizing value.
Improved Collaboration : Since 5D models integrate multi-disciplinary data into one central platform, they enhance collaboration between all stakeholders. Cost managers, designers, contractors and owners can visualize and interrogate the model for efficient communication and decision-making.
Proactive Risk Management : Potential risks can be identified early on by using 5D models to simulate different project scenarios and assumptions. Teams can then develop mitigation plans proactively rather than reacting to issues during construction. This prevents cost overruns.
Life Cycle Cost Management : A key advantage of 5D BIM is its usefulness throughout the asset lifecycle, not just for upfront estimation. The model can be referenced for procurement, construction monitoring, operational expenditures and even future renovations. This long-term value makes the ROI of implementation even more significant.
Maximizing ROI of 5D BIM Implementation
To maximize return on investment, here are some best practices for adopting 5D BIM:
Provide training to ensure teams are capable of leveraging 5D tools. Looking at digital models is different from traditional paper-based estimation.

Develop workflows and information exchange processes to integrate 5D into existing systems. This facilitates adoption across all stakeholders.

Start 5D modeling early in design development. The most value is realized when it influences design itself, not just late stage estimation.

Use 5D models for construction coordination, progress monitoring and change orders. The value continues throughout the build phase.

Validate modeled estimates against actual costs, then refine assumptions to improve accuracy over time.

Leverage 5D models beyond design and construction. Maintaining the model provides ongoing value for operations, maintenance and future alterations.
The Future of Construction: Embracing 5D BIM
In conclusion, the implementation of 5D BIM in construction is transforming the industry by revolutionizing cost estimation and project management. Its ability to enhance accuracy, streamline communication, and mitigate risks makes it a valuable tool for construction companies seeking to maximize their ROI. As technology continues to advance, it's clear that 5D BIM will play a pivotal role in shaping the future of construction and engineering solutions. Are you ready to embrace the power of 5D BIM modeling in your construction projects? It's time to transition from traditional 2D techniques to the dynamic world of 5D BIM and unlock the full potential of your construction endeavors.Implementing 5D BIM requires upfront investment but the long-term benefits and ROI are exponential, from personalized homes to mega-projects. As Saint Augustine once said, "the key to wisdom is wasted effort." Construction is no exception. By investing effort into advanced 5D modeling, contractors gain efficiency, control and insight that maximizes profits for years to come.
Follow Milestone PLM Solutions for AEC Industry Updates, CAD Tips and Global Construction News. 
Milestone PLM Solutions  with its exclusive delivery center in India is a global CAD, BIM outsourcing partner serving the needs of the AEC industry since 2004. MILESTONE focuses on the unique needs of clients and believe in tackling real-life problems with efficiency, smooth and ease.
The MILESTONE team can assist you with DD Set, CD Set, BIM Modeling, Rendering, walk through and more. We support multiple BIM software including AUTOCAD  REVIT, Architecture cad, Vector works etc. Our approach is to provide a dedicated team for each customer over ongoing project and deliver the quality output consistently.
With our state of art technology and large talent pool of Engineers & Architects, we are developing best in class solutions for our customers across the globe. We align with your culture and values to form unbreakable partnerships and are primed for success with over 100 employees and 150 customers in the US, Europe, India, and Asia.
You can email us at info@milestonetech.net and can log in to our website www. milestonetech.net  to know more about our services and our work portfolio or contact us on  +1-844-598-0005