Key Advantages of Point Cloud to BIM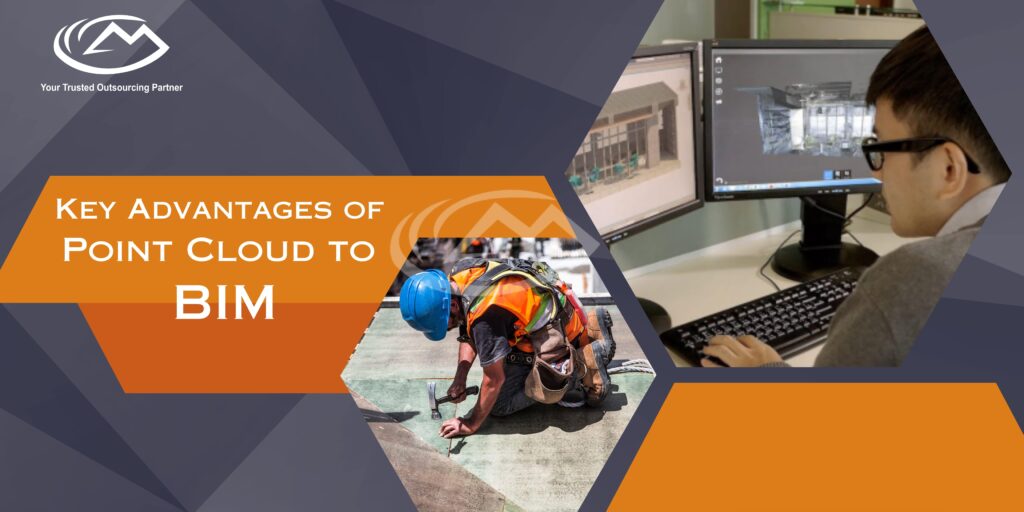 Introduction
Point cloud to BIM is a process that captures the as-built environment with laser scanning technology, displaying it on 2D and 3D scenes for evaluation. Experts have praised this technology, which is noted to be the gold standard in 3D models.
Your 3D laser scanning can create a point cloud map of any building or structure, which you can use generate exact and detailed holographic 3D models.This article will take you through the definition of Point Cloud to BIM, the reasons why it's being used, where and how it applies and provides benefits.
Key Advantages of Using Point Cloud to BIM
Accuracy
With the process of data collection being called point cloud to BIM, it helps minimize errors in measuring. If the data is accurate, the results are definitely going to be good.
The combination of 3D laser scanning and structured light makes it easy for engineers to identify the most important elements of a building. These scans enable accurate architecture, ten times more reliable than manual surveying.
Traditional surveys were not reliable because they were largely dependent on the surveyor and his knowledge, mindset, and skills. They also consider multiple other factors that might impact their outcome.
Privacy legislation can make it hard to survey every section of a building, especially if they're tucked away and hard to access.
Often times it can take a long time to generate a digital model of your building. Scan to BIM has helped reduce this time, while also increasing efficiency and accuracy.
Time Efficient
Point Cloud to BIM Services provide all the intricate details of the structure in a digital setting, which decreases the number of site visits. This frees up contractor time to be able to perform the planning process more efficiently.
When technology challenges your company's ability to perform, you cannot afford to wait for them to provide you with more details. With features like cost and time taken, technology has the capability of providing companies with significant information in a short amount of time.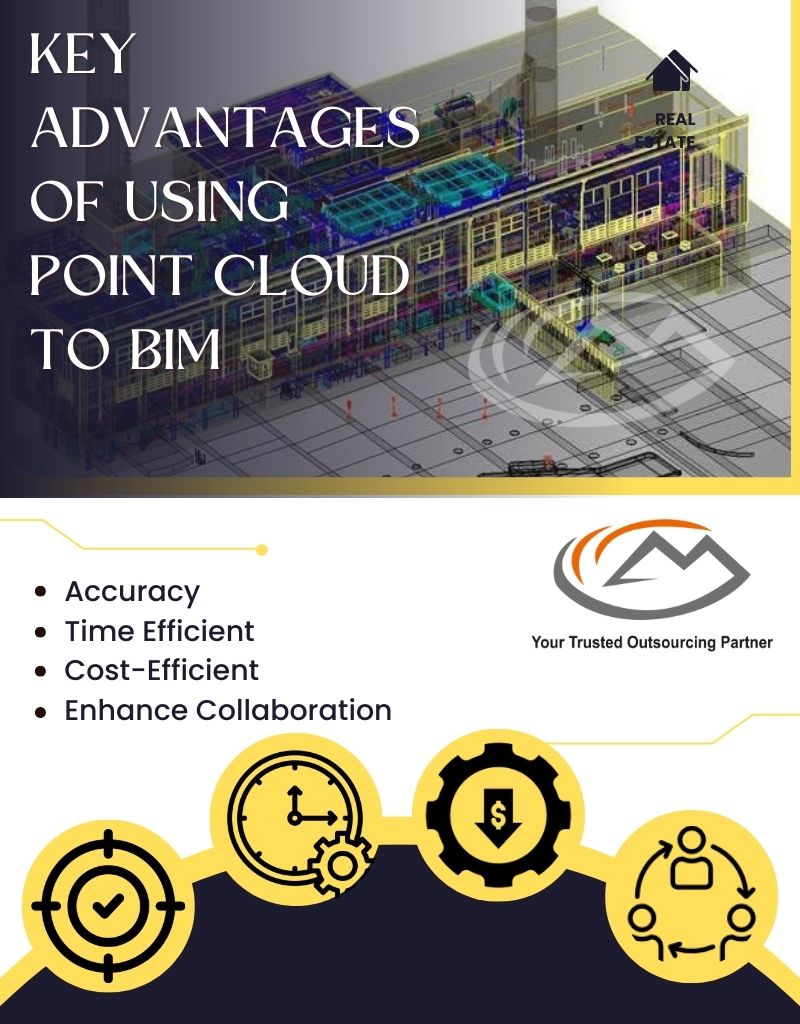 Significance of Point Cloud to BIM and their Applications :
An agile process called scan to BIM has a huge scope of applications and many ways it benefits the building industry. Scan to BIM helps retrofit, renovation, and refurbishment projects by generating accurate plans.
It also provides a means for the creation of intelligent digital plan models. One of the key applications is its utilization in comparing original plans from their as-is state.With it, construction safety management is also strengthened by identifying construction threats and providing measures to tackle the same.
Executed through the use of behind-the-scenes 3D laser scanning technology, this process will allow for any clashes ahead of the actual installation to be discovered.With Facility Manager, you'll have all the documentation and drawings for your facility in one, easy-to-update location.
MEP and architectural drawings help construction companies on their projects to provide accurate information about existing structures or buildings. This enables them to work confidently with less delays in the building process.
Cost-Efficient
Fortunately, 3D survey models are similarly affordable as 2D ones. When it comes to price-value ratio, 3D models beat out traditional 2D methods.
Laser scanning is the process by which a laser beam scans an area in order to create 3D models of the surfaces. It is quick and inexpensive, and also offers accuracy that traditional methods cannot. Its ability to scan objects with detail makes it suitable for complex projects such as building designs.
Project life cycle management software helps businesses grow their business by measuring project health and costs. This comes in the form of saving rework costs or avoiding mistakes altogether by preventing errors through effective project monitoring.
Enhance Collaboration
Point Cloud to BIM fosters transparency, better communication and collaboration by allowing everyone on a cloud platform which can be accessed across stakeholders.
3D models that are developed from scans can help our architecture, structural, and MEP teams understand the underlying design and aid in the discussion process of new and potential designs. This also includes being more understanding of the design flaws so they can coordinate and integrate architectural plans based on their technical requirements.
How Milestone PLM Solutions can help you gain expertise in your business?
Milestone is a multidisciplinary company and caters in CAD, CAM & FEA services since 2004. We majorly work in Mechanical, Mill-work and Automotive domain across the globe. With a team of experts, we can help you and your team in performing better and faster than your competition. You can outsource you Product Design, 3d Modeling, Drafting & detailing, Reverse Engineering, FEA Analysis and we assure to you guaranteed quality results with the quickest Turn Around Time possible.
You can email us at info@milestonetech.net and can log in to our website www. milestonetech.net  to know more about our services and our work portfolio or contact us on  +1-844-598-0005