Importance of BIM Technology for Improving Prefabricated and Precast Construction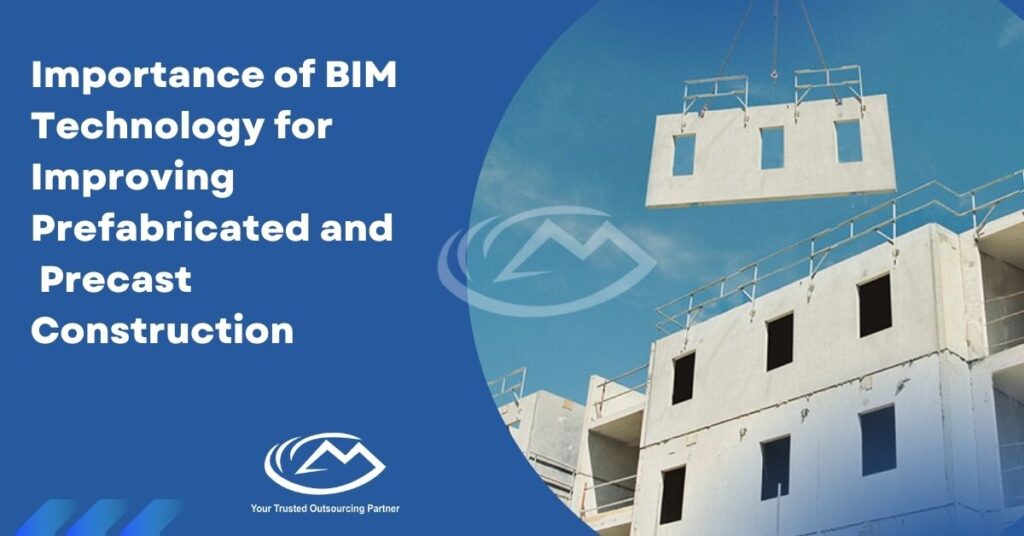 Construction made of prefabricated or precast elements take less time to build since they're done through a system of pre designed modules, allowing quality building efficiency, quick walk through, and an aesthetically pleasing construction. Construction elements are more secure because they're installed in a container-like fashion rather than having loose construction materials laying around.
The rapid growth in construction experts has led to an increase in demand for efficiency. As a result, the industry is shifting towards BIM -based prefabrication so that AEC professionals can build high-quality structures faster and in safer conditions. When product companies manufacture components of a build in a factory, they need to be as accurate as possible. BIM -based prefabricated construction allows them to remain consistent with the accuracy of elements being produced.
Some experts are turning to BIM to speed up construction projects by standardizing prefabricated components and saving them as families. Multiple times, these components can be reused without additional design work. Flat drawings extracted from clash-free and coordinated LOD 400 BIM structural models are precise, resulting in accurate installation of prefabricated components. In prefabricated building, or precast construction based on BIM, the design is done before being built offsite. This reduces field time and improves overall building quality, as well as augmented safety with better finishes and reduced material waste.
Traditional methods for prefab/precast construction have specific challenges, as well.
CAD-based technical drawings require the use of a computer, which can provide rapid design capability for architects, engineers, and construction professionals. However, this process has risks during fabrication and construction because it's been around for a while.
Traditional construction methods are not always accurate, leading to a variety of flaws in the final product or inconsistency in finish.
Legacy methods are not always effective, leaving huge amounts of product waste and potential leakage.
There is a high risk of honeycombing when welding certain metals together and this can lead to material waste and rework.
One potential hazard is that all employees may not be aware of the risks involved in working in a manufactured product environment.
Onsite clashes are one of the biggest sources of project delays.
Benefits of Adopting BIM Based Prefabrication/ Precast Construction
Prefabricated and standardized models can be saved as BIM Revit families :-With BIM based prefabrication or precasting, you can save time by preparing traditional building materials such as beams, columns, stairs, slabs, and facade walls. By reusing these programmed models in your project, you can reduce the amount of work it takes to design your final structure.Our high-level visualization plans provide industry-focused teams with detailed 360-degree views in the form of a digital floor plan. This brings together multidisciplinary projects easily and sets clear goals that everyone can work towards. With clear objectives, stakeholders can make data-driven decisions with the information they need to preserve privacy and confidentiality.
With accurate sequencing and careful separation of all components for proper assembly :-Unique IDs for each prefabricated component will be used in the creation of a QR code. The use of these unique IDs and exact sequencing with integrated data makes onsite assembly easier and more accurate. Once all of the elements have been assigned unique numbers, the assembly floor plan will include more details in order to minimize errors.
With 3D precast, you'll save time on complex residential construction :-3D BIM modeling is commonly used in construction to create renovations that are fit for purpose. In this case, the 3D BIM model can be used with a precast manufacturer to help produce quality products and provide installation instructions that are accurate and complete. TrueCADD is specialized in designing models with clash-free features and clear work instructions that can be provided seamlessly in Revit or BIM 360.The fully clash coordination model for M60 concrete grade prevents errors, saving time and resources, which helped the client save money and increase productivity. This unique ID is what can allow faster erection of structural elements, with proper sequencing and planning.
BIM based shop and IFC drawings add precise construction to prefabricated construction :-3D models undergo design and quality checks in coordination with automation tools like Dynamo or plugins. If you're looking for an affordable way to reduce the number of clashes in structural junctions such as junctions of beams, columns and slab intersections, use 3D scanning to find these clashes. This would help you enhance prefabrication accuracy. With every detail mentioned and highlighted, prefabrication experts can achieve precise and seamless prefabrication at offsite facilities.
A structural model at LOD 450 saves cost and time for an Asian office building :-TrueCADD is a leading precast manufacturing company with a focus on engineering excellence in designing and fabricating concrete buildings for any application. They require high-grade models at LOD 450 and structural modeling, balanced against a very tight deadline. The TrueCADD team designed high-quality Revit fully coordinated models with accurate documentation, bar bending scheduling and complex sheet setups.
The new LOD 400 BIM models are essential to accurate installation of prefab elements :-3D modeling has become a popular option for planning construction, but it's not without its flaws. BIM based processes and tools account for problem clashes early on in the process. With clashing issues resolved preemptively at an earlier stage of construction, the completion process is less complicated and more efficient. Prefabrication and installation drawings with 3D models derived from coordinated, clash-free features and at an LOD of 400 ensure that prefabricated members are well-coordinated with all other services, and are professionally installed in the proper locations.
Conclusion
Over the last decade, prefabricated buildings and building parts have entered into the manufacturing arsenal for these large construction firms. BIM has made for more precise installation and assembly of parts on site, leading to faster construction, safer buildings, and less time and cost.
How Milestone PLM Solutions can help you gain expertise in your business?
Milestone is a multidisciplinary company and caters in CAD drafting and modelling, AEC and BIM services since 2004. We majorly work in Mechanical, Architecture and Civil domain across to globe. With a team of experts, we can help you and your team in performing better and faster than your competition. You can outsource you CAD Design, Modeling, rendering, Construction documentation and BIM services, and we assure to you guaranteed quality results with the quickest Turn Around Time possible.
You can email us at info@milestonetech.net and can log in to our website www. milestonetech.net  to know more about our services and our work portfolio or contact us on  +1-844-598-0005