How BIM Can Boost Construction Companies' Project Acquisition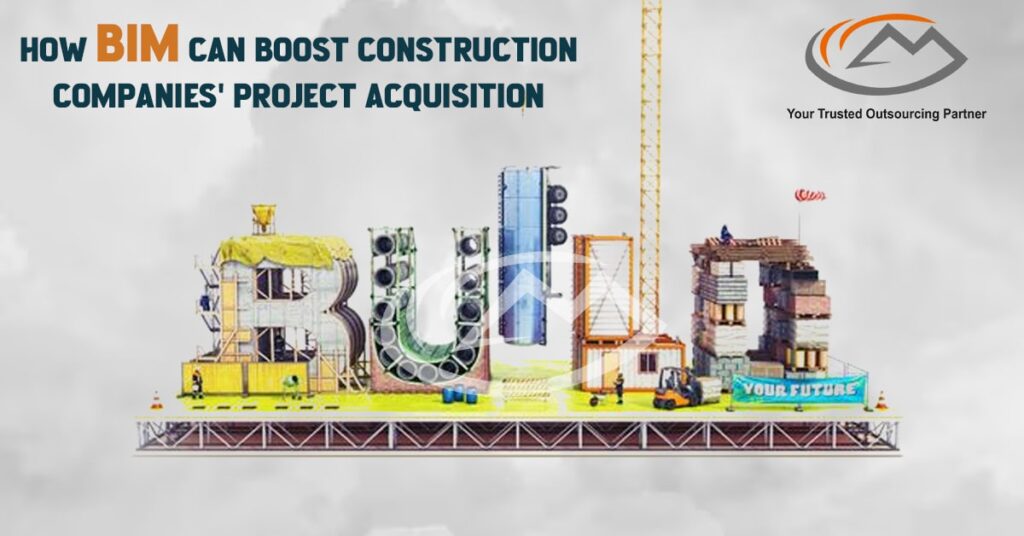 BIM can significantly boost construction companies' Project Acquisition by providing a competitive edge and enhancing their capabilities.You might be excited about the possibilities of adopting BIM  Building Information Modeling in your construction business, but there are a lot of considerations to take into account before you implement it.
The BIM market is predicted to grow at a 15% CAGR for the next 4 years.
One of the most common problems found in construction is dealing with profitability, project management, worker safety and risk management. BIM offers solutions for these issues and can make construction better for everyone involved.
Imagine the possibilities of delivering an intelligent digital representation of both your physical and functional characteristics to your customers.
With this software, design, installation and construction experts can get a complete view of the key parts of your project.
Construction companies have long recognized the benefits of utilizing BIM. It enables them to optimize material costs, plan projects better, and increase sustainability. This article will help you understand how a simulation based modeling solution can help construction companies win more bids!
Digital projects require a new way to manage your team. We're here to open the doors.
BIM is so much more than a simple point-technology system. It's a complex construction platform that provides insight and tools to help architects, engineers, and construction professionals plan and construct their buildings while designing innovative structures of the future.
One of the many benefits of BIM is that its impact can be substantial for both private and public projects. The impact it could have on bid preparation and economic success should not be underestimated:
Our solution will improve communication and collaboration between construction workers and managers, paving the way for a more efficient environment. By making timely estimates easier to predict, you'll be able to save time, money, and frustration.

Businesses stay on top of estimating their costs by providing accurate information on materials, shipping, and labor. This means you can have a better understanding of your expenses and be more prepared for what may come (whether it's an increase in the cost of materials or a dramatic drop in demand).

Our project managers will keep you on schedule and under budget. You'll avoid any wasted time due to rework and get the ROI you want.

The construction workflow is streamlined by Builder. For cladding or insulation installation, old timers and inexperienced workers benefit from automated measurements that eliminate manual entry. It cuts human error, project delays, and costly repairs so you can easily bid with confidence.

Supports easy interoperability and flexibility for customization and getting higher-quality results, facilitates transparency in tracking the progress and provides warnings of a delay.
By improving communication between different stakeholders and providing a single frame of reference, it helps to ensure your project will come out as expected.
Shorter Project Lifecycle = More Opportunities to Close
One of the key benefits of modern BIM systems is that they can help shorten your project lifecycle and make it more predictable. Here are some ways this would work:
⭐ Better Collaboration
BIM technology is an increasingly competitive industry, and it's almost a requirement for getting more projects. Cloud-based BIM solutions allow designers and engineers to work together on one place, which leads to efficiencies through streamlined project management. By always staying on the page, these experts can be updated about timelines and budgets. Fewer errors and rework can help ensure your construction company has a better reputation for professionalism and builds trust with customers. This leads to stronger relationships over time.
⭐ A Single Source of Truth
One of the best things about having a single digital repository for all relevant information is that architects and engineers no longer have to rely on back-and-forth calls and emails. Using a single source of truth, they can make quicker decisions, which improves their efficiency and makes them even more competitive. Providing this level of transparency to project owners is a great differentiator, since it boosts trust in an organization's work.
⭐ Standardized Workflows
Through BIM, we eliminate the need for engineers to rely on manual or repetitive tasks. With our streamlined workflows and digital tool sets, you can create and manage all of the information about a project  before, during, and after construction. The standardized process means that project owners have access to most complete and updated information at all times in an easy-to-understand way  showing you at your best.
⭐ Streamline and Risk Management
The ability to construct buildings based on the most up-to-date designs and plans makes visualizing problems easier. This can help contractors identify potential obstacles, predict construction hazards ahead of schedule, and plan for workarounds before construction even starts. It's unclear to see how advantageous this is for project delivery, but highlighting problems early in the project cycle in such a transparent manner can also help owners make decisions on future phases, expansions, etc. This can also open up new opportunities.
⭐ Faster Construction
Businesses can use BIM to design a project before it is constructed in the actual world, giving them a better view of how it will look. This encourages transparency and makes it easier for potential customers or investors to back your project. With the process accelerated by about 30%, companies are able to make decisions far more quickly, freeing up time and accelerating ROI. Your reputation improves, resources get freed up, and cash flows get unlocked all helping any business grow even more!
When it comes to BIM, there's no doubt that it delivers a lot of value for construction companies: from improved quality and function of design, increased understanding of solutions, and better collaboration and documentation. All this leads to improved productivity, allowing the company to finish the project in half the time at a lower cost. In addition, BIM helps companies win more bids and set themselves up for success.
How Milestone PLM Solutions can help you gain expertise in your business?
Milestone is a multidisciplinary company and caters in CAD drafting and modelling, AEC and BIM services since 2004. We majorly work in Mechanical, Architecture and Civil domain across to globe. With a team of experts, we can help you and your team in performing better and faster than your competition. You can outsource you CAD Design, Modeling, rendering, Construction documentation and BIM services, and we assure to you guaranteed quality results with the quickest Turn Around Time possible.
You can email us at info@milestonetech.net and can log in to our website www. milestonetech.net  to know more about our services and our work portfolio or contact us on  +1-844-598-0005