Focus on BIM-The Heart of Smart Cities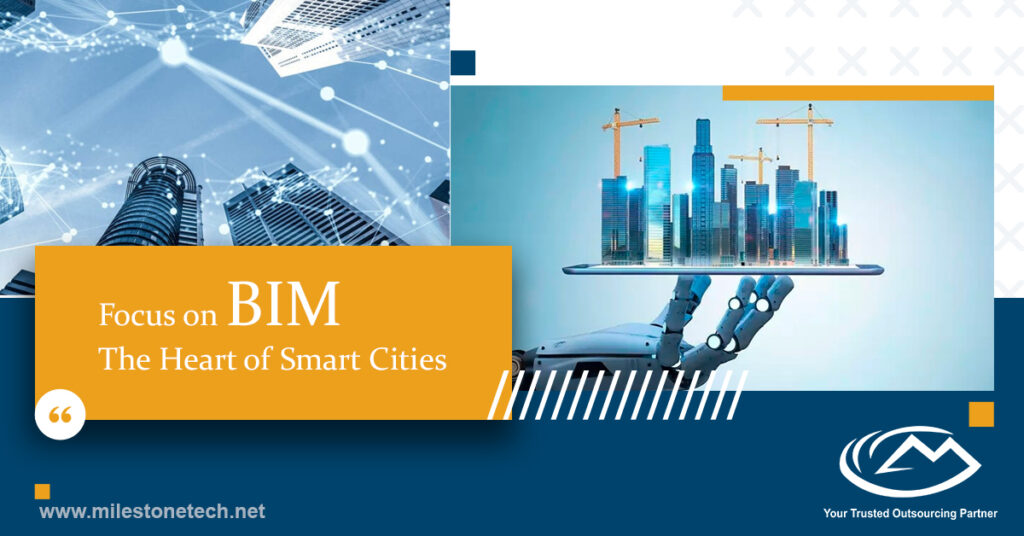 Governments in major countries such as the UK are adopting and implementing BIM(Building Information Modeling ) as an essential requirement for their public infrastructure projects. The UK has a mandate that all centrally-procured construction projects have to achieve level 2 of BIM.
BIM is been implemented by Finland, United States, Denmark for large public service projects and adoption of BIM has spread throughout the world. However, it is useful because it enables better information exchange and collaboration between teams.
The ultimate 3D CAD construction allows you to design and share your plans with the world before investing in the physical structure.Bim is  valuable in the future as it will help avoid leaks as well as keep costs low.
BIM and Smart cities
you need to work with a variety of teams in order to make a smart city project successful. How can BIM be used to keep environmentally sustainable and Smart Cities up to date ?
In addition to ensuring quality and reducing resource consumption, new smart cities are constructed with the goal of making the most intelligent use of the resources that are available. Cities are now aiming for better construction practices that reduce waste and environmental impacts as well as improving resource utilization. Construction technologies such as BIM can help support the success of Smart Cities by providing key stakeholders with all the information needed to complete a project.
A BIM is a process that uses technology to ensure efficient asset allocation. Computers and software will be necessary with BIM becoming an essential for managing data in these Smart cities .
Enhanched collaboration
The three areas that smart cities focus on are Residing, Security, and Conservation. Construction and project teams need to collaborate closely to Construct an Infrastructure Facility With the number of information assets in a Smart City project, it's important for all the teams to work together.
A study indicates that BIM is one of the most important factors for smart cities as it ensure a common platform for a shared understanding for all project stakeholders to work together . Whenever information is lost during any exchange, it can be retrieved since BIM forms a shared understanding of the plan.
With AI, architects and engineers have access to more efficiently designed options, which could reduce construction waste and help with project completion.
Easy to Integrate
For any smart city project, certain aspects may depend on integration. These integrated parts can include information relating to transport and communication as well as more specific items like the energy consumption of buildings. Manpower often remains integrated with other teams for long periods of time. There are many complicated tasks involved with managing such projects.
When using BIM, it's easier for teams to communicate and work together. The open channels allow for a free flow of information between systems, creating standardized information. KPI's are easily defined in a transparent process and anomalies can be spotted quickly when parameters exist.
Project Visualization is Easy
The amount of detail in BIM is a critical part of the physical structure. BIM was made for rapid visualization of projects across all phases of the project, from beginning to end. BIM models are a best way to, in advance, analyze the design and make sure all errors are minimized. You can use BIM to ensure you don't get any surprises with building materials that are not needed, so there is no waste.
Reducing waste with construction will make it more efficient and environmentally friendly. Construction can take less time and money, while also reducing the environmental impact of construction.
3D Modeling
There are also practical, real world application of 3D modeling that can help with construction. The construction team is aware how far to dig to avoid spilling into an existing pipeline or a fiber-optic cable as well as for drainage.
Bridge, highway designers, and architecture in Smart Cities can also leverage virtual 3D models to optimize infrastructure. BIM (Building Information Modeling) facilitates study and visualization of architecture, darkness, and light.
Using data from studies, line of sight, etc., Smart City construction can be more individualized thereby improving efficiency.
Data Integration
Data, such as location information from mobile phones and satellites, can be used to create a more successful Smart City project. By making city maintenance more proactive, BIM could help cities become smarter and anticipate problems. Smart cities have the potential to do a lot for not only society, but for individuals too. The decreased use of resources and better communication could help make people's lives easier. Franklin Chang said that, "BIM is transforming not only the way buildings are designed and constructed, but also how they are managed and developed in the light of changing customer needs." BIM is changing relationships and business models across the whole value chain, as well as improving efficiency at a city level. Using technology in such a way improves city operations, as well as sustainability. BIM will unlock the data needed for sustainable city living and help new applications be built.
How Milestone PLM Solutions can help you gain expertise in your business?
Milestone is a multidisciplinary company and caters in CAD, CAM & FEA services since 2004. We majorly work in Mechanical, Mill-work and Automotive domain across the globe. With a team of experts, we can help you and your team in performing better and faster than your competition. You can outsource you Product Design, 3d Modeling, Drafting & detailing, Reverse Engineering, FEA Analysis and we assure to you guaranteed quality results with the quickest Turn Around Time possible.
You can email us at info@milestonetech.net and can log in to our website www. milestonetech.net  to know more about our services and our work portfolio or contact us on  +1-844-598-0005