Empowering Architects with BIM: Enabling Intelligent Design Decision-Making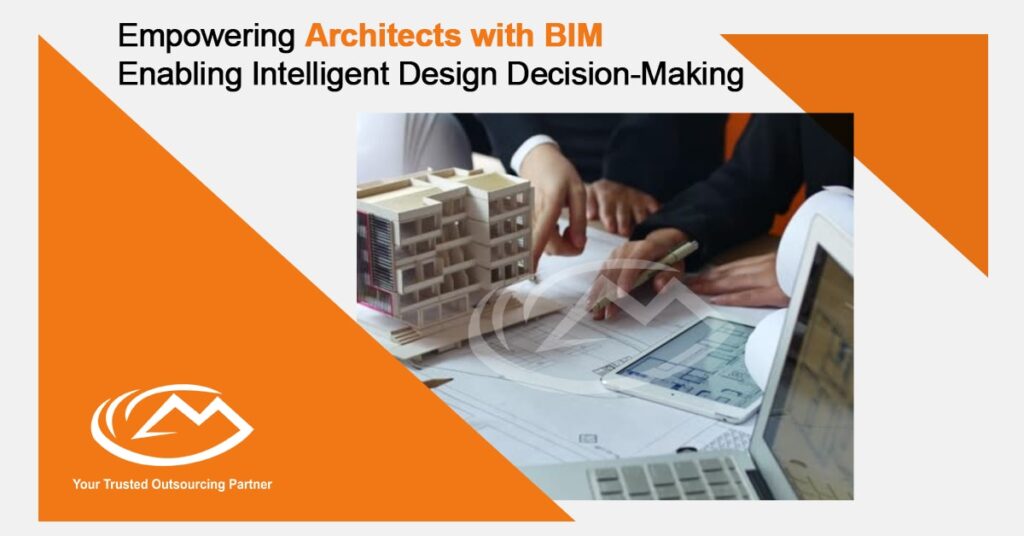 Architecture firms can gain more insights about the building's needs by using (BIM) Building Information Modeling throughout the design process. BIM creates an accurate reconstruction of a building before it is constructed to ensure that any design changes can be made earlier in the process.
The AEC industry is experiencing abundance of technological improvements. The competitive architecture and engineering sector relies more and more on BIM (Building Information Modeling) technology, which will soon have an impact on those outside of the AEC sector. The AEC industry supports the adoption of BIM (Building Information Modeling) in order to increase efficiency in design, improve productivity, and combat shrinking project margins.
What is The Building Information Modelling ?
Building Information Models help to provide the team with information about a building or space. A Building Information Model has all of the necessary information related to the element, including data and project specifics.
The future is BIM Shaped, Connect with Experts
Building information modeling has been a buzzword for architects and designers over the past few years. While it is often just used as a program that creates more complicated buildings, BIM is much more than that. BIM training allows workers to create 3D models and intelligent buildings altogether which will make architect and designing simpler.
12 Key Benefits of BIM In Construction
BIM has been found to offer many benefits and is quickly becoming the dominant model in architecture. Users find that it has both simplified their processes as well as created a new form of collaboration within their company.
AGILE&Efficient Communication –With Auto desk BIM 360, the collaboration can be done effortlessly and is for that reason particularly helpful for projects with multiple stakeholders.
Visualize Project in Planning or Pre-construction stage –BIM tools allow you to emerge projects during the pre- construction stage for a better, smarter design. They use 3D visualizations and simulations that allow you to experience the design before it is built and optimize it.
Model-based Construction Cost Estimation –In planning, BIM tools can be used to cost and estimate construction. Estimators can spend more time on higher-value factors that add value and reduce overall costs.
Environmental Impact Analysis –6D BIM software can create architectural models that help you analyze the environmental impact of a building over time. This enables you to decide on the most energy-efficient materials and design features.
Enhancing Scheduling –BIM Framework gives you the ability to design, document and communicate with precision. These methods mean that your project will finish on time.
Clash Detection –Auto-desk's BIM 360 Glue can detect any MEP, internal, or external clashes before construction begins.
3D BIM Clash Detection -Significance and Scope
Enhanced Productivity with Prefabrication and Modular Construction –Development and engineering teams can use BIM to create production drawings faster, thereby increasing efficiency, reducing waste, and decreasing labor costs.
Organize Facility Management –Using BIM technology, building information can be compiled from design to construction and management. This data can then be exported for the use of contractors. Using tools such as Auto desk   BIM 360 Ops, contractors can cut down on time spent changing templates by exporting custom data.
Mitigating Risk for Better Safety –BIM ensures a safe workflow through safe practices and risk analyses. The BIM process also reduces time-consuming transcription, increasing the efficiency of projects and reducing project costs.
Meeting Project Deadlines –A virtual reality team is suited for BIM projects. With the use of 2D and 3D models and a VR headset, all stakeholders could discuss the project with ease.
BIM Interoperability –BIM interoperability is the ability to easily share data between systems. With BIM, companies can also use augmented reality in AEC for defect control, facility management and preview of a built environment.
Complete guide :BIM interoperability in the AEC Domain
Parametric Capabilities –Using parametric architectural objects means that designers are able to create more intelligent and relevant design concepts, which would not be possible if they had to manually input their research.Parametric modeling and Building Information Modeling alter the architectural design process, but require a broad knowledge base and a more comprehensive skill set.
Why The Future is BIM Shaped ? –Use BIM to create a more collaborative environment and higher profits, which can be measured in dollars saved or gained.According to various reports, by 2050, the world will become 9.7 billion people. As a result, the global AEC industry must look for new ways to design and build spaces in order to keep up with global demand and also create smarter spaces.With more governments requiring BIM mandates, architectural drawing technology is becoming more popular BIM stands for 'Building Information Modeling' and it integrates roles across all stakeholders.BIM is a big purchase, and you don't have to handle the overhead if you outsource. You may have already seen increased productivity after taking advantage of BIM.Automation in the AEC industry includes solutions such as cloud technology, CAD outsourcing, and data management.
BIM Collaboration and CAD Outsourcing -The Perfect Recipe –CAD DESIGN Outsourcing is a powerful tool that is used by many companies; it leverages the global talent pool and gets competitive, cost-effective solutions. However, there are often complaints about poor-quality work, errors in drawings, and miscommunication which leads to deadlines not being met.We partner with a diverse range of companies to provide the best possible solutions. With a strong engineering pool, we are able to align ourselves with your unique culture to develop an unbreakable partnership. With 500 employees and 600 customers, we are prepared for future success.
Follow Milestone PLM Solutions for AEC Industry Updates, CAD Tips and Global Construction News.
Milestone PLM Solutions with its exclusive delivery center in India is a global CAD, BIM outsourcing partner serving the needs of the AEC industry since 2004. MILESTONE focuses on the unique needs of clients and believe in tackling real-life problems with efficiency, smooth and ease.
The MILESTONE team can assist you with DD Set, CD Set, BIM Modeling, Rendering, walk through and more. We support multiple BIM software including AUTOCAD, Revit, Architecture cad, Vector works etc. Our approach is to provide a dedicated team for each customer over ongoing project and deliver the quality output consistently.
With our state of art technology and large talent pool of Engineers & Architects, we are developing best in class solutions for our customers across the globe. We align with your culture and values to form unbreakable partnerships and are primed for success with over 100 employees and 150 customers in the US, Europe, India, and Asia.
For more queries regarding any of the above-mentioned topics, feel free to connect with us on our website www.milestonetech.net or contact us on  +1-844-598-0005