Challenges to Overcome in the Development of Heavy Engineering Products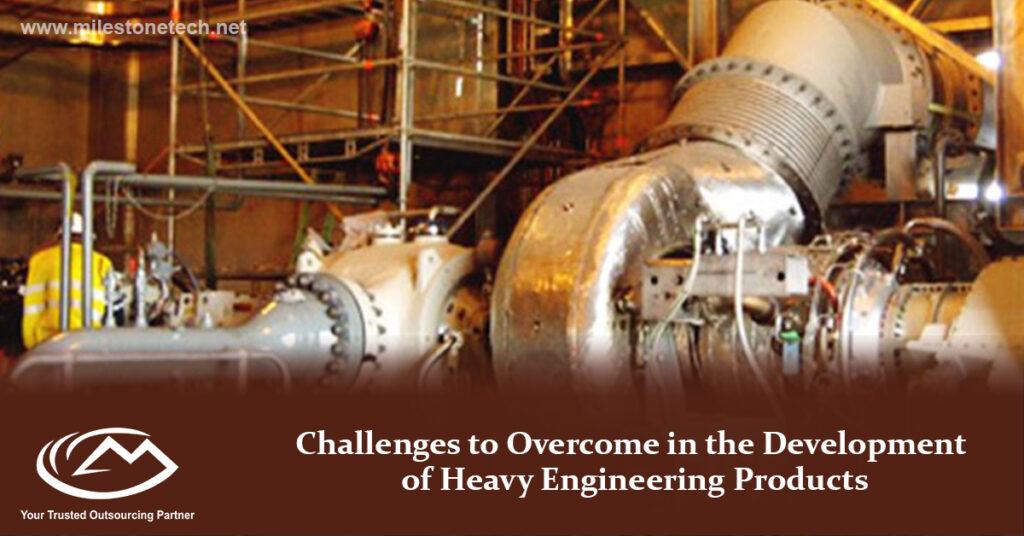 The increased pressure on industries to develop efficient and innovative products has been driven by the need for companies to keep up with the needs of customers. Heavy engineering is one of the sectors that has taken hold of this market.
Heavy engineering products are used in industries like Automobile & Railways. But Manufacturing heavy engineering products is not easy, and manufacturers must go through many hurdles before delivering the product. Challenges in developing such products include:
Lack of Government Support
Basic infrastructure such as power supply, roads, and transportation facilities are needed for economic development. When businesses have the correct infrastructure, they are more profitable in today's global economy. Thus, the government should work for developing the infrastructure to allow accessibility to markets.
Monetary support for businesses and crisis is needed, but the assistance for heavy engineering industries has been ineffective. The government works for the public. However, some policies are not business friendly. The government should work alongside other stakeholders to make laws. The government should provide quicker assistance by cutting taxes and easing other regulations. The government needs to help ensure the success of businesses through financial support.
Ensuring Collaboration
 It is crucial for the ability of the heavy engineering industry to develop competitive products that there is a competitive sector. Because lack of collaboration can handicap development, one challenge it faces is fielding the right team, distributors, and supply chains for product development. Poor coordination across different groups in the supply chain leads to efficiency and innovation challenges. For example, designers may spend resources on a product instead of manufacturing it because they lack visibility over what kinds of things are being designed by manufacturers.
Greater coordination in the development of heavy engineering products leads to fewer redundancies and more structured information. This makes it easier to plan deadlines and follow a fixed schedule. Optimizing production cost and increasing innovation through collaboration across the organization can lead to a reduction in production cost.
Product Quality Enhancement
Product quality is essential for economic success. Continual improvement of quality ensures profitability, market share, and an increase in new customers. For heavy engineering products, performance, appeal, durability, reliability, and service levels all play a critical role in defining the quality of the product. Heavy engineering industries must always work to improve the quality of their products in order to stay competitive. This means improving the product and increasing the customer's satisfaction.
Constant development in operations keeps morale high and manage efficiently. This is especially true in the development of new products as well as increased use of company operations. Organizations should prepare programs to provide employees with a mental framework. They need to continually train their employees, so they will be able to provide the best customer satisfaction level possible.
Meeting Deadlines
 Heavy engineering industries require predictive analytics to maintain a competitive edge and deliver tools within the demanding schedule of the customers. The development process of heavy engineering products is often complicated, with the need for optimization to meet production deadlines. It is crucial to stay organized at all times, especially in the heavy engineering industry. Planning ahead of time can help you fulfill your deadlines and meet your targets.
Break the life cycle of the product development into small tasks with deadlines. Require that each task is achievable, realistic and specific. The timeline and schedule of each task should be noted in order to remain focused on that particular task as per their schedule. Monitoring the progress of product development is key to ensure deadlines are met.
 Production Cost Reduction 
Heavy engineering industries are under intense financial pressure to provide high-throughput, which high-income profit units have to maintain and operate. It is also difficult for industry to reduce costs in production as it tries to manage its operations and maintenance. The percentage of replacement asset value can help keep production running smoothly and safely. It keeps resources efficient. Work is slowed down by unnecessary and unproductive activities, like maintaining machines. Better management of alarms can help production, leading to more productive staff. When companies are making changes to their energy consumption, resource utilization, or production time, they should also focus on making sure that there are no interruptions in the supply chain.
Market Competition
 Markets without competition would spell disaster in the industrial sector. Without competitive pressure, sales and profits decline and economic growth stagnates. A competitive market takes advantage of the latest innovations in heavy engineering to move markets forward, as well as provides endless solutions for many different industries around the world.
A competitive market attracts revenue for businesses, as well. A government has the power to ensure the correct market practices which will lead to sustainable business growth. A good national policy allows for business growth in the long-term, which in turn benefits the economy.
Distribution
Distribution is the way of connecting many agencies and intermediaries that complete the process of physical movement. Distribution ensures orders are realized, it promotes product awareness, and it facilitates information on potential buyers, demand, and competition. Distribution channels are dependent on each other's organizational units for the flow to move smoothly.
Heavy engineering require reliable distribution channels in order to meet customer expectations. Companies have to create other distribution models for distributing information through digital technology. Many challenges arise from distributing products, such as integrity issues, disclosure obligations, and inappropriate advice. Corporate groups can rebuild trust with distributors by holding workshops and seminars to encourage ethical behavior. This also helps people become more literate about these products, as well as provide protection for the consumers.
Marketing
 The heavy engineering market has been growing globally for the past few decades. This allows manufacturers to reap the benefits of economic growth and development. The continuous growth of the product means that a dynamic marketing strategy needs to be developed in order to transfer information about products to consumers.
Having a good strategy for marketing ensures that your product is competitive in the market. In order to develop a strong marketing strategy, it's important to focus on product, market, and selling orientation. Pricing needs to be set by having a conversation with all stakeholders. Market planning and budgeting are beneficial for improving sales and profits because they promote the product across different platforms. The traditional marketing platforms such as direct mail, telemarketing, trade shows and events will work very well for heavy engineering products.
Allocation of Resources
 In the heavy engineering industry, multiple constraints can affect a company such as management support, workforce, technology, and finances. The company should ensure resources are allocated fairly throughout all departments and transparent decisions are made with input from everyone.
A company should distribute responsibilities and skills in order to keep up with the development schedule. The management should optimize their utilization of resources like skills and benchmarks to maintain productivity and efficiency.
Follow Milestone PLM Solutions for Mechanical Industry Updates, CAD Tips and Global CAD, CAM & FEA News.
Milestone PLM Solutions  with its exclusive delivery center in India is a global CAD, CAM & FEA services outsourcing partner serving the needs of the Mechanical, Millwork and Automotive industry since 2004. MILESTONE focuses on the unique needs of clients and believe in tackling real-life problems with efficiency, smooth and ease.
The MILESTONE team can assist you with Product Design, 3d Modeling, Drafting & detailing, Reverse Engineering, FEA Analysis and more. We support multiple software including AutoCAD, Solidworks, Catia, NX, Inventor, Solidedge & Ansys etc. Our approach is to provide a dedicated team for each customer over ongoing project and deliver the quality output consistently.
With our state of art technology and large talent pool of Engineers, we are developing best in class solutions for our customers across the globe. We align with your culture and values to form unbreakable partnerships and are primed for success with over 100 employees and 150 customers in the US, Europe, India, and Asia.
For more queries regarding any of the above-mentioned topics, feel free to connect with us on our website www.milestonetech.net or contact us on  +1-844-598-0005