The Cost of On-Road and Off-Road Vehicle Reduction Via Value Engineering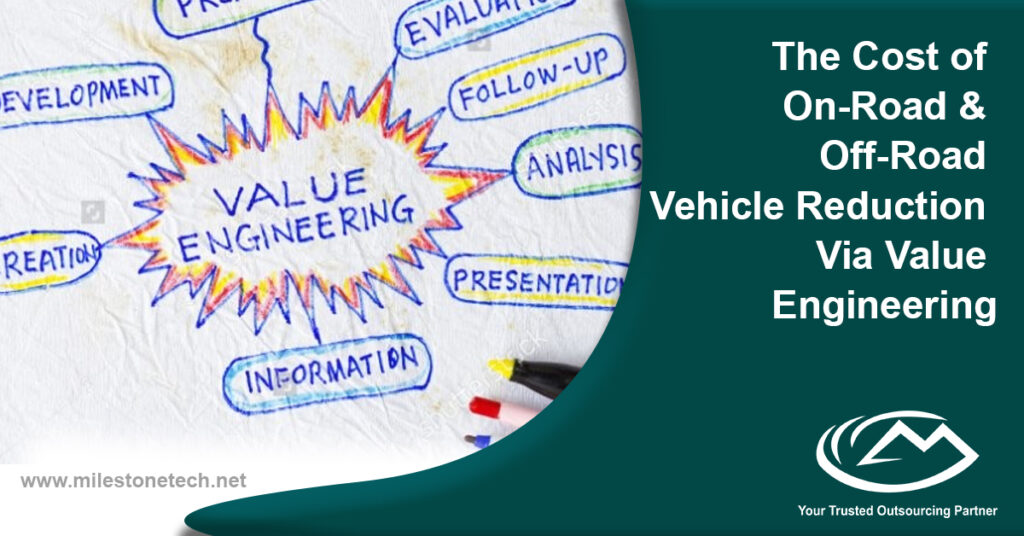 The rapid rise in competition is leading customers to demand high-quality, functional cars that don't cost more. To meet this demand, OEMs in the automotive industry must consider inexpensive projects to improve their products.
The performance and cost of the product are largely defined by the design and development phase. Having a good process in place for budgeting is important to ensure the optimal performance while maintaining a competitive price.
💡 Target Cost Reduction
A vehicle has complex sub-systems and interfaces. If you are targeting a cost reduction of an entire vehicle, it is imperative to understand the build-up costs involved in building that vehicle. The cost of manufacturing a vehicle goes up as the vehicle is being manufactured. From the early stages when the car was just in concept, to when the assembly line is finishing up, and even when it's being sold at the showroom.
You'll need to create a strategy for controlling costs in big and small-scale projects. In the end, cost management is simple when you take your targeted production costs as the base point for your reductions.
💡 Analysis of Cost Flow
When performing cost flow analysis, identify the high-cost and low-cost items in a vehicle. The cost flow analysis allocates areas of low, medium, and high potential of cost reduction to help you identify areas you can improve on. This Analysis is helpful in rest of the cost reduction activities & can prioritize to target strategic areas of reduction.
Ways to Approach Cost Reduction
There are many different approaches to reducing the cost of a product. The approaches listed below are important in balancing these facts while treating the entire design process systematically:
⭐ Material Cost Reduction Directly:It is important to understand how your design functions before you reduce it. You should analyze how the design behaves under load conditions before reducing.When redesigning something, consider the changes in the cost components. When re-designing the existing component with an alternate material, consider various aspects of the initial design. The third approach for direct material cost reduction is to opt for weight optimization of complex components or use FEA or FOS analysis on existing designs to identify the areas with unnecessary material conditions.
⭐ Cost Reduction for Manufacturing Process: This approach examines alternative manufacturing methods to find models that result in a greater cost efficiency. Cost is saved through reduced lead-time and simplifying the production process by using these methods. By analyzing both product and manufacturing design, minor tweaks can lead to better manufacturability and end function. The approach can be extended over to improve and simplify manufacturing process as a whole.
⭐ Standard Cost Reduction for Parts: Designing the appropriate parts for a vehicle requires that one has to identify those parts that are redesigned and commonised. When you eliminate elements that are duplicative, it helps bring uniformity and reduce costs. Commonization is a tool that combines components with the same function to help managers have less to manage.
⭐ Supply chain Cost Reduction: To ensure low production costs, manufacturing plants are moved to countries that provide cheap labor and high volume production. By locating production sources near markets or other manufacturing facilities, manufacturers can optimize the logistic network for handling containers.
⭐ Cost Reduction Through Design Innovation (CRDI): This approach involves redesigning product to trigger resultant engineering changes, thus it becomes a new product development. The investment in this process is huge and can be used with caution. CRDI focuses on overall system level simplification for companies. By innovating on multiple functions, the company can realize implications towards systematic combination of more than one function to eliminate several others.
Follow Milestone PLM Solutions for Mechanical Industry Updates, CAD Tips and Global CAD, CAM & FEA News. 
Milestone PLM Solutions  with its exclusive delivery center in India is a global CAD, CAM & FEA services outsourcing partner serving the needs of the Mechanical, Millwork and Automotive industry since 2004. MILESTONE focuses on the unique needs of clients and believe in tackling real-life problems with efficiency, smooth and ease.
The MILESTONE team can assist you with Product Design, 3d Modeling, Drafting & detailing, Reverse Engineering, FEA Analysis and more. We support multiple software including AutoCAD, Solidworks, Catia, NX, Inventor, Solidedge & Ansys etc. Our approach is to provide a dedicated team for each customer over ongoing project and deliver the quality output consistently.
With our state of art technology and large talent pool of Engineers, we are developing best in class solutions for our customers across the globe. We align with your culture and values to form unbreakable partnerships and are primed for success with over 100 employees and 150 customers in the US, Europe, India, and Asia.
For more queries regarding any of the above-mentioned topics, feel free to connect with us on our website www.milestonetech.net or contact us on  +1-844-598-0005