Optimizing Cost Estimation and Quatity Takeoffs with 5D BIM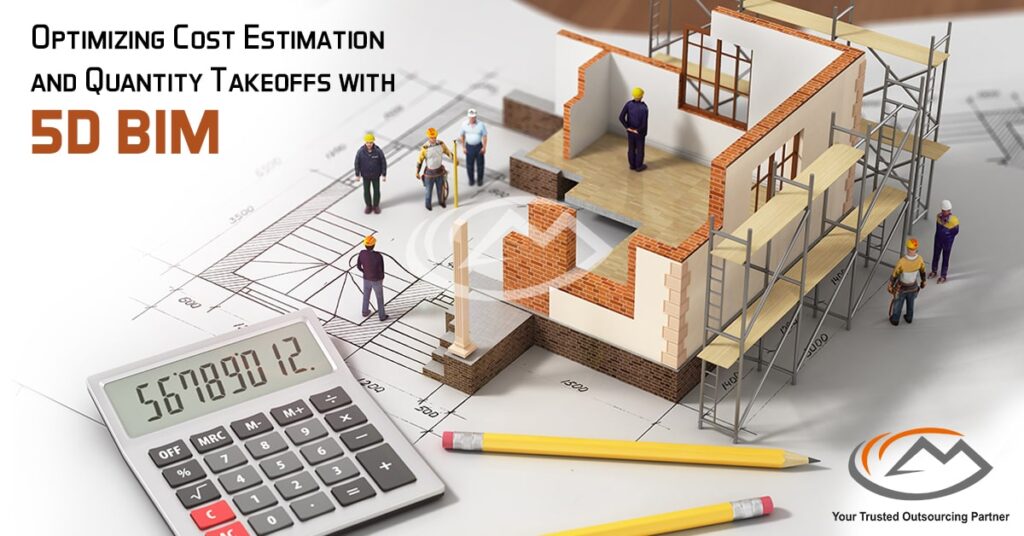 It can also be beneficial to use Building Information Modeling (BIM) technology. This is a powerful tool that allows architects and contractor to estimate the construction costs more accurately. Now, for the first time ever, businesses of all kind have the opportunity to harness all the data that's being collected in their projects. It's an exciting time. In this article, we'll discuss the advantages of 5D BIM and how it can help provide accurate and robust estimations. Optimize construction planning with accurate 5D BIM quality takeoffs for cost-effective and efficient projects.
What is 5D BIM?
At the heart of 5D is everything having to do with the costs of a project. One perspective of 5D BIM is that it's a measurement of the costs racked up in a BIM model. The intelligent BIM Models enhance collaboration between all stakeholders to achieve an accurate estimation of the cost for construction, no matter what type of structure. One great option for your company is to partner with a consulting firm that delivers 5D BIM Services. This will allow you to estimate costs and draft plans virtually, ensuring your construction projects are easy, affordable, and award-winning.
Revit software, which is used with other 5D tools, costs your project's cost. Buildings can be built in 5D BIM, which helps contractors and builders reduce construction costs, avoid wastage, and be prepared with materials. It also allows for making optimal adjustments when ordering building materials and finalizing the project on schedule.
The other D's of BIM
One of the most important parts to a 3D model is the underlying data. At BIM dimensions, we have 5 recognized dimensions of BIM: D1, D2, D3, D4 and D5.
3D makes a model appear three-dimensional
Four-dimensional data is for analyzing time and duration of project work.
Offers adaptive cost estimations, so you get accurate costing.
6D is a tool designed to provide sustainability analysis.
7D takes care of life cycle and maintenance.
The fifth dimension of the BIM model is where the horizontal field meets up with a generation of new and innovative material, process and technique. We're excited to share our insights on this groundbreaking topic.
BIM maturity levels can be difficult to understand because they're how different project stages are classified.
Level 0- Low Collusion
Level 1- partial Collusion
Level 2- Full Collusion
Level 3- Full integration
5D BIM: Benefits How it is transformation for cost estimation and quantity take-off ?
Cost estimation gates much  smarter –This is one of the biggest advantages of 5D BIM. By knowing the precise amount of materials and their expenses through data in your modeling platform, you will be able to create more accurate cost estimations.
More Accuracy and Efficiency –5D BIM offers a number of benefits for construction projects, including reduced manual efforts, decreased errors and increased efficiencies.
Positive ROI –It's been seen that 95 percent of companies who have adopted the 5D BIM revolution have reported positive business impact.
Rapidly Adapt to Design changes –Making changes in a structure segment that may affect the cost of the architecture can result in planning reconsideration and consequently keeping all data consistent with the plan.
Multiple design Option –5D BIM makes it easier for draftsmen to find alternative solutions for their design. Beginner's Guide to Emoji In Context. The following are some definitions of the most commonly used New York City
Shorter project cycle –You don't need to hire help or spend time doing tasks manually anymore.

BIM Services

can do them all while reducing wastage of time and speeding up project timelines.
Geo-tagging –Geo-tagging on guided machines means that businesses can identify and work with specific merchants, who then provide the material needed for production. This will save time, money and in the long run, help save the environment.
Automatic Quality take-off Features
Amount departure is the measurement in quantities of materials used in a construction project. It helps in making an estimate of materials and labor needed for the construction. All drawings are produced by architects and engineers with assistance from Automatic Quantity Take Off (AQTO).
Manual Geometry estimation is similar to automatic results because they often use the same technologies. The precision of the Geo-tagging add-on helped with estimating the entire area. Without Geo-tagging highlight, QTO wouldn't have been a good strategy. The automatic QTO tool helps save money, time, resources and energy by working ahead of time to estimate the work. This gives users better accuracy and saves manual errors from happening.
What does 5D BIM mean for cost manager ?
5D BIM is a powerful tool that can automate a lot of your projects. This also means you should use 5D BIM to its full potential.
Adaptability is one of its biggest strengths, boosting decision-making and minimizing errors.
A venture budget is a financial plan that is designed to help you allocate funds using specific strategies for each year.
Cost estimation provides an opportunity for cost estimators to consider things that aren't necessarily there. This way, the estimator can approve their cost estimates as he or she sees fit.
Wrapping up !
With 5D BIM, construction companies can now benefit from more cost-effective work as well as faster construction projects. If you're still not leveraging the benefits of 5D BIM, now is a perfect time to take advantage of its capabilities for better cost planning and estimations. With so many companies already using it, it's easy for other organizations to get lost in the crowd.
Follow Milestone PLM Solutions for AEC Industry Updates, CAD Tips and Global Construction News.
Milestone PLM Solutions  with its exclusive delivery center in India is a global CAD, BIM outsourcing partner serving the needs of the AEC industry since 2004. MILESTONE focuses on the unique needs of clients and believe in tackling real-life problems with efficiency, smooth and ease.
The MILESTONE team can assist you with DD Set, CD Set, BIM Modeling, Rendering, walk through and more. We support multiple BIM software including AUTOCAD  REVIT, Architecture cad, Vector works etc. Our approach is to provide a dedicated team for each customer over ongoing project and deliver the quality output consistently.
With our state of art technology and large talent pool of Engineers & Architects, we are developing best in class solutions for our customers across the globe. We align with your culture and values to form unbreakable partnerships and are primed for success with over 100 employees and 150 customers in the US, Europe, India, and Asia.
For more queries regarding any of the above-mentioned topics, feel free to connect with us on our website www.milestonetech.net or contact us on  +1-844-598-0005