Accelerating Construction Efficiency with 5D BIM Implementation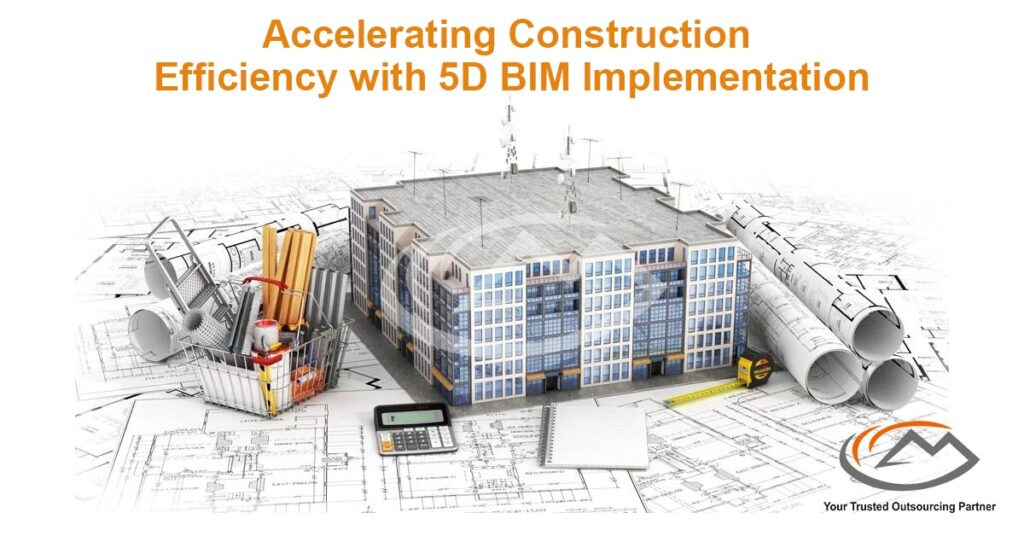 By bringing design, construction and cost estimating together under one roof, 5D BIM can make your construction project a breeze. It's also more accurate and provides more insight, resulting in better decision-making, less risk and more control over budgets. Construction scheduling and estimating projects are essential for construction and project managers to ensure their projects are contained within budget and meet their delivery deadlines.Poor site management, unplanned changes and inaccurate project estimates are common for the companies in these industries. Ignoring these challenges can drastically affect projects.5D BIM is an estimation tool that excels in cost and schedule estimation by digitizing design. This software uses coordinated BIM models to produce accurate valuations.
Traditional methods of estimating are challenging.
When there is no data, estimates are inaccurate and can result in significant financial losses.
One of the biggest obstacles in estimating a project is figuring out how much work it includes. Enter Manual Estimation. Manual Estimation is difficult because it involves quantification, which can take up 50-80% of your time.
A lack of foresight into change orders.
Errors are more likely because they're made by humans.
5D BIM Solves Manual Project Estimating Challenges
Our cost functionality integrates design, schedule, and cost information. Many customers are finding that 3D printing is best when assembling a project. It's smart and cost-effective to use the models from your design to ensure accuracy and make modifications easier. The utility of surveyors and estimators derives accurate cost data through live linking of a 4D BIM model with an extensive cost database.
With Auto-generation of quantities and costs, architects, BIM consultants, AEC companies and owners can leverage parametric cost estimation based on quantity takeoff in real time. It also helps with precise cost planning and accurate bid estimates based on 5D BIM forecasting, thereby reducing risk.
What are the Benefit of 5D BIM for Construction Project ?
Accurate 5D cost estimates result in shorter project life cycles, time-savings and increased visual modeling capabilities. With accurate cost estimates at hand, estimators can also focus on other important project issues, such as scope and design. 5D BIM is a powerful software that gives stakeholders the ultimate control for understanding, analyzing and simultaneously recording the impact of changes on project cost, scheduling and volume estimates.
5D BIM offers enhanced cost management :-5D BIM let's the project manager keep tabs on changes and other project-related information without wasting a ton of time. They can see what changes have been made over time to make cost predictions more accurate, and manage the project budget more effectively.True CADD enables you to create cost estimates and keep track of costs at every stage of construction with the 5D BIM system. It helps streamline design, construction, and budgeting decisions in large-scale projects.
5D BIM enable early risk identification :-When changes or modifications are made to your project, 5D BIM will alert you via email and visual notifications. Through the next-level way of working with our platform, stakeholders can easily identify risks and make better decisions that are more informed. True CADD has been assisting engineers and contractors with estimating and scheduling BIM components for more than 20 years. We provide these estimates in a standard format, which can be integrated with schedules and cost estimates written in IFC.
5D BIM provide heightened cost forecasting :-5D BIM derives precise information on the number of building components in a 3D design, giving you hard numbers on construction costs. With 4D BIM, you can easily track the spending of project over time; enabling stakeholders to get accurate and regular cost reports. This keeps projects within budget and ensures proper resource utilization.
MEP 3D modeling with LOD 500 for hospital Saudi Arabia.
True CADD was appointed to perform interdisciplinary clash detection, material takeoffs and scheduling for a healthcare construction project in Saudi Arabia. True CADD was created by a team of people who enjoyed and excelled in the fields of digital modeling. True CADD developed a cutting-edge BIM model using Navisworks and Revit, ensuring that accurate cost estimates were made and construction could be performed with little to no problems. See how they did it!
5D BIM provide shorter project execution life cycle :-5D BIM is the latest digital design and innovation technology. It helps shorten project execution life cycles from documentation to material costs. With accurate data, waste and clashes are eliminated, leading to shorter execution life cycles. With such successful results, governments in countries like Britain, Finland, and Singapore have adopted the use of this technology for infrastructure projects.
5D BIM enable stakeholder to gain multi-platform access :-5D BIM model is a completely flexible, cloud-based BIM solution. With 5D technology, you can work on the model on any device, access data remotely, and communicate with your team quickly surrounding schedules or design changes in order to increase efficiency.
True CADD allows you to export quantities and material take off data from your BIM models to get cost estimates.
True CADD can extract quantities and material take-off data from Revit models and export them to any cost estimating system or existing ERP in order to provide accurate and detailed estimates during the early stages of construction.
Quantities that have been extracted from the Revit building information model will be surface-mounted.
Output is sent to a text file.
The information goes into a spreadsheet, which is then sent to estimators for costing.
Conclusion
The demand for new technology-enabled cost estimating solutions has been increasing since the recent years. The 5D BIM system has been steadily improving productivity and service quality with its acceptance within construction companies. 5D Cost Estimation gives your company an advantage by enabling your team to collaborate as needed. The ability to share and refine models gets even better with high interoperability.
How Milestone PLM Solutions can help you gain expertise in your business?
Milestone is a multidisciplinary company and caters in CAD drafting and modelling, AEC and BIM services since 2004. We majorly work in Mechanical, Architecture and Civil domain across to globe. With a team of experts, we can help you and your team in performing better and faster than your competition. You can outsource you CAD Design, Modeling, rendering, Construction documentation and BIM services, and we assure to you guaranteed quality results with the quickest Turn Around Time possible.
You can email us at info@milestonetech.net and can log in to our website www. milestonetech.net  to know more about our services and our work portfolio or contact us on  +1-844-598-0005