BIM-Civil and Structural Engineering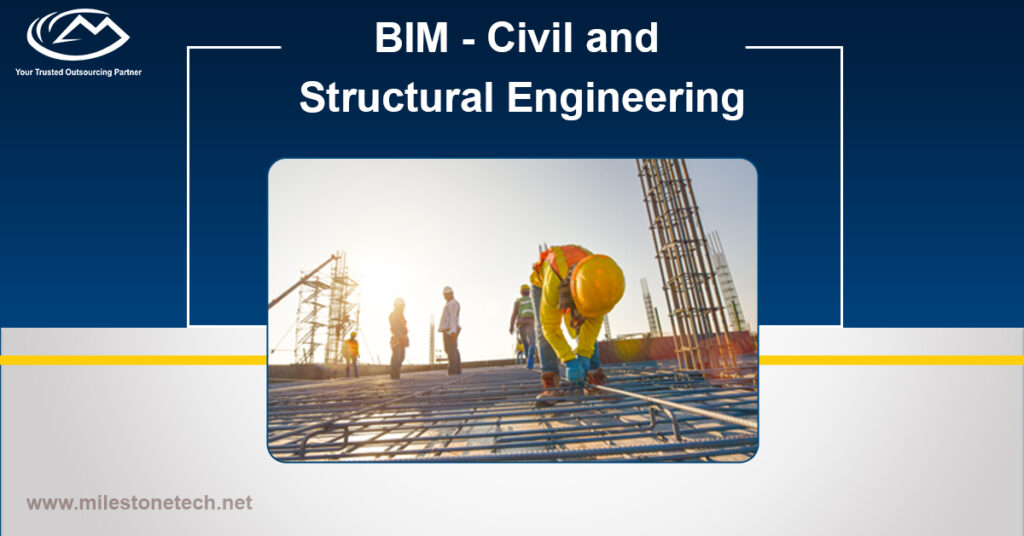 Technology has changed how engineering projects are completed, and modern approaches like BIM is having a significant impact.
Civil and Structural Engineering are two of the most important skills in modern architecture, engineering, and construction. Civil engineering affects the entire life cycle of a project, from inception to delivery, operations, and handover. Structural engineers are responsible for creating structures that can support heavy loads. Collaborating with other disciplines, such as BIM, makes it easier for civil engineers to adopt a multi-disciplinary approach for quicker project decision making.
It's been revealed that BIM has been transforming the civil and structural engineering industry so we will be reviewing how BIM impacts these engineering application
Impact of BIM on Civil and Structural Engineering
 BIM Stands for Building Information Modeling, it's been called a catalyst for structural and civil engineering because it addresses many problems related to productivity, quality, transparency, and collaboration.
A BIM projects are usually seen as being complicated and time-consuming, but with a BIM file, the process becomes easier. The BIM file allows engineers to collaborate more effectively and gain insight into the building's structure.
Building information modeling improves the engineering process by allowing stakeholders to become more productive and efficient. All in all, BIM impacts the civil and structural engineering part of engineering positively by increasing street engineers' productivity and efficiency.
Perform integrated production of drawings for improved design efficiency
A central 3D Model and common development environment increases visibility and reduces inefficiencies within your team.
Visualization tools are important for non-technical stakeholders. With them, you'll be able to engage stakeholders in an active and dynamic way.
The prefabrication design process can be improved with detailed models.
We can base your project plan on simulations or real-world modeling. When you do simulations, you'll be able to see how your project will behave one way or the other.
We'll help you budget more effectively by tying all of your in-person activities to your online strategies.
BIM for Building Design and Construction
 Building design and construction is complicated. There are hundreds of stakeholders involved in any construction project. Civil & structural engineers have to coordinate between all those structures and services, while blending them all into a singular architectural style for completing a building's construction. It can be difficult to manage all of those aspects simultaneously.
Building Information Models (BIM) facilitate coordination on-site with construction teams, design teams and other stakeholders.
When you use BIM as a tool in your construction projects, the deliverable will be of higher quality and there will be less rework and risk. This means that your project's schedule can get back on track. It also ensures a smooth handover to the operator once it has been completed.
BIM for Infrastructure and Facility management
Facilities management and infrastructure contracts contain more complicated tasks, like routine maintenance, upgrades and fine-tuning the utilities.
In most asset information management systems, the operational and asset management aspects are segregated. This creates a divide between construction and facility management. However, Unified Asset Manager eases this problem by combining operations and asset records into one software.
BIM is helpful for facility managers, because it provides them with the information they need throughout the entire lifespan of an asset. BIM also allows for improved information management when it comes to tasks like supporting an asset's life cycle or managing a facility. With everything in a single model, facility managers will have access to important information when necessary.
Before, if you needed to perform a maintenance task like changing a light bulb, it might have taken days. Paper trails are time consuming and large building operations can have many details. Now with BIM, everything is more efficient because the assets are visualized and facility management impacts operational aspects in other areas.
How BIM Changes Traditional Job Roles in Structual and civil Engineering Industry?
BIM has contributed to an evolution in the structural and civil engineering domain through its design, clash detection, visualization, and other processes. Here are ways that various stakeholders in the structural and civil engineering value chain can improve their productivity through BIM Adoption.
Designer
With the help of Building Information Modeling, designers can create 3D Designs that include all the necessary material properties. On top of that, various levels of BIM allow for the embedding of valuable information against different components and objects. This helps designers maintain a standard record of design changes they share with any stakeholder without having to gather all data at one place.
CAD Technician
BIM can help manufacturers automate their drawing production, which means less time spent updating drawings by hand. It also helps CAD technicians become better at reflecting changes without spending a lot of time on it. With 3D models, CAD files can be linked to plans, elevations, sections, schedules and drawings – in turn, creating an efficient and standardized way to store information for everyone involved.
Design Manager
BIM offers many different benefits, including improved clash detection and visualization. This allows designers to consult clients from a better perspective than with traditional engineering drawings.
Wrapping up
BIM has revolutionized the entire AEC industry. In recent years, adoption of BIM in multiple countries around the globe opened new avenues for higher efficiency and productivity for civil and structural engineering projects.
How Milestone PLM Solutions can help you gain expertise in your business?
Milestone is a multidisciplinary company and caters in CAD drafting and modelling, AEC and BIM services since 2004. We majorly work in Mechanical, Architecture and Civil domain across te globe. With a team of experts, we can help you and your team in performing better and faster than your competition. You can outsource you CAD Design, Modeling, rendering, Construction documentation and BIM services, and we assure to you guaranteed quality results with the quickest Turn Around Time possible.
You can email us at info@milestonetech.net and can log in to our website www. milestonetech.net  to know more about our services and our work portfolio or contact us on  +1-844-598-0005