CAD vs BIM: Unraveling the Key Differences and Advantages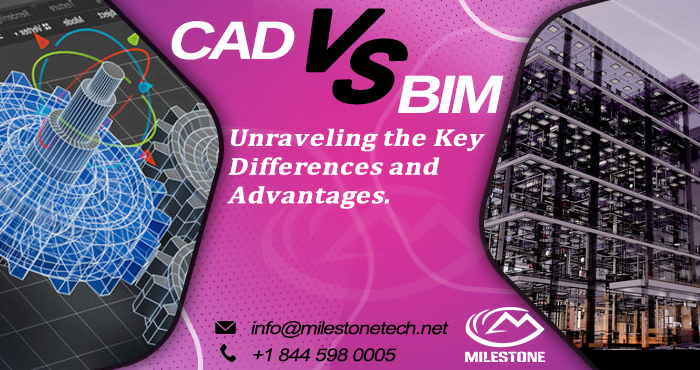 Computer-aided design (CAD) and Building Information Modeling (BIM) are two crucial technologies used in the architecture, engineering and construction (AEC) industry. Both play an important role in designing, visualizing and documenting building and infrastructure projects. However, CAD and BIM are fundamentally different in their approach, capabilities and benefits.This article will dive into the key differences between CAD and BIM to help you understand which solution is best for your specific needs. In this article we will be discussing more in detail about CAD vs BIM.
What is CAD?
CAD refers to software that uses digital aid to render 2D drawings and 3D models of physical objects and spaces. It serves as an electronic drafting board, allowing designers to create detailed technical drawings that visually represent their ideas.CAD programs like AutoCAD, MicroStation and FreeCAD are primarily focused on drafting and documentation. They utilize computer graphics to produce vector-based drawings of buildings, infrastructure, machine parts and more.
Some of the key features and uses of CAD include:
Creating 2D drawings like floor plans, sections, elevations, etc.
Producing detailed 3D models of individual components and assemblies
Generating documentation like material schedules, area plans, etc.
Performing drafting and editing tasks efficiently
Enabling collaboration by sharing CAD files
Precisely representing scales, dimensions and geometric relationships
CAD offers an easier, faster and more accurate approach to technical drawing and design compared to traditional manual drafting. It serves as a detailed documentation and visualization tool.
What is BIM?
BIM or Building Information Modeling is a more intelligent and integrated way of planning, designing, constructing and managing buildings. It creates a digital representation of both the physical and functional characteristics of a facility.Unlike CAD, BIM is not just a drafting technology but a complete process for generating, managing and leveraging data throughout the building lifecycle.
Some core capabilities of BIM include:
Creating parametric 3D models that incorporate real-world properties like textures, thermal qualities, etc.
Generating data-rich models tied to a database of project information
Enabling collaboration by integrating models and data across multiple disciplines
Running analysis for energy modeling, lighting, acoustics, structural performance, etc.
Providing a single source of truth for data like specifications, costs, materials, etc.
Generating accurate quantity takeoffs, cost estimation, and construction scheduling
Facilitating better visualization and communication
Enabling lifecycle management of the building asset
BIM aims to streamline work between multiple stakeholders like architects, engineers, contractors and owners. It provides improved project insight to create better buildings, minimize risks and avoid issues.
Key Differences Between CAD and BIM
Now that you have a basic understanding of CAD and BIM, let's clearly outline some of the major differences between the two:
Design Approach – CAD takes a traditional drafting approach focused on 2D drawings and 3D visualization while BIM adopts an intelligent model-based process with integrated data.
Level of Detail – CAD models are made up of separate 2D views and 3D components without much embedded information. BIM comprises highly detailed parametric models tied to a database.
Use of Data – There is limited use of data in CAD beyond labels, tags and basic properties. BIM uses rich datasets throughout the process for analysis, scheduling, estimating, etc.
Collaboration – CAD enables file sharing for reference but isn't built for collaboration. BIM allows multiple disciplines to integrate their work into a coordinated model.
Lifecycle Usage – CAD is primarily used for design and construction documentation. BIM extends value through the maintenance and operations phase.
Software Tools – CAD software focuses on drafting while BIM tools enable modeling, collaboration and information management. Popular options include Revit, ArchiCAD, Vectorworks, etc.
Modeling Technique – CAD models real-world components by combining primitive shapes. BIM uses intelligent parametric objects with modifiable properties.
Drawing Updates – In CAD, changes must be manually propagated across all drawings. BIM automatically coordinates updates across views.
Visual Programming – CAD uses text-based programming. BIM allows visual programming by manipulating parameters and properties.
In summary, while CAD handles drafting tasks, BIM goes further by unifying design data, enabling collaboration across teams and providing value throughout the facility lifecycle.
When is CAD Preferable Over BIM?
For detailed construction documentation and shop drawings, CAD is still a suitable choice. Using CAD for designing and documenting individual components can be easier compared to modeling an entire building in BIM.
CAD is the preferred option when:
Highly refined technical 2D drawings are required
Only drafting is required without any data requirements
Working with sheet sets with many views
Modeling needs frequent manual adjustments rather than parametric changes
Converting raster images to CAD vector drawings
Projects are smaller in scope and scale
Therefore, CAD is best suited for technical documentation and converting drawings into an electronic format. It offers dedicated tools for drafting work rather than building-scale information management.
When Does BIM Provide More Value?
For large collaborative projects, BIM is the superior approach. Since BIM integrates multi-disciplinary data into coordinated information models, it provides much more value than just drafting capabilities.
Key benefits of using BIM over CAD include:
Improved collaboration between project stakeholders
Ability to perform complex generative design
Better clash detection and troubleshooting
Advanced analysis for LEED certification, energy efficiency, etc.
Accurate quantity takeoff and cost estimation
Data-rich models that improve facility management
5D scheduling and sequencing with time and cost data
Higher quality construction with reduced errors and omissions
BIM boosts productivity, minimizes risks and helps orchestrate synchronized workflows across teams. With its model-based approach and integrated database, it is ideal for complex building projects and infrastructure.
Conclusion
CAD and BIM both facilitate digital design but in fundamentally different ways. CAD focuses on drafting while BIM creates information-rich coordinated models for the entire project lifecycle.As a rule of thumb, CAD works best for detailed drawing and documentation tasks. BIM is preferred for integrated building design, analysis and data management. It provides more value for complex and collaborative projects.Understanding the unique capabilities of CAD and BIM highlighted in this article will help you determine the right approach for your specific needs. Both solutions will continue advancing and playing important roles in the architecture and construction industry.
Follow Milestone PLM Solutions for AEC Industry Updates, CAD Tips and Global Construction News. 
Milestone PLM Solutions  with its exclusive delivery center in India is a global CAD, BIM outsourcing partner serving the needs of the AEC industry since 2004. MILESTONE focuses on the unique needs of clients and believe in tackling real-life problems with efficiency, smooth and ease.
The MILESTONE team can assist you with DD Set, CD Set, BIM Modeling, Rendering, walk through and more. We support multiple BIM software including AUTOCAD  REVIT, Architecture cad, Vector works etc. Our approach is to provide a dedicated team for each customer over ongoing project and deliver the quality output consistently.
With our state of art technology and large talent pool of Engineers & Architects, we are developing best in class solutions for our customers across the globe. We align with your culture and values to form unbreakable partnerships and are primed for success with over 100 employees and 150 customers in the US, Europe, India, and Asia.
You can email us at info@milestonetech.net and can log in to our website www. milestonetech.net  to know more about our services and our work portfolio or contact us on  +1-844-598-0005