Building Modern and Mixed-use Designs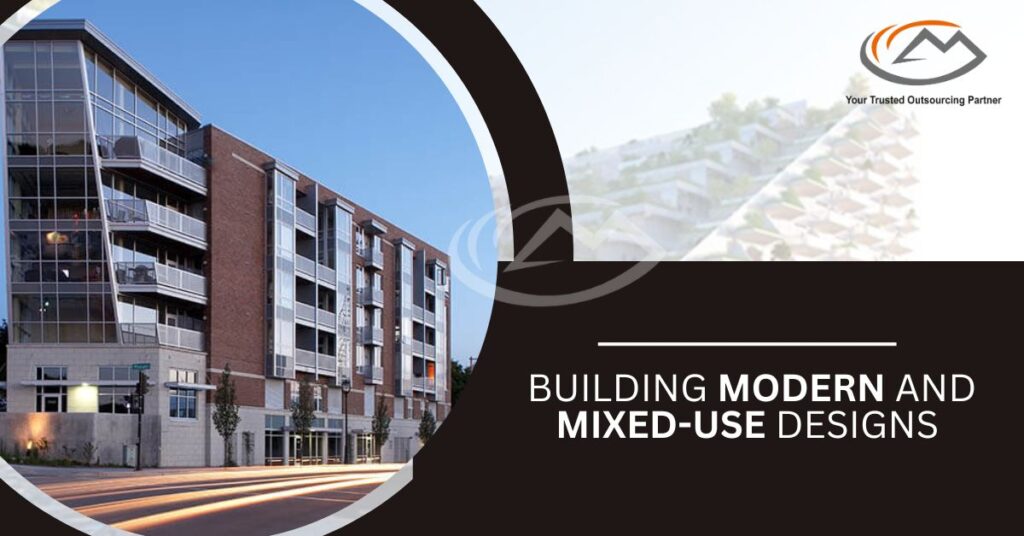 Architecture is different than most people believe. It's not just something that looks good, but it's the outcome of a lot of calculations, artistic skill and functionality. Yet in order to adapt to society's changes, architecture needs to constantly change in order to stay relevant.
Mixed-use buildings design is a complex process that includes both form and function at every level. Thanks to the latest style trends, architectural design can manage resources and incorporate green principles as well as be conscious of the needs of your neighbours. Architectural design services must be precise, practical, catering to future expansion and with a "certain sense of flair."
What exactly is the theory of mixed-use buildings?
Mixed-use buildings can be defined by their commercial, retail and residential spaces, with the latter being more concentrated.Each of those spaces will have different requirements. For example, consider a tower building which has a mall on its lowest floors, offices somewhere in the middle and a hotel on the upper floors. Some of the requirements would be to provide elevators with sufficient capacity to handle commuters during peak periods, room enough at each level for an efficient layout, and proper fire-safety equipment.
Three different entrances – one each for the mall, offices, and hotels
2 or more service floors for building services for the mall or offices, separated vertically.
Our layout option gives you flexibility to choose different layouts for each section of your website, depending on what works best for the specific content or audience.
We designed a few ascending/descending elevators for each floor.
Car parking/garbage disposal (what does it have to do with anything?); emergency exits for each section
Well-researched traffic flow design is a good technique for ensuring that people who walk in the mall never wind up inside of a busy office or hotel.
Architects explore ideas that might not be a priority for others, but it's important to start with the end in mind. While these constraints may have an impact on certain designs and buildings, it is important to think outside the box when families and businesses are putting their trust in you. In order to provide highly competent design, Revit modelling is a constantly evolving program. To make sure your project comes out on top, use our architectural drafting services. They will provide high-quality design for your project Service providers need to know that modern mixed-use building design emphasizes economic, environmental and social sustainability. They also have to be aware of the regulations and standards in place for projects in different zones or countries.
More and more, architectural design for mixed-use structures is focusing on ecological considerations, energy conservation and value-added management of resources.
Trends include building exterior structures with glass facades, colorful details, modular design options and a balance between resource consumption and ecological impact.
Some trends in the commercial design world include more variations of colour patterns and upgraded commercial workspaces with open spaces, natural fabrics, and plant-filled areas.
The changing landscape of the world is no longer black and white as it was before. Global warming, ozone layer depletion, rainforest depletion, acid rains, resource exhaustion and ever-growing energy demands are becoming a new reality for design.
Designs for mixed-use buildings must consider the following:
Contortion Design
3D designs are a perfect representation of appealing interiors and slightly contorted exteriors that they help prospects visualize themselves in the final design.
Designs are often involved with complex lines and patterns.
The intricate designs and patterns on building exteriors make mixed-use buildings seem unusual. This attracts the viewer's attention, which is what a good website design do, too.
Modular Design
There are some significant cost benefits to prefabrication. The reduced building time and the effective production techniques helps reduce swelling operational costs.
Modular construction enables the creative arrangement of units, ultimately bringing a sustainable and eco-sensitive perspective to construction design.
With a modular design, you have the convenience of being able to choose the perfect storage solutions without investing in pricey remodeling.
Building Green
Indoor landscaping used to be something that only existed in outdoor areas, such as gardens and trees. But now, it's more likely to find foliage, vertical gardens, and greenery indoors.
For a combination of both greenery and function, vertical gardens are increasingly becoming popular in the reception areas of mixed-use buildings.
Green plants in the vicinity of a mixed-use building can break up the facades and make it less intrusive.
Any commercial space in a mixed-use building can be constructed with sustainable and recycled materials like plastic, sustainable wood, green furniture, and eco-friendly floors.
Design for energy efficiency in an open-air building helps ensure parks remain accessible and spaces stay open – even during periods with limited sunlight.
Glass work
Glass offers different safety features and is made in a variety of colors to pick from.
Glass facades make inside spaces seem bigger.
Glass is sturdy, corrosion-resistant, and low-maintenance.
Lightning up facade
Interiors are made more attractive when they're properly illuminated with proper lighting.
When a light is turned on, that's the startup cost. But with plenty of indoor and outdoor technologies, you can save energy.
Small spaces
Developers today are using space in an increasingly effective manner.
The trick to making smaller spaces seem bigger is not to put furniture all over the place, but to install opaque glass as a coating for windows and doors.
Minimal furniture and full-length mirrors can make any small space into one that's chic and contemporary.
Shaping things up
It's fair to say that things have changed on a global scale.
New architecture has recently been inspiring structures that are more open and aesthetically appealing. The aesthetic appeal of straight lines, open spaces, and curved shapes are transforming the architectural landscape.
Architectural metal grille windows aren't just for tradition. Instead, they're a mixed-age structure that blends in with new contemporary building styles.
Some shapes that complement each other will catch your eye because they're unexpected.
Light and glass
The careful consideration of natural light can lead to better mixed-use buildings. For example, opening walls and doors to lots of light sources can help create a bright and energized space that people will want to visit.
Unconventional material
One of the many types of sustainable building design is mixed-use construction.
3D printing is used to create shapes once thought impossible.
 Branding
Branding for commercial spaces offers a wide range of options. You can use decorative panels or match the brand's colour, materials and motifs in order to create a 360-degree level of design fluidity.
Digital Signage
Ability to update branding in real-time and look modern and high tech
Interior
The increase of wide, open spaces and feng shui in architectural design
Commercial spaces are getting rid of cubicles, monochromatic décor and boxes to give their employees a little more of their personal space.
Open and separate spaces can exist in a single area by blending in seamlessly.
One of the ways glass partition walls are used is for them to be carefully located in a room.
Modern architecture is often characterized by its adaptability. Instead of static interior spaces, most modern buildings are more focused on interchangeable rooms.
Innovation
Architects are expected to showcase innovation and imagination with mixed-use buildings. These buildings must incorporate colour, materials, shapes, mixed-use buildings, and more within budget, material and time constraints. This can be done through the capabilities of digital design models that are quickly becoming a part of architectural ideas.
Follow Milestone PLM Solutions for AEC Industry Updates, CAD Tips and Global Construction News. 
Milestone PLM Solutions  with its exclusive delivery center in India is a global CAD, BIM outsourcing partner serving the needs of the AEC industry since 2004. MILESTONE focuses on the unique needs of clients and believe in tackling real-life problems with efficiency, smooth and ease.
The MILESTONE team can assist you with DD Set, CD Set, BIM Modeling, Rendering, walk through and more. We support multiple BIM software including AUTOCAD  REVIT, Architecture cad, Vector works etc. Our approach is to provide a dedicated team for each customer over ongoing project and deliver the quality output consistently.
With our state of art technology and large talent pool of Engineers & Architects, we are developing best in class solutions for our customers across the globe. We align with your culture and values to form unbreakable partnerships and are primed for success with over 100 employees and 150 customers in the US, Europe, India, and Asia.
You can email us at info@milestonetech.net and can log in to our website www. milestonetech.net  to know more about our services and our work portfolio or contact us on  +1-844-598-0005