Building Information Modeling for Hospital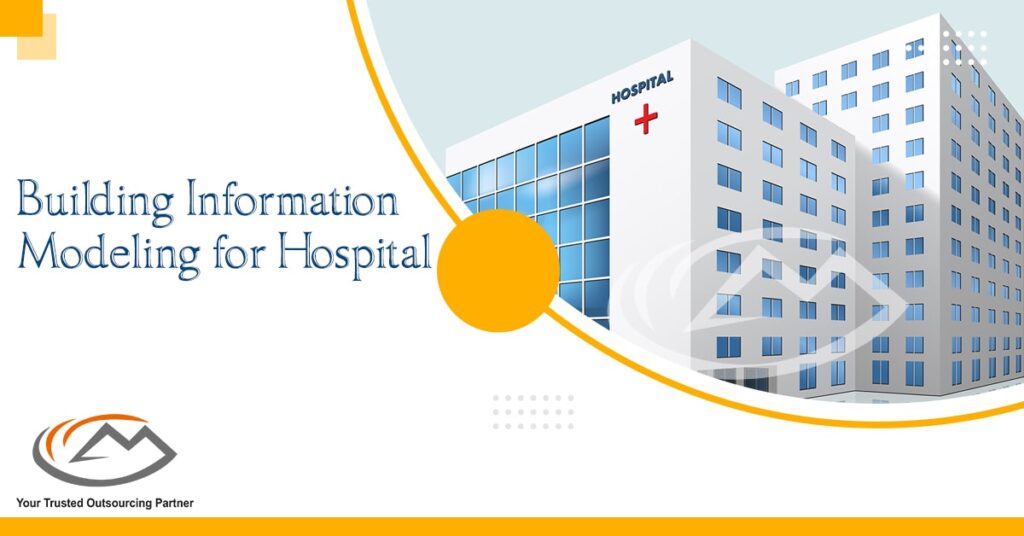 Building Information Modeling or Virtual Construction Design is the process used to represent the layout and spatial features of buildings in digital format. Most industries today are in awe of BIM processes, and health care industry is one of them. As of now, the construction industry has been leading in business intelligence methods and technology. Though there is not much confirmation coming from the industry itself, it's safe to assume that the application is on the higher side due to its popularity in hospitals and health care.
Hospitals have to be designed with efficiency and care since emergency buildings fall in the high-end range. This means hospitals have a lot more complexity—the organization and planning needed are intense. A well-made design can lead to faster construction and accuracy, and that's crucial for the success of your project. With rapid BIM integration, hospital designing can be streamlined in terms of quick delivery while maintaining a well planed budget. BIM Services address post-construction operations support in a number of areas, including facility management and As-Built modeling.
Collection of Multitude of Building Information (Geometry and Process - Both)
Since construction is continuing to evolve and become more digital, Architectural domain is experiencing rapid changes in the way projects are being executed. By introducing these changes, you're adding a lot of exceptional value to your business. You're not just digitizing 2D drawings anymore; there are lots of other features that ProE click has to offer. And the best part–it's simple! Bringing the digital and physical worlds together, virtual construction modeling has enabled architects to virtually design a building structure before it's constructed.
The model will give your construction team the real-time feel of a full-scale model by using the same materials and dimensions that are actually used during construction. Aside from simple 3d geometry, complete building data can be extracted through BIM modeling. For complex structures such as hospitals, BIM is incredibly beneficial because it helps you avoid errors in construction.Virtual construction modeling is a set of tools that enable designers to create 3D models and extract all the supporting data they need.
Of course, it's best if you read over your sentences right before you hit publish! Construction of hospitals needs to be a streamlined process and can't afford any mishaps along the way. Clash detection is an important part of the pre-construction process, and construction of hospitals includes BIM Coordination Services.
Design Validation Through BIM
Building Information Modeling is considered a vital part of every building process, so it's hard to build something without it. It plays an incredibly important and critical role in validating and correcting designs for your buildings. As an architect or engineer, you have the opportunity to evaluate the accuracy and utility of designs.Because of the importance to building and construction, it is critical that construction professionals take advantage of offline tools and design software.
With the design validations in place, all you'll need to do is decide what styles of construction you want and proceed to production right away.By using cable-laying techniques, construction companies can reduce the risk of disruption during a project, and they can prevent issues like interference's between disciplines.
Ability to utilize project data in most optimum way
It's also about building data. This  information is very  important than 3D geometry. BIM modeling helps architects and engineers use available data in a better way, making it easier to work with, and more intuitive for others to input their data into the system. This project data is used in a variety of ways to post the intervention. Data not only contains quantities, but also manufacturer information and construction sequencing plans.
Hospital contains more service penetration with more complex detailing. The building also has more office, retail and residential spaces varying in size. This makes the building size and orientation less predictable than a building intended for residential or commercial purposes. Due to the complexity of machinery, such as oxygen cylinders, machines, utilities, and lighting locations in hospitals and health care facilities, it's bulky and time-consuming to fit everything into a single data set. That's where BIM modeling comes into play. It's an efficient solution that can allow you to create multidisciplinary models that are compatible with interoperability standards.We rely on BIM to give us different ways to get through the building data.
BIM Complete Process
We at BIM Modeling Services realize that it's not just about 3D geometry or data. Building Information Modeling, or the process of constructing and managing a digital representation of reality, is actually powerful when used in conjunction with everyone involved in your project. It helps to collaborate with representatives from different areas of expertise. This approach leads to efficiency and shared insight within projects.
Information modeling is a collaborative process that gives all the stakeholders access to 3D designs and all other related data that allows for optimal results in terms of construction. BIM coordination helps in detecting clashes between multiple disciplines and design changes, as well as other issues that arise during construction. The virtual representation of the hospital is also useful during construction by architects, engineers, and clients. Post-construction asset tagging can help manage the entire facility effectively.
BIM helps in Streamlining the Project Delivery
Building Information Modeling (BIM) ensures that projects are transparent, collaborative and efficient across teams. Virtual Design Construction (VDC) offers a new way to improve collaboration and coordinate between trades in the development of construction. BI-Mapping advanced software provides in-depth analysis of how well a building or project is constructed or maintained so as to make room for greater improvement and success.
Conclusion
Hospitals are embracing the benefits of digital construction modeling today, primarily due to its savings and efficiency. There are many other reasons though, including the possibility to take advantage of models that make inventory possible.
Follow Milestone PLM Solutions for AEC Industry Updates, CAD Tips and Global Construction News.
Milestone PLM Solutions  with its exclusive delivery center in India is a global CAD, BIM outsourcing partner serving the needs of the AEC industry since 2004. MILESTONE focuses on the unique needs of clients and believe in tackling real-life problems with efficiency, smooth and ease.
The MILESTONE team can assist you with DD Set, CD Set, BIM Modeling, Rendering, walk through and more. We support multiple BIM software including AUTOCAD  REVIT, Architecture cad, Vector works etc. Our approach is to provide a dedicated team for each customer over ongoing project and deliver the quality output consistently.
With our state of art technology and large talent pool of Engineers & Architects, we are developing best in class solutions for our customers across the globe. We align with your culture and values to form unbreakable partnerships and are primed for success with over 100 employees and 150 customers in the US, Europe, India, and Asia.
For more queries regarding any of the above-mentioned topics, feel free to connect with us on our website www.milestonetech.net or contact us on  +1-844-598-0005