Leveraging BIM Scanning Tools for Infrastructure Projects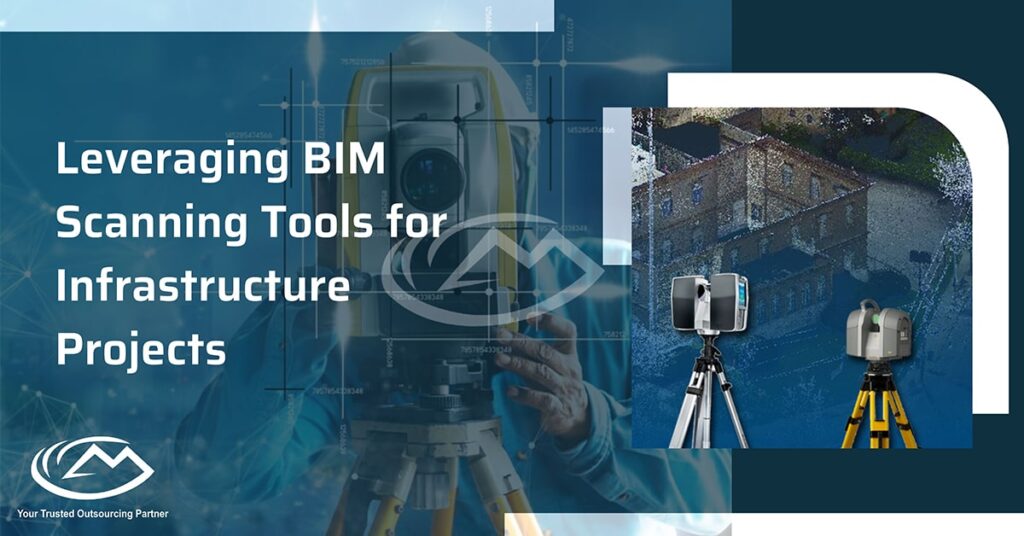 With the launch of our BIM app, scanning a building, space or site and creating an accurate digital representation has never been easier. Accuracy, coordination, visualization, communication, cost estimation, safety management, maintenance, and sustainability are all improved by using BIM Scanning Tools for infrastructure projects.
Through the infrastructure lifecycle, these tools support informed decision-making, facilitate collaboration, and provide reliable data, all of which contribute to improved project outcomes.We've created one handheld scanner that automatically captures all data with just a few swipes.Scan to BIM Services has enabled architects, designers, contractors and engineers to capitalize on new opportunities in architecture.
With a rebuilt environment, there are many new considerations that need to be made. For example, it can be more difficult to create accurate deliverable that meet the project requirements with these complex information landscapes. There are also times when additional layers of complexities make BIM not as efficient as it should be, or collaborate with different departments is put in jeopardy.
As our world becomes more reliant on technology, governments and companies in every industry are realizing the importance of a clear digital record. They want to utilize responsive, accurate, and efficient architectural drawings to meet their business needs and unlock the potential that their infrastructure has to offer.The above complexities are further enhanced with complex infrastructure projects due to the large geographical span and numerous involved stakeholders.
Begin planning your project accurately with BIM software from Scan to BIM . Reduced margins, tight deadlines–they're all common obstacles that have to be dealt with by construction professionals. But it doesn't have to be this hard! Our software can help make the process quick and easy so you can stay on schedule and limit your risk.
Capturing Accurate Point Cloud Data
In construction and surveying, it can be difficult for project managers and contractors to request multiple scans of a point. Terrestrial Scanning and Mobile Laser Scanning (MLS) offer the ability to take multiple high-resolution scans of the same area quickly.
Using laser scanners to scan the ground has been a long-established method for surveying, given its accuracy and speed. This approach is easy for one person to manage without needing any specialist equipment or background in computing.
Laser systems mounted on moving vehicles, drones, and other objects are used to accurately map a network. This could potentially include lanes, bridges, and more. The laser scanner devices will not disrupt the normal functions of the roadways and could be accurate representations.
As if it wasn't enough, 360 images and videos can provide an extra look at the infrastructure to ensure that everything is in capable working order
Data Registration and BIM Modeling
When you're setting up your product's data in BIM it needs to be lined up. This process is called registration.
360 degree scanning helps in an effective registration process. When a scan is made, the site photographs and 2D documentation also help in adding to the comprehensive information needed.
Once the data is registered, it'll be transported into Revit and the modelling process will begin. Model accuracy is what's most important in this phase, and we'll do everything we can to ensure that you get the most out of your Revit design.
If the BIM modeller fails to cooperate, distribute information, and exert control in the modeling task or if there are any mistakes made in the data created by them, then there will not be enough cooperation, limited information, and inadequate project control.
Companies making the transition from point cloud data to a facility-based BIM system need precision, expertise and competency. Thankfully, our case study illustrates this perfectly.
Importance of Precision  in the Point Cloud to BIM Transportation Project:
We were given the task of creating a BIM model for a road in the UK, with four different sections.
The scope of the project included accurate modelling of existing roads (topo surface) as well as key features like sidewalks, drains, gutter, traffic lights and posts.
BIM modeling is communicating the designs of a person or entity 26 different ways- from blueprints to more advanced concepts, such as construction and site maps.
To create a realistic bridge model, the SOW included a process where certain features were designed to accurately depict the end points of the actual bridge.
As a result of the importance undulation plays in road safety, considering the concept of precision could be useful.
The bridge was curved. It created a kerb on either side of the road, and the bridges had to be modeled so that they fit in around all of the curves. If the roads were not modeled closely enough, and their dimensions were incorrect, then it could have a domino effect elsewhere in the project.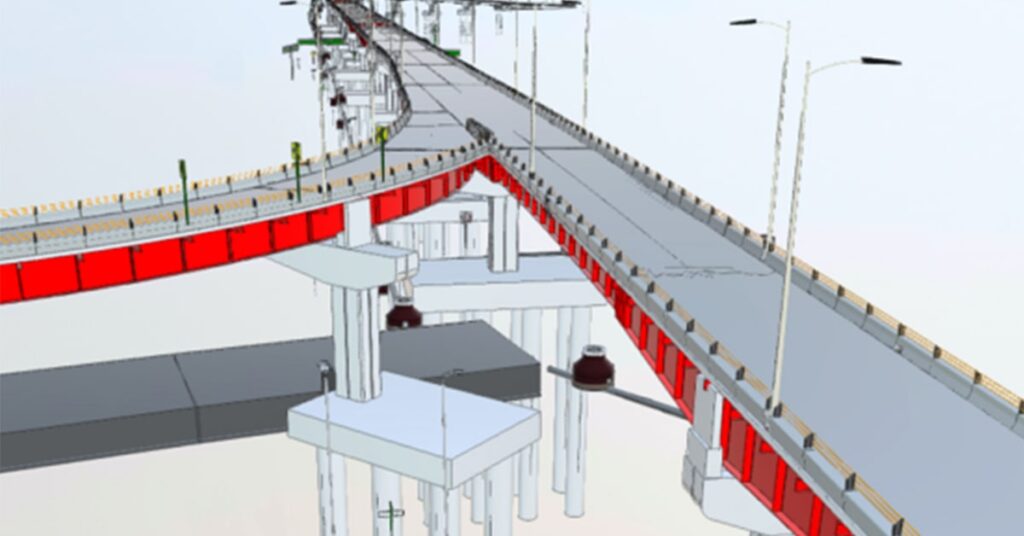 Utilizing Scan to BIM enabled us to better visualize the entire infrastructure, including sewage lines, water systems, and electrical cables. With high-quality data and improved visualization, we were able to spot previously unnoticed obstacles like traffic lights, sidewalks, parking lots which were created or altered after the map was drawn.
Due to the instructions, careful planning, and resolve for the project, there were no disruptions caused by the final draft of construction. Outages and conflicts that may have been caused by the expansion of services as well as reconstruction of new infrastructure were prevented before construction began.
The civil engineers who are responsible for the construction of these bridges are able to know how much each feature of the bridge is worth and what can be reused. This gives the civil engineers a good idea about the over project cost, along with minimizing waste.
The BIM model engaged stakeholders in the process and provided information that added value at practically every phase. The precise detail of the data rich model ensured that the information was realistic, accurate, and detailed. This enabled construction staff to effectively complete projects in specified timelines without any significant problems.
The sentences rewritten by this tool were:
Building Information Modeling (BIM) has the potential to improve project efficiency and accuracy by providing exact representation of infrastructure's existing condition. BIM also provides a common ground for confident communication among all involved stakeholders contributing to smooth interaction and resolution of conflict. Additionally, with accurate models, costs can be saved from miscalculation or during construction – resulting in monetary and time reductions on your next infrastructure project.
Follow Milestone PLM Solutions for AEC Industry Updates, CAD Tips and Global Construction News.
Milestone PLM Solutions  with its exclusive delivery center in India is a global CAD, BIM outsourcing partner serving the needs of the AEC industry since 2004. MILESTONE focuses on the unique needs of clients and believe in tackling real-life problems with efficiency, smooth and ease.
The MILESTONE team can assist you with DD Set, CD Set, BIM Modeling, Rendering, walk through and more. We support multiple BIM software including AutoCAD, Revit, Architecture cad, Vector works etc. Our approach is to provide a dedicated team for each customer over ongoing project and deliver the quality output consistently.
With our state of art technology and large talent pool of Engineers & Architects, we are developing best in class solutions for our customers across the globe. We align with your culture and values to form unbreakable partnerships and are primed for success with over 100 employees and 150 customers in the US, Europe, India, and Asia.
For more queries regarding any of the above-mentioned topics, feel free to connect with us on our website www.milestonetech.net or contact us on  +1-844-598-0005