BIM Improves Construction Safety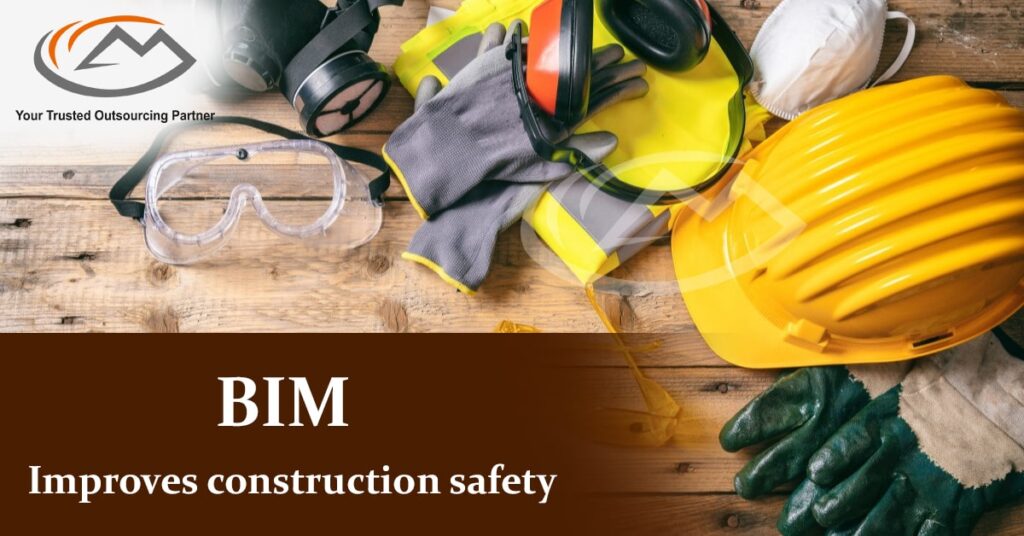 Through constructability analysis, site-specific safety planning, hazardous material management, virtual and augmented reality (VR and augmented reality), emergency planning, documentation and compliance, continuous improvement, and collaboration with safety professionals, BIM improves construction safety.
Painting a picture: India's construction industry is one of the strongest in the country and contributes a ton to its economy. It ranks as one of the top employers and provides thousands of jobs around the country. According to reports from the government, the construction industry has grown by 80% over the past 4 years. In 2013, it generated $78 billion and in 2017, that number increased to $140 billion.
Growth is great, but it should also come with a greater social awareness. In fact, construction safety has become an increasingly important topic in recent years.
Each year, many construction workers end up dying on site (either due to falls, or electrical mishaps, or accidents) and the numbers are only getting worse. Tashi Rector at Quartz India reports that over 450 workers were killed in 2013 and between 2013 and 2016, the number of deaths increased by almost double to 1,092.
There is a sector as relevant and promising as real estate that must include better safety regulations: construction. As technology and innovation are solving many problems, Building Information Modelling (BIM) has the potential to solve many problems in this sector too. Let's take a look at how BIM can improve construction safety.
Focus on Innovation with Safety
 Construction is an industry full of danger and risk, which can be minimized through proper safety protocols. The best way to deal with these potential problems is by planning for them during the construction phase. Till recently, attempts to plan for safety -known as design for safety- had flaws that could compromise, even undo all the work they tried to do.
BIM allows you to detect and predict hazards from a very early stage. BIM is collaborative because the design team needs to be aligned with all the other project stakeholders to identify, isolate, and fix risks and hazards.
Leveraging data to improve safety at the pre-construction level
 With grid management, you can make use of data to improve the safety of your project. Automating risk analysis and safety evaluations will make it easier to identify hazards before they happen. You'll be able to see risks in 3D modeling way before they come into play.
The design-driven storage and indexing of documents and certificates make referencing them much easier. This makes designing your safety measures simpler, allowing you to plan accordingly with greater precision. It also ensures compliance with all the necessary regulations.
Visualisation and Predition
One of the best things about BIM is that it lets you configure the digital information and preview various what-if scenarios.
Working with architects is just like working with a doctor: being able to envision all kinds of cases and scenarios. So when it's time to build, everything is in place, and you're prepared for anything.
Advantage of BIM on Site
The advancements in building information modeling (BIM) allow us to quickly identify areas that need improvement and make sure they're up to code. It also allows us to gain a unique understanding of how everything will come together when it's time for construction, which is why we prefer BIM. That's why BIM is a great solution for contractors, as well. One can quickly check if everything is up to code with little effort. Scenario-planning also comes into play here, where the BIM becomes the fundamental blueprint in order to create a safe building site environment.
Training workers in Safety
Most construction workers in India are uneducated and come from low-income backgrounds, which can lead to language barriers. This means that talking about rules, regulations, and best practices can be difficult.
Building Information Modeling (BIM) has the ability to present information in a visual and interactive way so situations can be better communicated. This helps workers see critical components, understand plans, and prepare for any contingency.
Reduction of Rework
By using a holistic approach, BIM helps to shorten the design process up to 50% and eliminate costly clashes between teams. Fewer clashes means less rework and a reduced chance of accidents on the work site.
The Role of Advance Tech Within the BIM Framework
Over the years, computer and technology advances have seamlessly mixed with BIM to create a better and more complete user experience. Virtual reality, augmented reality, and simulation are just some of the ways that technology is used to help our clients visualize upcoming challenges and plan for them so you can avoid those issues in the field.
The design team of the Empire State Building in New York famously allowed for one death per floor in the report. In building it, only seven people died which was viewed as a success.
In this age of technology, it's important to see how the tools at our disposal can make all aspects of life better. We shouldn't limit ourselves to just personal gain, and instead we should use the tools that are available to us for the betterment of all. That includes construction site staff members who deserve a safe workplace and equipment that will allow them to do their jobs properly.
The real estate industry is embracing modern technology to help make construction more efficient. We recommend that the use of new technology can also improve construction safety.
Follow Milestone PLM Solutions for AEC Industry Updates, CAD Tips and Global Construction News.
Milestone PLM Solutions  with its exclusive delivery center in India is a global CAD, BIM outsourcing partner serving the needs of the AEC industry since 2004. MILESTONE focuses on the unique needs of clients and believe in tackling real-life problems with efficiency, smooth and ease.
The MILESTONE team can assist you with DD Set, CD Set, BIM Modeling, Rendering, walk through and more. We support multiple BIM software including AUTOCAD, REVIT, Architecture cad, Vector works etc. Our approach is to provide a dedicated team for each customer over ongoing project and deliver the quality output consistently.
With our state of art technology and large talent pool of Engineers & Architects, we are developing best in class solutions for our customers across the globe. We align with your culture and values to form unbreakable partnerships and are primed for success with over 100 employees and 150 customers in the US, Europe, India, and Asia.
For more queries regarding any of the above-mentioned topics, feel free to connect with us on our website www.milestonetech.net or contact us on  +1-844-598-0005